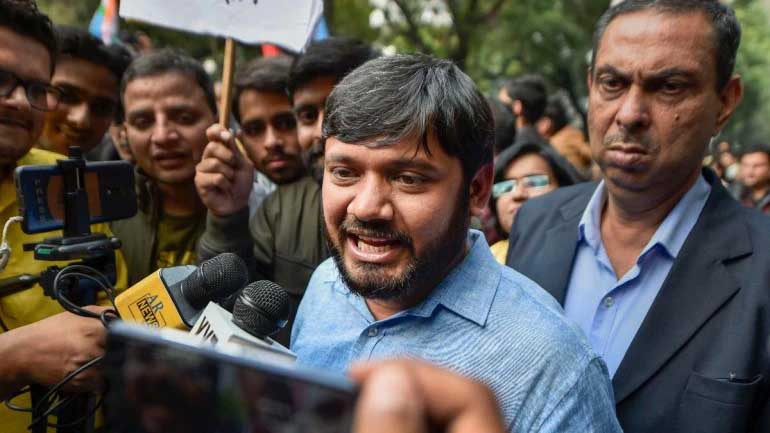 Chief Metropolitan Magistrate Dr. Pankaj Sharma (Patiala House court) has reportedly directed the Delhi Police to give copies of the chargesheet to former Jawaharlal Nehru University Students' Union (JNUSU) President Kanhaiya Kumar, Dr. Umar Khalid, Anirban Bhattacharya along with seven others accused in the JNU sedition case.
The Chief Metropolitan Magistrate (CMM) has put up the matter for April 7 to scrutinise documents in the case and also granted bail to seven accused who were not arrested in the case earlier. They are Aquib Hussain, Mujeeb Hussain, Muneeb Hussain, Umar Gul, Rayees Rasool, Basharat and Khalid Bashir Bhatt.
LiveLaw reported that Kanhaiya Kumar, Umar Khalid and Anirban have already been granted bail in the matter and released the other accused persons on furnishing of a personal bond of Rs. 25,000 each.
In February this year, CMM Dr. Pankaj Sharma had taken cognisance of the chargesheet filed by Delhi Police against all ten accused and summoned them to be present in court on March 15. In pursuance of this order, all 10 were present in court yesterday before the CMM at the Patiala House court.
Dr. Umar Khalid was produced from jail where he is presently lodged in judicial custody related to the Delhi Riots case. Having completed over six months in custody, Dr. Khalid was arrested by Delhi Police's Special Cell on September 14 last year and booked under UAPA for allegedly giving provocative speeches appealing to the citizens to come out on the streets and block the roads during the visit of US President Donald Trump to spread propaganda at an international level.
This sedition case is in connection with an FIR registered on February 11, 2016 for alleged "anti-national" sloganeering at the Jawaharlal Nehru University campus to mark the death anniversary of Afzal Guru, convicted and executed for the Indian Parliament Attack in 2001.
Besides sedition, they have been booked for criminal conspiracy, rioting, forgery, being a member of unlawful assembly and voluntarily causing hurt under the relevant Indian Penal Code sections.
According to a LiveLaw report, a chargesheet in the case was filed before the Court of Metropolitan Magistrate, naming the above ten accused persons in January 2019 that alleges that Kumar had incited the mob to shout anti-India slogans backed by CCTV footage, mobile footage and documentary evidence. The chargesheet was however rejected by the Magistrate on January 19, 2019, citing lack of requisite sanctions.
Thereafter, in January 2020, the Aam Aadmi Party (AAP) led Delhi government cleared the path for the prosecution of all accused persons in the sedition case.
The matter will be heard on April 7.
Related:
JNU Sedition case: Kanhaiya Kumar, Umar Khalid and others to face trial
Umar Khalid arrested by Delhi Police Special Cell
Delhi gov't paves way for prosecution of Kanhaiya Kumar for sedition
As police wait at the gate, JNU students accused of sedition say they won't refuse arrest