This is the way most missing persons cases go in Delhi – with one-third of them unsolved in the last three years.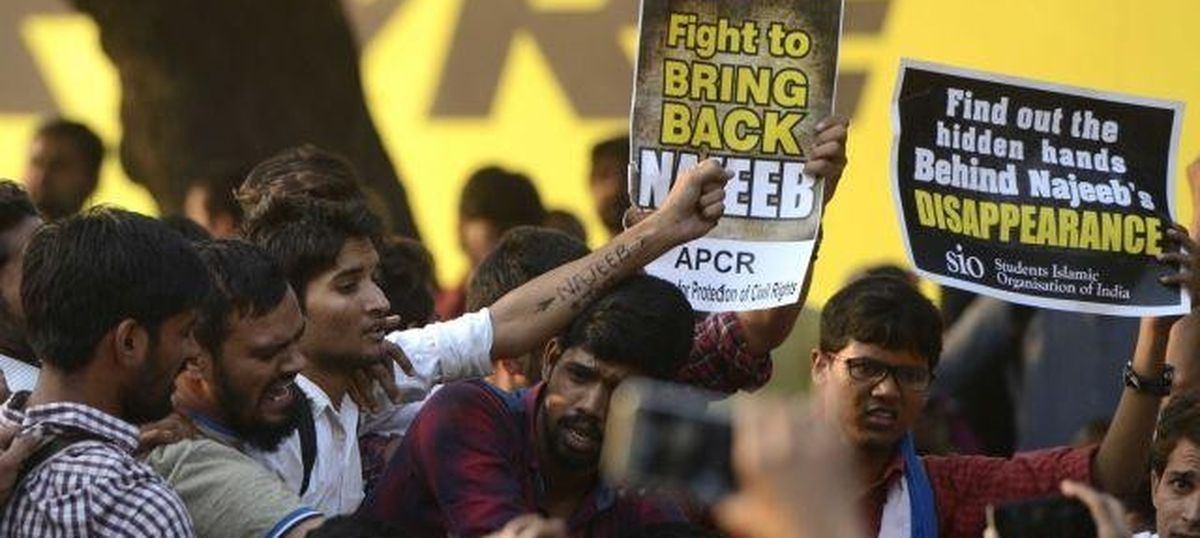 Image: IANS

On the morning of October 15, Najeeb Ahmed, a 27-year-old first-year postgraduate student of biotechnology at Delhi's Jawaharlal Nehru University, was spotted getting into an autorickshaw on the campus. He has not been seen since.
In this period, his case has been shifted to a special investigation team, formed on the orders of Union Home Minister Rajnath Singh, from the crime branch of the Delhi Police. The reward for information on him has been increased from Rs 1 lakh to Rs 10 lakhs. The university authorities, fearing protests by students, have set up iron grills around the administration building. There have been numerous rumours about Ahmed being spotted in cities in Bihar, Uttar Pradesh, Madhya Pradesh, Rajasthan and even Nepal. None of these leads have worked out. Najeeb Ahmed is still missing.
"In the past two weeks, we received a lot of phone calls from people claiming to have spotted Najeeb," said his brother, Mujeeb Ahmed. "Most of the callers later started asking for contact details of former JNU students' union president Kanhaiya Kumar and former vice-president Shehla Rashid Shora, whom they have seen on TV. All such calls have so far turned out to be hoaxes."
He added, "In the end, the last information about Najeeb is the one given by the crime branch, which claimed to have traced the autorickshaw that dropped him outside the Jamia Millia University campus on October 15."
According to the police officer who headed the special investigation team, the number of calls from people claiming to have spotted Najeeb Ahmed rose with the increase in the reward money, from Rs 1 lakh in the beginning to Rs 2 lakhs, then Rs 5 lakhs and finally, Rs 10 lakhs. "Following such leads, we sent teams to several cities including Darbhanga, Bhopal, Bareilly, Aligarh, Ajmer and even Kathmandu," the officer said.

Protests on campus
The night before he disappeared, Najeeb Ahmed was involved in a spat with members of the Akhil Bharatiya Vidyarthi Parishad – the Rashtriya Swayamsevak Sangh's student wing – who had come to his room at the Mahi-Mandovi hostel seeking votes for the mess elections. He allegedly slapped one of them. The row had quickly turned ugly and a big group of students later attacked Ahmed. He had to be rescued by campus guards.
However, the university authorities named Ahmed as an accused in the brawl and expelled him from the hostel the same night. Ahmed's family claims he was abducted and the police have filed a case in this regard.
Since then, students at JNU have kept up a steady stream of protests against university authorities for their handling of the case. On October 19, they had confined the vice-chancellor and top university officials in the administration block for 24 hours during a lock-in protest.
On Sunday, they organised a candle light march on campus to protest the alleged shielding of those who had attacked Ahmed. On Monday, they rearranged the potted plants placed on the stairs outside the administration building to spell out "Najeeb".

Lost, not found most of the time
The lack of progress in finding Najeeb Ahmed is characteristic of missing persons cases in the Capital. Delhi Police records show that of the 16,297 people reported missing till August 31 this year, over 6,400 remain untraced. If one were to add the numbers from 2014 and 2015 to this year's figure, of the 64,144 people reported missing, 20,800 are yet to be found. This means that nearly one-third of the cases remain unsolved.
The cases counted as traced include those in which the subjects came back on their own, without the police having done anything to tracked them down. However, no separate data is available for this category.
The police seem to have a better record in finding missing minors – they traced 15,400 of the 20,323 who disappeared between January 1, 2014 and August 31, 2016. This means only 24% of cases remain unsolved as against one-third in the case of both adults and minors.
When the police manage to trace a missing person, it is mostly through technical surveillance or the human intelligence network. The former did not work out in Ahmed's case as he left his cellphone behind and did not try to contact any of the people the police have been in touch with so far.
"From preliminary investigation, we concluded that Najeeb left the hostel on October 15 on his own," said the additional deputy commissioner-rank officer who headed the special investigation team. "But he left his phone in his hostel room. The next thing to kept track of was whether he tries to establish contact with anyone. We started with his closest relatives – mother, sister and brother."
In the next two weeks, the team spoke to many people – Najeeb Ahmed's relatives, his classmates at JNU and at Aligarh Muslim University, where he studied geology for a few years, students of a private college in Bareilly, Uttar Pradesh, from where he graduated in biotechnology, and batch-mates at a medical coaching centre in Uttar Pradesh.
"But Najeeb contacted none of them after he went missing," the officer added. "Some of those friends even accompanied police teams on search operations."
After surveillance comes human intelligence, often called the eyes and ears of the police system. But this traditional resource, too, seems to have failed investigators in this case.
"The question is of visibility," said the officer. "Even the hardest of criminals leave footprints in a certain pattern that add to their visibility, even if they hide in a densely populated area. In Najeeb's case, as far as we have come to know, Najeeb is unpretentious and highly introverted. The subject in this case has no visibility."

Keeping the faith
Last week, the Delhi High Court pulled up the police for having failed to find the student even 50 days after he went missing, saying such a situation would create insecurity among people. "It is over 50 days and still, the police do not know his whereabouts," it said. "How can somebody vanish suddenly and the police have no clue about it? Even if we think of the worst, something has to be found out."
Frustrated at the phone calls that lead nowhere and the lack of progress in the case, Najeeb Ahmed's family is, however, unwilling to lose hope. "We cannot give up hope," said his brother Mujeeb. "The phone number that we have published in the posters belongs to our uncle. We will make sure the phone is never switched off until we find my brother."
This article was first published on Scroll.in