The JNUSU condemned the Modi Sarkar and Delhi Police for use of brutal force on farmers marching to the capital. They appealed to the students to join the Effigy Burning of Modi Sarkar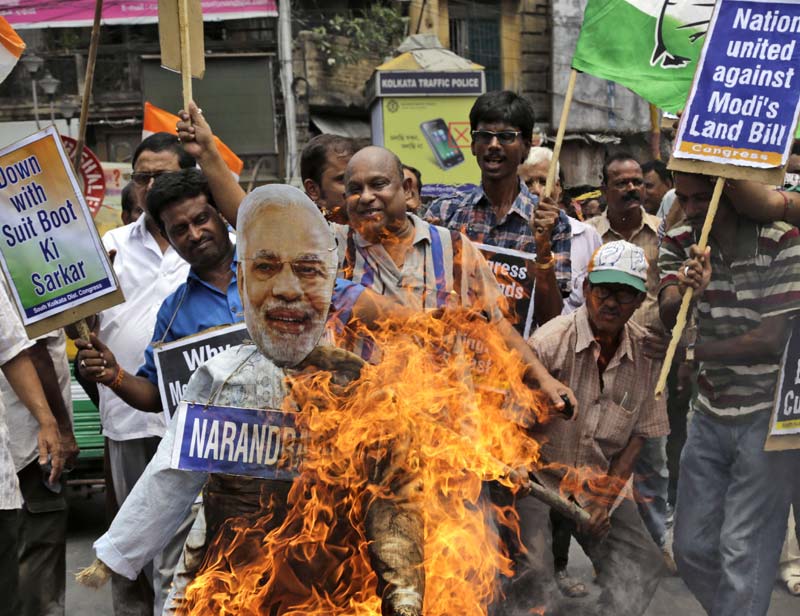 Representation Image Image Courtesy: AP

New Delhi: The Jawaharlal Nehru University Students Union (JNUSU) has invited people to join the effigy burning of Modi Sarkar on October 3, Wednesday, at Sabarmati Dhaba in JNU at 6 pm, to protest the violence on marching farmers.

"On 2nd October, thousands of farmers under the banner of the Bharatiya Kisan Union were brutally lathicharged, tear gas shells were fired and stopped at Delhi-UP border as they tried to reach Kisan Ghat in Delhi to register their demands before this government. They have been walking since 10 days. Instead of listening to the demands, the Delhi Police was ordered to use brute force to stop the tide of protesting farmers. The last four years we have seen a protracted crisis in Agrarian India, which has seen huge protests across the country from Maharashtra to UP.
However the Modi led BJP government has only been busy giving benefits to his friends, the Ambanis and Adanis," the invitation said.

"Let it be known, a grand unity of farmers, workers and students is emerging across the country and no amount of force can stop this tide from sweeping away the RSS-BJP government in the near future. The JNUSU strongly condemns the Modi Sarkar and Delhi Police for this use of brutal force on those who have built and fed the people of this nation. We, therefore, appeal to the students to join the Effigy Burning at Sabarmati Dhaba, Tomorrow, 3 October, 6:00 pm," they said.