Following on the heels of news of a Kerala Minister facing discrimination at a temple, another issue of alleged caste discrimination has erupted as a job listing for a cook at a temple turned up. The job description declared only able-bodied Brahmins to be eligible for the role was reportedly released by the Devaswom Recruitment Board on October 11, 2023. This controversy comes just a month after Kerala's state minister for SC/ST Welfare, K. Radhakrishnan, spoke about an incident of caste-based discrimination he faced during a temple event in the Kannur district.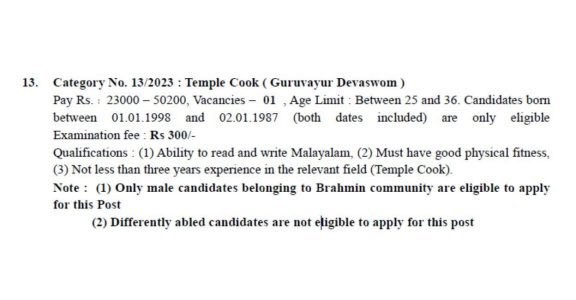 The KDRB recently published the advertisement in Malayalam language specifying that it will consider applications exclusively from able-bodied Brahmin youths to fill the role of temple cooks in the revered Guruvayur temple. The move has led to outrage over social media. According to SouthFirst, the temple also prohibits the entry of non-Hindus, regardless of their level of devotion and reverence. Several Dalit organisations have reportedly condemned the advertisement, deeming the move as discriminatory and contrary to the progressive stance that is boasted of by the state government.
According to the report by South First, on October 11, the Devaswom Recruitment Board (KDRB) issued a notification outlining the eligibility criteria for candidates. Along with the eligibility criterion based on features determined at birth, the advertisement also stipulated that applicants must have the ability to "read and write Malayalam," demonstrate "good physical fitness," and hold "not less than three years of experience in the relevant field."
Kerala Minister K. Radhakrishnan, who also oversees Devaswom temple affairs, had himself spoken of facing casteism on account of being Dalit earlier this year. He alleged that during an official function at the Nambyathra Kovval Siva Temple in Payyannur, Kannur district, he was treated as an untouchable by temple priests when two temple priests refused to hand him the sacred flame, a traditional practice for lighting the main lamp at such events, as part of the ceremony he was invited at.
"I believe that the general public of Kerala will not accept it. The caste system is a stain on society, and as long as it exists, the fight against it will continue," asserted the minister in the aftermath of the incident.
However, despite the minister's public declaration of alleged discrimination and the growing awareness of caste-based discrimination across the world, the Kerala Devaswom Recruitment Board has not retracted the advertisement as of now. Furthermore, when the board was approached for clarification by SouthFirst, KDRB Chairman KB Mohandas defended the notification and justified it on the grounds that it fits in with the guidelines of the Guruvayur Devaswom Board.
According to SouthFirst, they reached out to SC/ST Welfare Minister for state K. Radhakrishnan as well but thus far they have received no response.
Related:
Systemic and widespread: Violence against Dalit continues across Indian states
Uttar Pradesh: Retd IPS Officer S.R. Darapuri Among 6 Held for Protest
Jharkhand HC: Case against BJP leader for abusing driver under SC/ST Act quashed