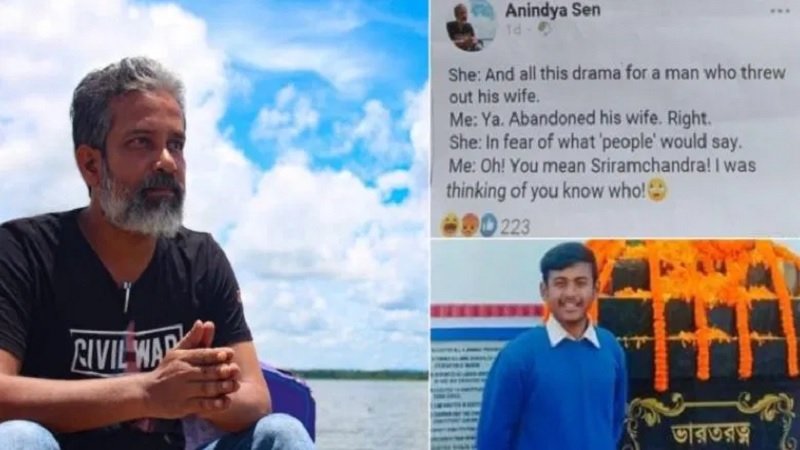 Image Courtesy:newslivetv.com
It was meant to be a joke posted by a university teacher on his own Facebook wall, some liked it, some did not, some were extra 'hurt' and angry they their religious sentiments had been hurt at this:
It is perhaps just an imaginary 'conversation' at best, or whatsapp forward at worse. However it was seen as strong enough to 'hurt' some. A few people shot off letters of complaint, and some others filed online complaints with the police, after the joke started doing the rounds of social media, and became more visible. Soon, the Assam Police took action against the assistant professor and booked him for allegedly hurting religious sentiments by posting his "derogatory" joke.
According to media reports, the Assam police have registered a case against Anindya Sen on August 8 based on a complaint from Rohit Chanda, who identified himself as a member of the Akhil Bharatiya Vidyarthi Parishad. "Yes, a case has been registered over the FB post," Cachar Superintendent of Police BL Meena was quoted by The Indian Express, "the complaint is about the post hurting religious sentiments. We will investigate the matter."
The media reports state that, Anindya Sen, an assistant professor of English at Assam University in Silchar, has been booked under sections 294 (obscene acts or words in public), 295A (deliberate and malicious acts to outrage religious feelings) and 501 (printing or engraving matters known to be defamatory) of the Indian Penal Code. The FIR has been lodged at Silchar, Assam, against Sen, alleging that his post was fuelling 'religious hatred, communal feeling, cyber crime'. The section 295A, is a non-bailable one. Another letter of complaint has been addressed to the Superintendent of Police, accusing Prof. Sen of "distorting the Ramayanas to deliberately hurt Hindu sentiments."
Sen had posted this joke on August 5, the day of the Ram temple bhoomi pujan at Ayodhya, and Chanda alleged that Sen had made derogatory remarks against Ram. "He also continuously posts such abusive posts defaming Hindu dharma and also abuses constitutional posts like Prime Minister and Home Minister of the country," the FIR read.
However, according to Scroll Sen has said that "The Ramayana is an epic," he said. "It has many versions. At different points, Ram has been criticised. I am not the first one to point out the criticism. It has been done before as well."
Meanwhile, a large number of concerned citizens have signed and issued a statement in Sen's support. The full text is as follows:
An FIR has been lodged at Silchar, Assam, against Anindya Sen, an Assistant Professor of English, Assam University, based on a joke that he posted on his own Facebook wall. The charges levelled against him are that of 'religious hatred, communal feeling, cyber crime'. One of the sections of the IPC that he has been charged with, that is Section 295A, is a non-bailable one. Another letter of complaint has been addressed to the Superintendent of Police, Cachar district, accusing Prof. Sen of distorting the Ramayanas to deliberately hurt Hindu sentiments.
---
The joke shared by Prof Sen that has supposedly 'hurt Hindu sentiments' is as follows:
She: And all this drama for a man who threw out his wife.
Me: Ya. Abandoned his wife. Right.
She: In fear of what 'people' would say.
Me: Oh! You mean Sriramchandra! I was thinking of you know who!
The view on 'Sriramchandra' that one can glean from this Facebook post has drawn numerous trolls many of which are nauseating in their abusive language and threatening in their content. The trolls are clearly an attempt to intimidate him and people related to him with rape, grievous bodily harm and professional harassment.
Prof. Sen's post reiterates a very common point that is well established in academic discourses on the Indian epic 'Ramayana' – more specifically in any gendered reading of the text. A. K. Ramanujan writes on five 'tellings' of 'Ramayana' in his scholarly essay Three Hundred Ramayanas. Again we have the 17th century Bengali poet Chandravati's 'Ramayana' along with many folk traditions that locate Sita and her suffering as the central motif of the 'Ramayana'. In the 1980s, Kannada critic Polanki Ramamurthy wrote Sitayana, a retelling of the epic from Sita's perspective.
It seems that these people are ignorant of the fact that there is not one Ramayana, but more than three hundred Ramayanas, from time immemorial, in this vast and diverse country. In a way each Ramayana is a 'distortion' of the other, and all of them do not portray Ram in the same light. So should complaints be lodged against these other Ramayanas?
Ramayana, as everyone should know, is an epic, and NOT a religious text. Thus the complaint of 'religious hatred', 'communal feeling' or 'cyber-crime' levelled at Prof Sen is baseless to the point of being ridiculous.
In this country, as long as the Constitution is alive, democracy is alive, everyone has the right to express their views, however unpalatable that may seem to the current majoritarian worldview. Anindya Sen's Facebook post has no unparliamentary words, no threats, no instigations; but many of the comments attacking him are unparliamentary, provocative and threatening. These threats that attempt to silence any voice that goes against one particular ideology has become a frequent occurrence in the recent past. 'Hurting religious sentiments' has become a common narrative that is being used as a veil under which organised violence is thriving. We earnestly urge that these choreographed rampant abuse and threats and frivolous FIRs lodged on flimsy grounds to intimidate and stifle free expression in a free country should be given Suo Moto cognizance by the Indian judiciary.
Above all we condemn the verbal abuse and harassment that Anindya Sen is being made to go through and stand in solidarity with his right to express his opinion–an opinion that is in tune with the plural, diverse, democratic traditions of India.
Please consider endorsing the statement, here:
---
Related:
Terrorised by trolls, comedians apologise for hurting religious sentiments
Accusing Dr Zafarul Islam Khan of sedition, is an attempt to intimidate: Activists
Defend freedom of expression