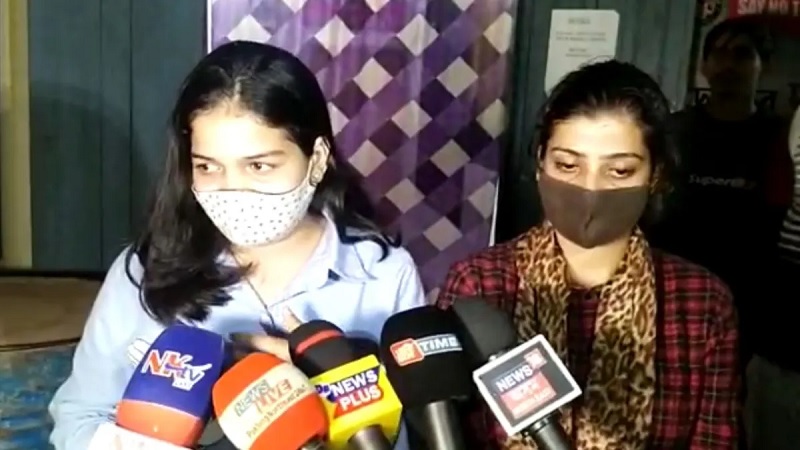 Image Courtesy:eastmojo.com
Journalists Samriddhi K. Sakunia and Swarna Jha, who were detained and subsequently arrested on Sunday, November 14 have been granted bail by the Chief Judicial Magistrate (CJM) Court in the Gomati district of Tripura. Sammriddhi Sakunia and Swarna Jha were covering the recent violence in Tripura. They were detained in Assam on Sunday after a case was filed against them by the Tripura police for "spreading communal disharmony".
They were in Assam, on their way back from Tripura, where they had gone to gather news from the neighbourhoods affected in the recent communal riots. After a Hindutva group supporter filed an FIR, the women were hounded by police, first in Tripura, and then in Assam, both governed by the Bharatiya Janata Party (BJP), for allegedly disrupting communal harmony. The two Delhi-based journalists alleged that they had been "intimidated" by local police personnel in the hotel at Dharmanagar area of Tripura, where they were staying during their reporting visit to the state. On Sunday, they were detained in Assam, another BJP-governed state.
After much pressure from local journalists' associations and lawyers, and being detained at the police station for over four to five hours, they were sent to a Shelter home at Nilambazar near the police station. Initially the Tripura police team was insisting on their detention/arrest without any woman official present. Citizens for Justice and Peace, with its wide network of rights activists in the state, assisted in legal aid for the duo. Late night a DYSP rank woman officer arrived from Tripura and the two were then taken back to the neighbouring state.
The bail to the two female journalists was granted on Monday, on a bail bond of Rs 75,000 each. According to reports they have now been asked to appear before Kakraban Police Station where the case was registered and "after questioning, they would be released," Advocate Pijush Biswas who appeared before the court told the media.
Tripura court releases on bail two women journalists arrested for alleged inflammatory posts on communal violence, reports PTI.#Tripura

— Live Law (@LiveLawIndia) November 15, 2021
Chief Judicial Magistrate of Gomti District, Tripura grants @HWNewsEnglish journalist @Jha_Swarnaa and @Samriddhi0809 bail. Our gratitude to our Lawyers and each and everyone who supported us ?

— Sujit Nair (@sujitnair90) November 15, 2021
According to a report in NDTV, Tripura police said in its statement that "the case involved a tweet by Samriddhi Sakunia, who visited a half-burnt prayer hall at a private house where claims were made of a Quran being burnt." Tripura police chief VS Yadav reportedly issued a press release, and claimed that the posts by Sakunia "were not true and promoted a sense of hatred between communities." According to the police, they found "no religious document was burnt and the journalists were asked to come to Agartala for questioning. They were detained after they were found to have left the state," reported NDTV, adding that the Tripura police suspect that the videos uploaded by them are doctored.
Related
Two Delhi-based women journalists arrested by Assam police on request from Tripura cops
Tripura: Solidarity statements pour in for those penalised for raising voices
Tripura Police demand suspension of 68 Twitter profiles for comments on communal clashes
Tripura violence: Hate and communal polarisation
Notice under UAPA: A never ending spiral of detention
Tripura violence: Delhi-based lawyers booked under UAPA over social media posts
Fear and trauma still haunts survivors of anti-Muslim violence in Tripura: Lawyer for
Anti Muslim violence in Tripura, HC takes suo motu cognisance
Tripura: CJP writes to NCM over vandalisation of mosques and shops owned by Muslims