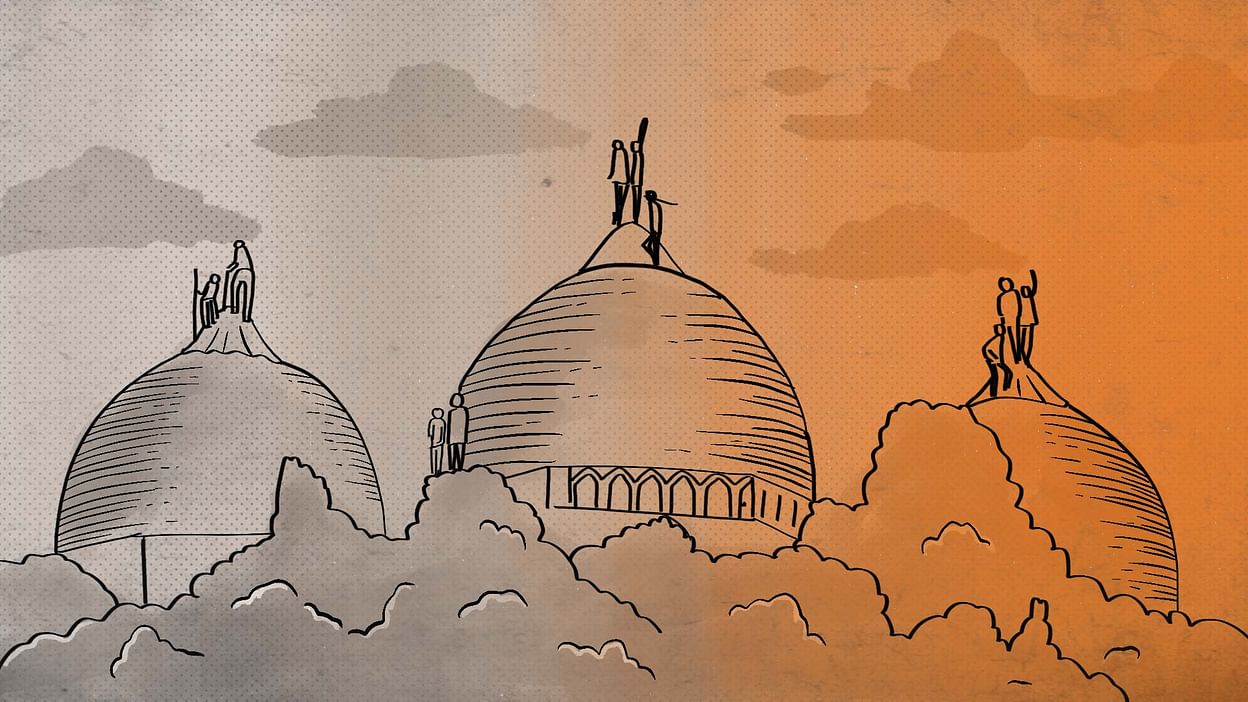 Image Courtesy: https://www.thequint.com/
The National Alliance of People's Movement (NAPM) on October 3, 2020 condemned the CBI Special Court's decision to acquit all accused in the Babri Masjid demolition case and demanded that it be challenged in the High court.
The shocked and dismayed members condemned the prosecution's neglect and complete denial of the findings of the Liberhan Commission that showed the involvement of senior RSS and BJP leaders L K Advani, Murli Manohar Joshi and Uma Bharti.
"In front of Liberhan Commission, Uma Bharti, one of the accused, had taken responsibility for her role in the demolition of the mosque. There is enough evidence visual and written in public domain from the times where their speeches, actions and everything has been recorded. Photographs of leading lights who were leading the Ramjanmabhoomi movement and were on stage near the site of the demolition celebrating the fall of the mosque are a case in point," they said.
The organisation also called it a "sad commentary" of Indian democracy that active participants of such a case made conflicting statements inside and outside the Court but suffered no consequences. Moreover, NAPM says that the 2,300 pages-long judgement "mocks the rule of law" by claiming that there was no active conspiracy. It does not remedy the illegality of the demolition, recognised in the Supreme Court's Ayodhya verdict on November 9, 2019. Instead it encourages claims of demolition of other mosques, leading to discord, hate and violence. They also said that the verdict made light of the Supreme Court's comment that the Babri masjid demolition was "an egregious violation of rule of law".
"This [the verdict] completely falls in the current pattern where students activists, professors, lawyers, journalists, human rights activists and critics of the regime are being arrested on false charges, and conspiracies are being established on WhatsApp chats and social media posts, case being Bhima Koregaon Conspiracy and Delhi Riots Conspiracy," they said.
NAPM claimed that the judiciary is abandoning its responsibility as the last recourse of common people to fight a greedy executive and a complicit legislature.
"The demolition of Babri mosque was a body blow to the secular fabric of the nation and a criminal act. And it is with deep sorrow that we note that the Ram Mandir will be built on the back of demolition, violence and miscarriage of justice," they said.
The organisation said that Indian citizens are being constantly failed by its three pillars, and public servants. They urged the judiciary to rise above political pressure and assert its independence in the face of a failing democracy.
Related:
Activists denounce Babri Masjid demolition judgment
We always planned to demolish Babri Masjid: Jai Bhagwan Goyal
Acquittal of Babri accused, gang rape of UP Dalit woman are interlinked; have roots in the history
Krishna Janmabhoomi: Mathura court dismisses plea against Shahi Idgah