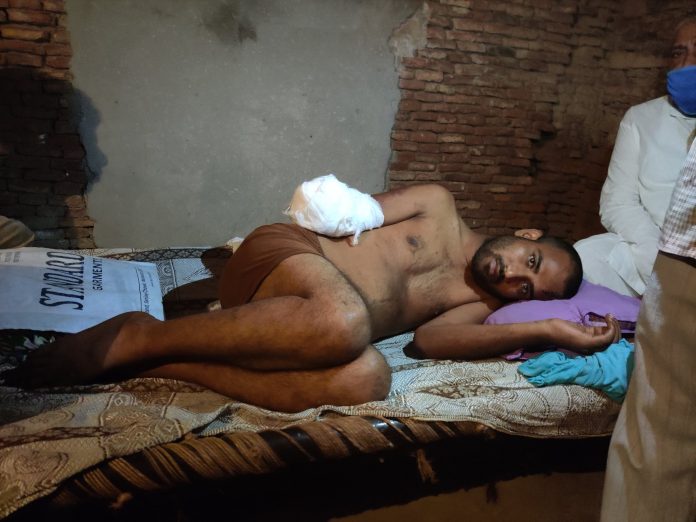 Image Courtesy: Two Circles

After independent media houses reported on the violent mob attack on 28-year-old Akhlaq, whose hand was chopped off, allegedly after the attackers saw '786' tattooed on his forearm, the Haryana Police has stated that the man is accused of sodomy. They do not offer an answer to why even if that allegation has any merit, which is yet to be investigated, justifies the bloodletting, and the murderous attack. The man and his family have alleged, and this was reported by some journalists then, that the mob asked the victim his name "attacked him on finding he is a Muslim". Four men and two women later "saw 786 tattooed on his forearm and got agitated —they chopped his hand off with a chainsaw and dumped him by the tracks." His brother has stated that he is being treated in Saharanpur, where the family lives. "I will have to take him to a hospital in Chandigarh for surgery on his arm," he told the Indian Express.
The number 786 is often used by Muslims as a numeric representation of the 'Bismillah', an invocation 'in the name of god'. However, it has also been used by communal forces to identify, mock, and even attack members of the Muslim community, especially if they have the number adorning their vehicles, homes, and on their bodies (tattoos etc).
However, in what appears to be a cover up, what is now being reported is the statement of ACP of Panipat .Satish Kumar Vats, who has called "absolutely absurd" the "communal angle" being given to the incident on social media. The Indian Express (IE) reported that days after the alleged assault was shared widely on social media, as well as his brother's allegations that his hand was chopped off with a chainsaw after the assailants saw "786" tattooed on the hand, a top Panipat police officer on Thursday told the IE that initial investigation indicates the 28-year-old had sodomised a child and might have injured himself while trying to escape. Panipat ACP Satish Kumar Vats also disapproved of the "absolutely absurd" "communal angle" being given to the incident on social media.
The brother, however, accused the police of "deliberately trying to dismiss it as a case of accident" stated IE. The incident took place in Panipat, Haryana, on August 23. The 28-year-old was found by GRP by the railway tracks the following morning. Based on his brother's statement, GRP lodged a FIR and transferred the probe to the local police stated the IE report . On the basis of a complaint by the child's family, an FIR was registered at the same police station (details withheld to protect child's identity) against the 28-year-old for allegedly kidnapping and sexually assaulting the seven-year-old, it added. According to the family, they rescued the child and caught the 28-year-old, but the latter managed to escape. The child, his uncle said, broke two of his teeth and there were marks of assault on his body.
Both FIRs were lodged on September 7. Meanwhile ACP Vats told, IE , "We are investigating. But prima facie, it appears the man was allegedly involved in sexual assault on a minor boy. He escaped in an inebriated state and might have suffered an injury on the railway tracks. He was admitted to Civil Hospital by GRP personnel. When the matter was brought to my notice, I sent the investigating officer to record his statement, but he had already fled." Vats said, "the 28-year-old's brother is "giving the incident a communal angle by circulating these things on social media"."
However, the victim's brother has challenged the police's version, and said the victim, who works as barber, had gone to Panipat to look for work when some people there asked his name, and "attacked him on finding he is a Muslim". Four men and two women later "saw 786 tattooed on his forearm and got agitated —they chopped his hand off with a chainsaw and dumped him by the tracks."
An earlier report published on TwoCircles.net has stated that unable to find adequate work at his hometown, Akhlaq, a barber by profession, left his home in Nanauta, 23 kilometres from Saharanpur for Panipat, Haryana. "We are left with no work due to the lockdown. Our financial condition has worsened," Ikram, brother of Akhlaq told TwoCircles.net. According to Ikram, Akhlaq reached Panipat and sat down to rest for a few minutes in the Kishanpura area. "Two men came and asked his name. As soon as they heard his name they started beating him. After which Akhlaq was left on the road in the injured condition," Ikram said.
As per Ikram, Akhlaq was feeling thirsty and he knocked on the nearest door to him and asked for water. "But to his surprise, the men in the house dragged him inside and started beating him with wooden sticks. He realized they were the same men who were beating him minutes earlier," Ikram added.
The TwoCircles.net report added "There were four men and 2 women in the house," Akhlaq told his brother Ikram. "As they saw 786 written on Akhlaq's hand, they told him we won't let this be written on your hand and they cut off his right hand with a chainsaw," said Ikram, adding "He was beaten so badly that he has injuries on every part of his body."
Around 5 am, Akhlaq returned to his senses when he found himself lying at a railway station, and Ikram said he came to know about the incident when an unknown person called him from Panipat. "Akhlaq was taken to the railway station and was thrown on the railway track to portray as if he got injuries in a train accident," he told TwoCircles.
The brother also recalled that when he arrived at the hospital, S.I Balvaan of GRP Police station was already present and told him it's an accident. "But seeing his injuries, I waited for him to become stable and asked him about it," Ikram said. "The police seem to have already decided to dismiss the case by calling it an accident," alleged Ikram. He added that S.I Balvaan called them to the police station but let them go. An FIR has been lodged at Thana Chandni Bagh in Panipat.
No arrests have been made yet.
Related
'Say Modi Zindabad', order criminals as they thrash old Muslim man
Unarmed meat transporter critically injured by Haryana mob