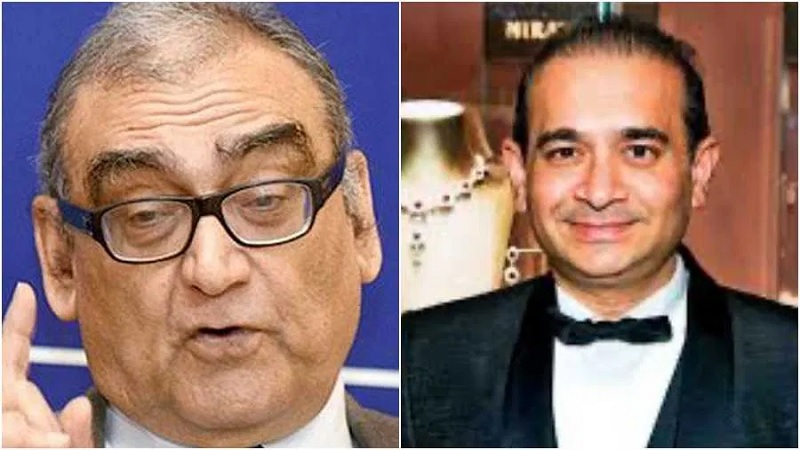 Image Courtesy:opindia.com
In fresh developments related to the extradition of diamond merchant Nirav Modi, former Supreme Court Judge, Markande Katju is expected to depose before the Westminster Magistrate's court on Friday to make a case against Modi's deportation.
Modi is a key accused facing charges for a whole host of economic offences such as fraud and money laundering. Most notably, he has been named as a key accused in the Rs 13,000 crore Punjab National Bank scam.
Katju has already submitted a written statement to the court and told Economic Times that he felt Modi is unlikely to get a free and fair trial in the country. He further pointed to the media trial that had already convicted Modi. Katju also told LiveLaw that public comments made by Law Minister Ravishankar Prasad against Nirvan Modi where he has virtually declared the fugitive guilty indicate that an independent trial cannot take place in India.
Justice Markande Katju is not new to being in the media glare himself. In a Facebook post in 2015, he had called Mahatma Gandhi a 'British agent', Rabindranath Tagore a 'British stooge' and Subhash Chandra Bose 'an agent of Japanese fascist imperialists'. But he later apologised for his remarks and though he was dragged to court, the case was dismissed.
In September 2016, he posted disparaging remarks about Mother Teresa on a blog calling her a fanatic and a fraud. "'Mother' Teresa, Zakir Naik, Syed Ali Shah Geelani, Pravin Togadia, Sadhvi Prachi, Adityanath, etc, are all different sides of the same coin — unscientific, feudal-minded religious fundamentalist and fanatic buffoons," he wrote on the post that has since been taken down.
He has also courted controversy for his comments on women. He got a lot of flak for suggesting Shazia Ilmi had better political prospects than Kiran Bedi because she was beautiful.
I regard Shazia Ilmi much more beautiful than Kiran Bedi. If Shazia had been made their C.M. candidate BJP wud have definitely won the Delhi

— Markandey Katju (@mkatju) January 30, 2015
In an extremely sexist blog from June 2016, he also advised readers to stay away from women because "A young woman's body is like a flame. Do not be like a moth and get burnt (by coming close to it)."
In February 2020, when the SC batted for greater gender balance in the army, Katju tweeted saying, Women are already in command in their homes. Y do de wish to be in command in the army?"
Women r already in command in their homes.
Y do de also wish to be in command in the army ?
Hari Om

— Markandey Katju (@mkatju) February 18, 2020
When a Twitter user asked why they couldn't be in both places, Kaju askd, "Then who will have children?"
Then who will have the children ?

— Markandey Katju (@mkatju) February 18, 2020
Even while serving as a judge, he courted controversy when while taking a hard stand against honour killing and dowry deaths, he went to the extent of advocating the death penalty in such cases, something civil rights groups have opposed.
He was also the part of the SC bench that dismissed Pinky Virani's plea for mercy killing in Aruna Shanbaug's case on the grounds that Virani lacked locus standi. However, the judgment allowed passive mercy killing of a patient in a permanent vegetative state (PVS) by withdrawing the life support system with the approval of a medical board and on the directions of the High Court concerned.
At present he has over 8.57 lakh followers on Facebook and 3.67 lakh followers on Twitter. He is very active on social media, commenting on everything from Ayodhya, to hijabs, to Khalistan. Katju has also served as Chairman of the Press Council of India.
Related:
Massive Loot of Poor in the Name of Bank Charges