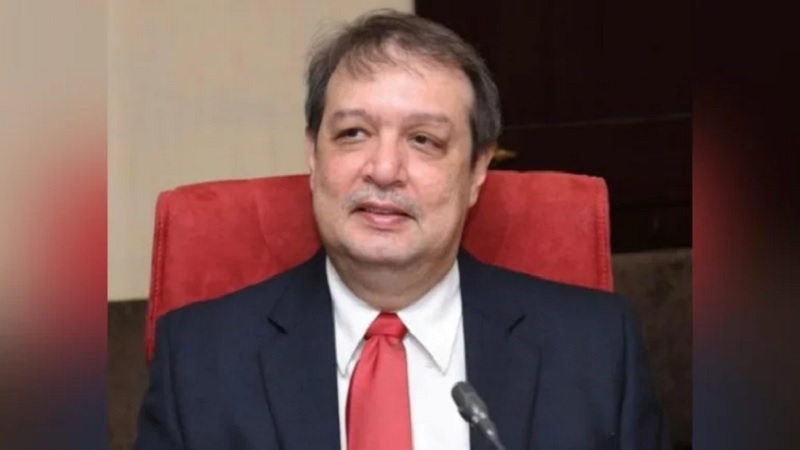 Image Courtesy: scroll.in
At the Second Justice H.R. Khanna Memorial National Symposium, Justice Pardiwala, a sitting judge of the Supreme Court of India, raised concerns about how social media platforms were used to launch a personal attack against judges in wake of the court's scathing criticism of Nupur Sharma.
Readers would recall that on July 1, the vacation bench of Justices Surya Kant and JB Pardiwala rebuked Nupur Sharma while dismissing her petition to club FIRs against her in different states with the one in Delhi over her remarks on the Prophet Muhammed. The court had made verbal observations about the role of the now suspended spokesperson of the Bharatiya Janata Party (BJP) in inciting communal violence due to her objectionable remarks made during a television news debate.
The bench came down heavily on Nupur Sharma for making "disturbing" and derogatory remarks against Prophet Mohammed and igniting communal rift in the country. The bench reportedly held that she has a "loose tongue" and held her single-handedly responsible for what is happening in the country" including the brutal murder in Udaipur where a tailor beheaded for allegedly supporting and sharing her remarks.
Now, Justice Pardhiwala has taken umbrage at how personal attacks were made against the judges on social media.
He reportedly said, "Personal attacks on judges for their judgments lead to a dangerous scenario where the judges have to think about what media thinks instead of what the law really thinks. This harms the rule of law."
As per The Hindu, the judge reportedly said, "Social and digital media was primarily resorted to expressing personalised opinions more against the judges, rather than a constructive critical appraisal of their judgments. " He said this tendency was "harming the judicial institution and lowering its dignity. In India which cannot be defined as a completely mature or defined democracy, social media is employed frequently to politicise purely legal and constitutional issues."
In his address at the function, Justice Pardiwala further reportedly stated, "The remedy of judgments does not lie with social media but with higher courts in the hierarchy. Judges never speak through their tongue, only through their judgments. In the modern-day context, trials by digital media are an undue interference in process of justice dispensation and cross that Lakshman Rekha many a times."
NDTV quoted him citing the Ayodhya case as an example, and saying, "It was a land and title dispute but by the time the final verdict came to be delivered, the issue attained political overtones. It was conveniently forgotten that someday or the other some judge had to decide the contentious civil dispute which was indisputably the oldest litigation pending in the court of the country running into thousands of pages. This is where the heart of any judicial proceeding before the constitutional court may disappear and the judges deciding the dispute may get a bit shaken, which is antithetic to the rule of law. This is not healthy for the rule of law."
Hate speech, malicious, vicious, fallacious, incendiary, derogatory; these problematic terms are not new to Indians as we are good at finding absolute freedom in social media virtual spaces. When it comes to religious freedom, we find social media as a platform to eagerly share our thoughts which may or may not hurt others' spiritual view point.
In 2021, the IT Ministry came up with a new set of rules that strictly monitor 'offensive' content on social media, and such social media companies have been told to disclose the first or originator of a 'mischievous' message or tweet. This raises questions on end-to-end encryption and subsequently privacy.
The Information Technology (Guidelines for Intermediaries and Digital Media Ethics Code) Rules, 2021, had laid down the mechanism of self-regulating bodies that shall be headed by a "retired judge of the Supreme Court or of a High Court, who shall be appointed from a panel prepared by the Ministry."
The Rules require social media platforms to exercise due diligence in terms of any content that is "defamatory, obscene, pornographic, paedophilic, invasive of another's privacy, including bodily privacy, insulting or harassing on the basis of gender, libellous, racially or ethnically objectionable, relating or encouraging money laundering or gambling, or otherwise inconsistent with or contrary to the laws of India" [Rule 3(1)(b)].
3. (1) Due diligence by an intermediary: An intermediary, including social media intermediary and significant social media intermediary, shall observe the following due diligence while discharging its duties, namely:—
(b) the rules and regulations, privacy policy or user agreement of the intermediary shall inform the user of its computer resource not to host, display, upload, modify, publish, transmit, store, update or share any information that,—
(viii) threatens the unity, integrity, defence, security or sovereignty of India, friendly relations with foreign States, or public order, or causes incitement to the commission of any cognisable offence or prevents investigation of any offence or is insulting other nation;
In addition to the due diligence observed under rule 3, a significant social media intermediary shall also appoint, under rule 4, a Chief Compliance officer who shall be responsible for ensuring compliance; a nodal contact person for 24×7 coordination with law enforcement agencies and officers; appoint a Resident Grievance Officer; publish periodic compliance report every month.
The concerned Regulatory body would have to register with the Ministry of Information and Broadcasting, and it is tasked to oversee the adherence by the publisher to the Code of Ethics, and address grievances that have not been resolved by the publisher within 15 days. The body had been mandated to provide guidance to all such social media and OTT platform entities on various aspects of the Code of Ethics.
As per the rules, a self-regulating body while disposing a grievance or an appeal would have to issue guidance or advisories to the applicable publisher/entities as under:
(a) warning, censuring, admonishing or reprimanding such entity;
(b) requiring an apology by such entity; or
(c) requiring such entity to include a warning card or a disclaimer; or
(d) in case of online curated content, direct such entity to (i) reclassify ratings of relevant content; (ii) make appropriate modification in the content descriptor, age classification and access control measures; (iii) edit synopsis of relevant content;
Related:
Muslim women threatened with sexual assault: How does the law defend them?
The wide terms of the IT Rules 2021 have a chilling effect on freedom of speech: Bom HC
Social media platforms finally compel extremist groups to shun hate speech, fake news