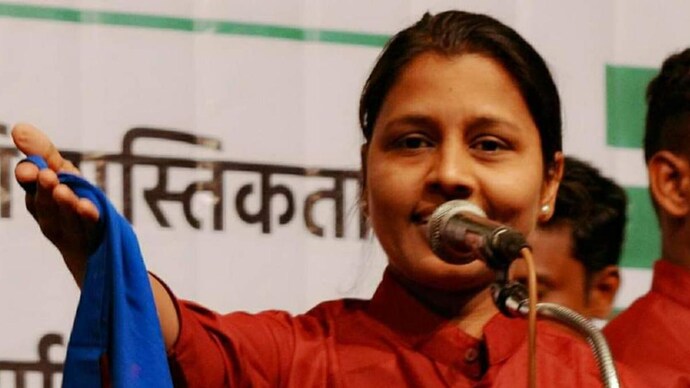 Image: India Today
The Bombay High Court on Monday denied bail to Jyoti Jagtap, an accused in the Bhima Koregaon-Elgar Parishad Case under the anti-terror Unlawful Activities (Prevention) Act (UAPA). Jyoti Jagtap, 32, is reportedly a member of Kabir Kala Manch (KKM) — a cultural group branded as a front organisation of the banned CPI (Maoist). She was arrested by the NIA in September, 2020. According to NIA, it was Jagtap and others organised the Elgar Parishad on December 31, 2017 that led to violence the following day, reports LiveLaw.
A division bench of Justices AS Gadkari and Milind Jadhav pronounced the order. "Appeal dismissed," said the court, adding that NIA's allegations were prima facie true. In her bail application, filed through advocate Kritika Aggarwal, Jagtap had stated she is an artist and singer from a marginalised section and had worked with several NGOs. Moreover, said she was available and not absconding. Moreover, she had not been named in the first charge sheet filed in the case by the Pune Police.
She had also averred in her bail application that, while the case was subsequently transferred to NIA, the agency hadn't unearthed anything new against her, warranting the arrest, she argued. Senior Advocate Mihir Desai for Jagtap submitted that using the concept of front organisation is wrong. "Frontal organisations has to be notified (as a banned organisation) in some form and by its very nature means that not everybody is part of the main organisation. Frontal organisations are controlled by the party, but not everybody may be part of it," Desai said.
The NIA, which was represented by advocate Sandesh Patil, submitted that accused Milind Teltumbde, who died last year, had discussed the Elgar Parishad event with the three Kabir Kala Manch members. It also claimed Maoist ideology was spread at the event with the help of these three and other persons. Jagtap was one of the main conspirators, alleged the agency. The agency also accused Jagtap of undergoing arms training at the Korchi forest.
In its reply, the NIA said Jagtap was one of the main conspirators and an active member of the banned CPI (Maoist) working in an urban area through the frontal organisation Kabir Kala Manch and she was also in touch with the co-accused. Making an over-arching case on national security, the NIA had stated that, "Act committed by the appellant is against the interest of the nation which for any reason cannot be overlooked whatsoever," while seeking the bail appeal's dismissal.
Jagtap refuted these allegations by arguing that the agency hadn't produced anything on record to show she was a member of KKM, let alone anything to show she was working to further CPI (Maoist) agenda.
Bombay High Court order can be read here.
Related:
Bhima Koregaon case: NIA files draft charges under UAPA, sedition & conspiracy against 15 accused
Bhima Koregaon case: Was evidence planted to implicate activists?
Mahesh Raut, Bhima Koregaon-11's youngest activist spends another birthday in prison