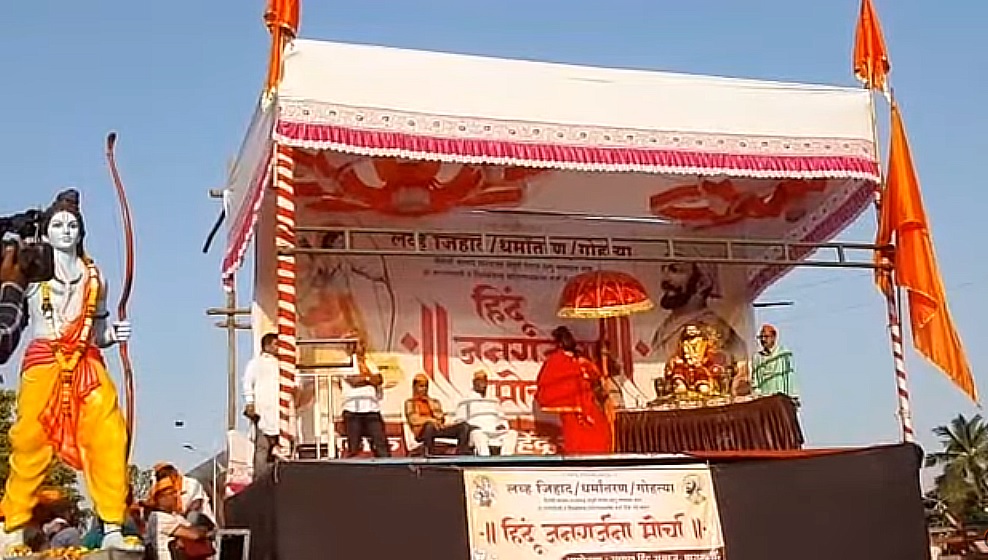 On February 9, at Baramati, in rural Pune, Hindu Jangarjana Morcha organized by Sakal Hindu Samaj was successfully held where hate offender Kalicharan Maharaj freely delivered his hate speech rife with blatant lies and hysteria. This, despite urgent appeals being made by Citizens for Justice and Peace (CJP) to the DGP, Maharashtra as well as SP of Rural Pune and Deputy SP of Baramati. A memo was also sent to Baramati MP, Supriya Sule to urge the police to take strict action in this regard. Yet, hate speeches were unabashedly made at this event, in broad daylight, perpetrating hatred and lies to a large audience.
The Samaj's proposed meet scheduled for February 5 was challenged before the Supreme Court and on February 3, the court had issued strict directions to the police to take preventive action if the need arises.
At the event, Kalicharan said that Muslims want to convert everyone to Islam because those who are not Muslims are kaafirs and it is written in the Quran that you should kill a Kaafir. "I am kaafir which means I am eligible to be killed (by them)," he said. He said, "wives of kaafirs are stolen property and one woman being raped by 50 men is not a big deal." He again repeated the same speech that he had made in Nandurbar about women raped in Kashmir and told his audience to watch the movie "Kashmir Files".
He claimed that what is shown in the movie is not even 1% of what happened in Kashmir. "Until Muslims are few in number, there is bhaichara (brotherhood). Once they increase in numbers they will kill these brothers. This is what happened in Kashmir. They want to establish Gazwa-e-hind and they have succeeded halfway because they made Iran, Afghanistan, Pakistan into Muslim countries and killed all the Hindus there. At the time of independence, Dalit leader Jogendranath Mandal was told by Dr BR Ambedkar that just because you hate Savarnas do not trust Muslims and go to Pakistan. But he did not listen and went to Pakistan where he was made the Law Minister and in the next 5-6 years all Hindus were killed".
Location: Baramati, Pune, Maharashtra

Far-right Hindu priest Kalicharan Maharaj, alias Abhijeet Dhananjay Saraag, delivers anti-Muslim hate speech, peddling conspiracy theories and promoting enmity between communities at an event organized by Hindu Janjagruti Morcha.

Last… https://t.co/a21eS6kz4m pic.twitter.com/UNTojFiGDv

— HindutvaWatch (@HindutvaWatchIn) February 14, 2023
He said, "vote for religion and progress (vikas) will automatically follow
The rally was recorded on video where slogans of "har ghar bhagwa chhayega jab Ram Rajya Ayega"(Every home will turn saffron when Ram's kingdom will return)
On February 3, 2023, the Supreme Court issued directions with respect to an event which was scheduled to be held in Mumbai on February 5 by Sakal Hindu Samaj. The court had taken an undertaking from the government of Maharashtra that if permission for this event is granted "it will be subject to the condition that nobody will make any hate speech and in defiance of law or disturbing the public order." The court also gave directions that it shall be the duty of the police officers to invoke section 151 of CrPC for preventive action in case the need for the same arises.
Despite such directions by the apex court with respect to the same organization, Maharashtra Police acted in contempt and allowed hate speech at this Baramati event and took no action either preventive or after the event against the organizers and the speakers.
Related:
CJP COMPLAINT TO DGP, MAHARASHTRA AND NCM AGAINST MISLEADING AND ISLAMOPHOBIC SPEECH BY KALICHARAN
Hate Speech: Kalicharan spews hate against Muslims in protest for "Love-Jihad" law, Maharashtra
Christmas of the 2% is being imposed on the 98%, says Suresh Chavhanke