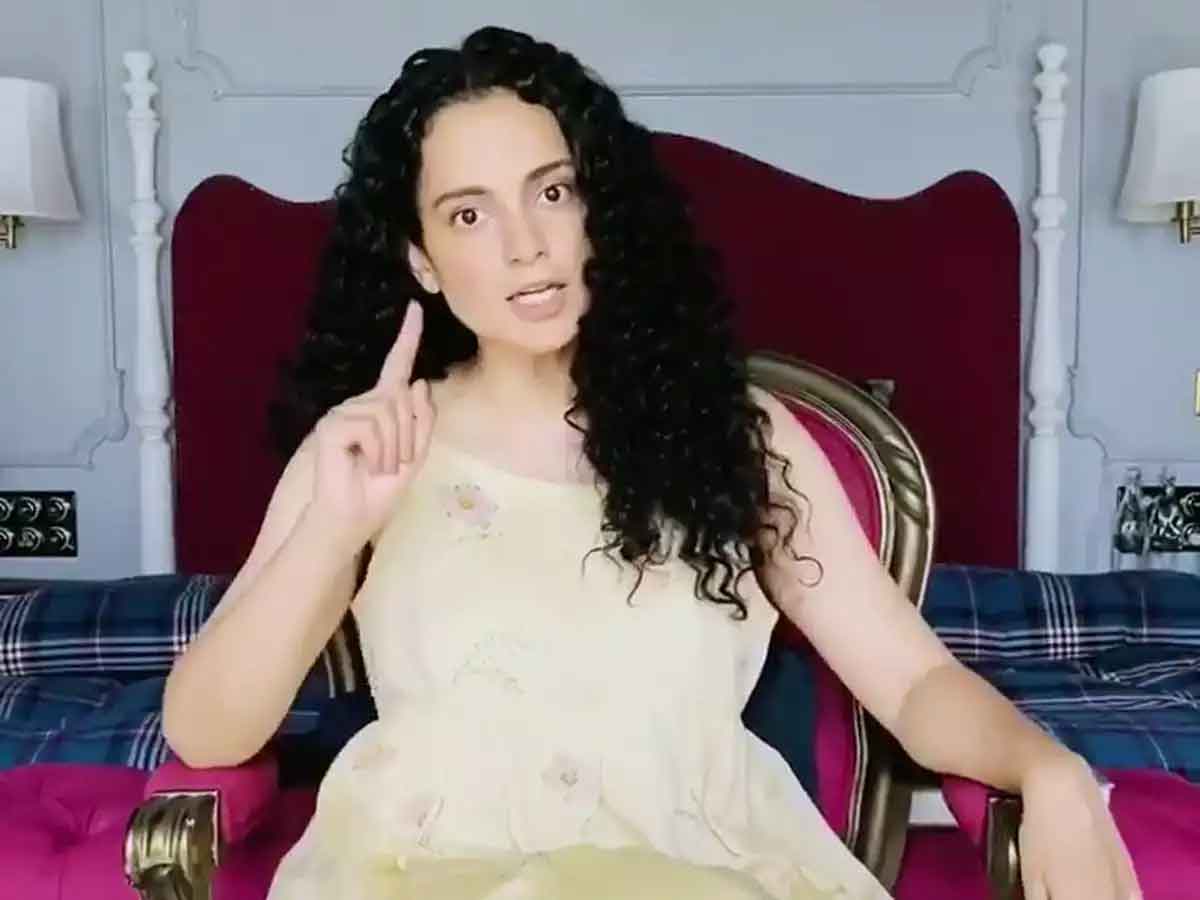 Image: twitter

Actor and right wing cheer leader Kangana Ranaut's Twitter account reportedly got restricted for some time after she made a fresh series of controversial remarks. This time she was ranting against creators of the web series Tandav, and allegedly also tweeted that it was "time to take their heads off" in response to a fellow right wing handle. She was quick to delete her tweet, but as most trolls realise later, multiple screen shots had been taken, and perhaps reported. A restriction reportedly followed.
Kangana Ranaut then took to Twitter to lash out at its boss Jack Dorsey, accusing him of acting on complaints by liberals. She called him the uncle or 'chacha' of liberals. According to news reports the social media site appears to have also issued Ranaut a warning. A further violation may result in Kangana's Twitter account being removed.
The problem isn't just the Hindu phobic content, it's also creatively poor and deprived,atrocious and objectionable on every level hence deliberately placed controversial scenes. Put them in jail not just for criminal intentions but also for torturing the viewer #tandavwebseries https://t.co/bmeaPzgkA5

— Kangana Ranaut (@KanganaTeam) January 18, 2021
This is one her most used mediums and enables her to reach those who do not even watch her films, it also gives her a platform to remain in the eye of the right-wing ecosystem, and politics whose patronage she thrives on. Tandav creators are being targeted by the entire right-wing ecosystem both online, and also have been issued legal notices by some, and summoned to give an explanation on the series, and defend themself against the allegations of 'hurting Hindu sentiments'.
Kangana may have now deleted her tweet where she allegedly said, "time to take their heads off", but it has had the impact she had sought. She later clarified her tweet, adding more rants and resorting to the right-wing script of calling liberals vermin. She tweeted, "Jo libru dar ke maare mummy ki god mein ro rahe hai, woh yeh padh lein. Maine tumhara sir kaatne ke liye nahi kaha, itna toh main bhi jaanti hoon ki insects ya worms ke liye pesticide chahiye hota hai (The liberals who are scared and crying to their mothers must read this. I did not ask for you to be beheaded. Even I know that insects and worms need pesticide)."
On Wednesday, Kangana played the victim card once again, and said her account was reported and got temporarily restricted by Twitter. She then dramatically posted, "Librus cried to their chacha @jack and got my account temporarily restricted, they are threatening me mera account/virtual identity kabhi bhi desh keliye shaheed ho sakti hai, magar my reloaded desh bhakt version will reappear through my movies. Tumhara jeena dushwar karke rahungi (My account and my virtual identity might get 'martyred' for the country anytime. I will make your life miserable)."
Her timeline is full of rants, and now reads more like a the syllabus of the 'WhatsApp' university of yore, she has claimed Saif Ali Khan, Javed Akhtar and Naseeruddin Shah's ancestors fought with the British against Marathas and others, stated news reports, adding that 'treason' and 'loyalty' ran in bloodlines.
In the recent past she has spread fake news about the farmers movement. She had spread fake news about the farmers' protest, alleging 'terrorists had begun participating' in it, calling it politically motivated. Ranaut's favourites to abuse were the old women farmers, and Bilquis Bano of Shaheen Bagh. Ranaut made it to SangrangIndia's 2020 List of 'Influencers' whose ideas belong in the Dustbin of Hate.
Meanwhile Tandav director Ali Abbas Zaffar issued an apology statement on behalf of the cast and crew of the show stating the Ministry of Information and Broadcasting (MIB) informed them "regarding a large number of grievances and petitions received on various facets of the web series with serious concerns and apprehensions regarding its content hurting the sentiments of the people."
— ali abbas zafar (@aliabbaszafar) January 19, 2021
Related:
Tandav Controversy: Deepak Sharma demands 'anti-blasphemy' law
Tandav controversy: Convenient distraction from an on ground crisis?
A 2020 List of 'Influencers' whose ideas belong in the Dustbin of Hate