Ever since Kanhaiya has entered Bihar from Delhi, camped there and began serious preparations for the October 25 mega opposition show, misreported incidents, twisting the facts have made the headlines


Begusarai: October 25 promises to be a big day for Bihar. A mega rally, attended by Tejaswi Yadav, Sharad Yadav, Sitaram Yechury, Dipankar and –to top it all—possibly Rahul Gandhi will be held at this historically significant city. Patna, Bihar has always been the place that has challenged the politics of Delhi especially when it became authoritarian and anti-democratic.

Kanhaiya Kumar, that iconic youth leader of the All India Students Federation (AISF) that caught the imagination of the country with his fiery presence and oratory after he was released from a month-long incarceration in jail (February 2016), has been in Bihar since October 6, meticulously mobilizing for the event, meeting groups and political formations to unite them in a show of mega strength.

No wonder then that his presence has seriously rattled the BJP and Sangh. Trenchant and skilled in his critique of the proto-fascist ideology that they represent, the ruling dispensation and its media allies have left no stone unturned to attack and vilify Kanhaiya.

Kanhaiya Kumar's March 3-4 JNU speech and the one weeks later addressing a massive crowd at Jantar Mantar elevated this young fiery political activist into direct confrontation with India's prime minister, Narendra Modi. Now the party he and his family belong to, the Communist Party of India (CPI,) is preparing to field him as the united opposition candidate from Begusarai in Bihar.

Ever since Kanhaiya has entered Bihar from Delhi, camped there and began serious preparations for the October 25 mega opposition show, misreported incidents, twisting the facts have made the headlines.

Sabrang India spoke to close associates of the youth leader to get the facts. Two separate incidents took place, one at AIIMS Patna on October 14 and another at a public space near a marketplace at Begusarai on October 16.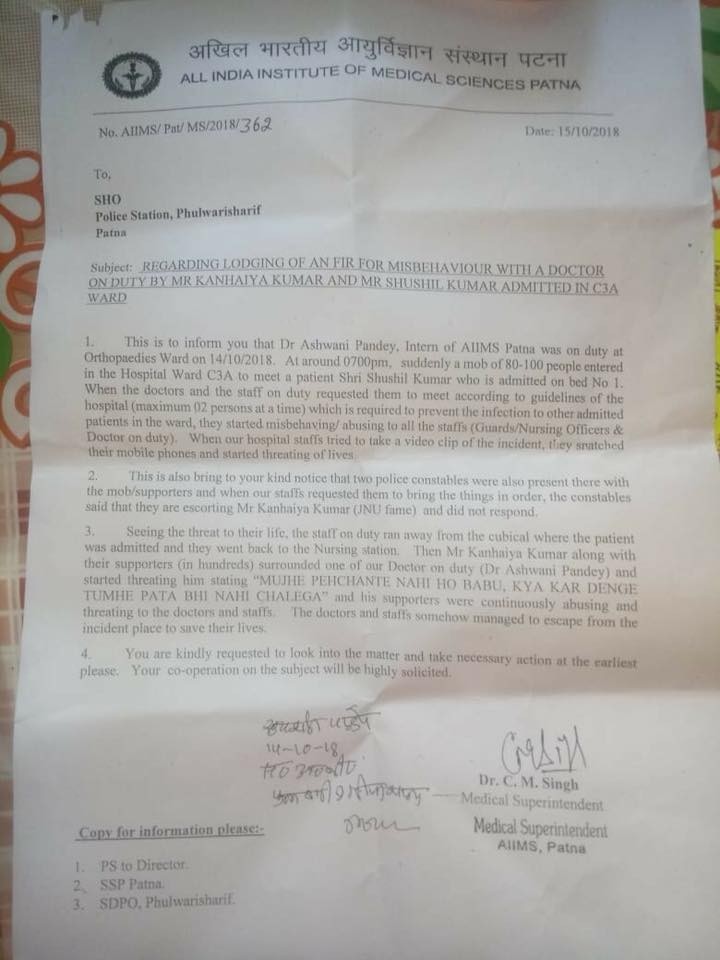 AIIMS Patna was the scene for the first incident. It is currently dominated by a significant RSS lobby among the doctors. It is allegedly close to Bihar Minister for Health Ashwini Chaubey. Kanhaiya Kumar had gone, with his police escort and about eight to ten colleagues to meet All India Students' Federation (AISF) leader Sushil Kumar, who had undergone surgery in his right hand on October 10 at the hospital's orthopaedic ward. This was on October 14.

His mere presence rattled the RSS lobby among the doctors and one particular resident, Ashwini Pandey began objecting to the presence of the visiting group. When the patient himself and others pointed out that recently the Minister himself had visited with a 100 strong crowd, an altercation followed.

An unverified Facebook page called Medicos United shared an image which had AIIMS Patna's statement for the Police. [Insert Image]

A spate of fake news was spread about Kanhaiya's behaviour when the police escort itself was witness to the fact that there was no such aggressive or violent action by him or his associates. Not to be concerned about the truth, however, Swaraj India and Zee spread all sorts of skewed reports on the incident. The doctor reportedly got a lot of support from other ideologically sympathetic doctors and threatened to go on strike. Finally, other more independent doctors intervened to say that patients should not be made to suffer and if he liked he should register an FIR. Finally, an FIR citing bailable sections (section 353—obstructing an official from doing his duty) was lodged against Kanhaiya Kumar.

The First Information Report (FIR) against Kumar and his supporters was lodged at Phulwarisharif police station in western Patna on a complaint by the association of AIIMS doctors, Phulwarisharif SHO Mohd Qaiser Alam told PTI. The case was lodged on Monday accusing Kanhaiya and his aides of alleged misbehaviour with a doctor, nurses and a security guard of AIIMS-Patna.

"A release issued by Janmaijay Kumar, secretary, All India Students' Federation, Patna unit, alleged that the junior doctors' behaviour was politically motivated and the police case was lodged at the behest of Union health minister Ashwini Kumar Choubey. 'The doctors threatened to discharge AISF state secretary Sushil Kumar from the hospital. This has put his life in danger. The AISF will organise a statewide protest on October 16-17 against this decision,' said Kumar," a report by Hindustan Times said.

An unverified Facebook page of AIIMS Patna posted a video which doesn't clearly show any scuffle on the part of Kanhaiya Kumar but was still being circulated to show that he incited violence.


"In the second incident, that took place at Begusarai in an open public space near a market, Kanhaiya Kumar was in a vehicle with several others following him. They stopped to speak to some members of the Khushwaha community gathered there. As soon as he stopped, some persons from the BJP's Youth Wing, the Bharatiya Janata Yuva Morcha tried to prevent him from meeting people. Sensing trouble Kanhaiya Kumar got into his vehicle and left but the cars behind that took a few minutes to leave, were attacked with stone pelting by BJYM members. Even this incident has been sought to be completely distorted by saying that Kanhaiya made the first move, etc. In fact, the District Magistrate, Rahul Kumar of Begusarai, rushed to meet Kanhaiya Kumar and assured him of protection as did the Superintendent of Police, Awakash Kumar," said AISF member Varun Chauhan who has been present with Kanhaiya all these incidents.

Sabrang India spoke to the DM of Begusarai and he said that two FIR from both parties were lodged at separate police stations. "The investigations have begun and we have provided an escort to Kanhaiya. A Police party was present with him at the second incidence and their statements will be recorded soon. We will make the information public when the time is right," he said.

Begusarai police had filed an FIR against Kanhaiya on Tuesday for allegedly being in a fight with some organisers of a Durga Puja. In a report by Indian Express, there was no mention of the BJYM incidence but the description of the attack seemed similar.

"Begusarai police said Kanhaiya and his supporters had stopped at Bhagwanpur Chowk on Tuesday afternoon when an argument broke out between them and members of the Bhagwanpur Durga Puja Samiti over the parking of vehicles. Local resident Shaanu Kumar has filed a case against Kanhaiya, his supporter Jishan Ali and 30 unidentified people, alleging that they beat him up. According to the complaint, Kanhaiya and his supporters had parked their cars near the puja pandal, causing traffic disruption, and when Shanu requested them to move their vehicles away from the pandal, Kanhaiya and his supporters started beating him up with wooden sticks they had kept in their vehicles," the report said.

"Another FIR has been filed against four workers of the Durga Puja Samiti on the basis of a complaint by Kanhaiya's supporter Sajag Kumar. Sajag has alleged that they were attacked by local residents. He has also said the window panes of the cars were smashed during the attack," the report added.

There had been speculations that the CPI(M) may field Kumar from Begusarai, a Left bastion till the 1990s, in the next Lok Sabha polls. Kanhaiya was born at Bihat village in Begusarai district. The RJD, which does not have a pre-poll alliance with the Left, had expressed its willingness to support his candidature.

Kanhaiya Kumar is also the former president of JNUSU who was arrested by Delhi Police in 2016 on the charges of seditions and for allegedly supporting anti-national sloganeering in JNU campus. He was released as no conclusive evidence was found against him. The Delhi police are yet to file a chargesheet in the matter.