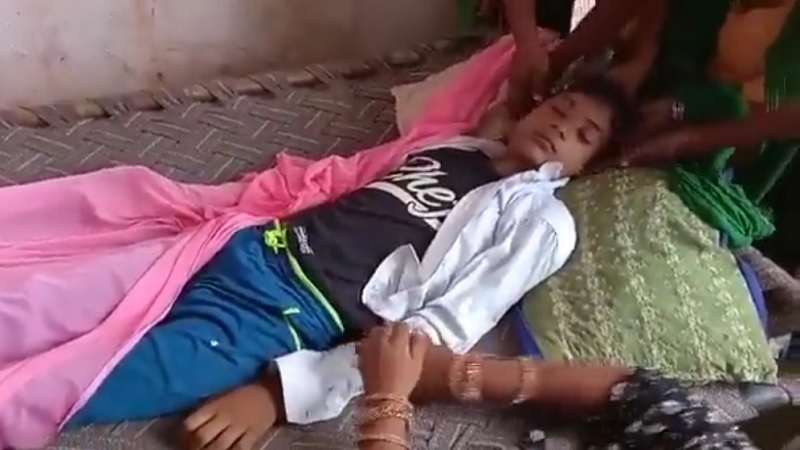 Image Courtesy: muslimmirror.com
In a shocking incident, a ninth standard student succumbed to his injuries after being beaten brutally allegedly by his school teachers in Uttar Pradesh. The 15-year-old identified as Dilshad alias Raja hailed from Paschim Madaiya Kasawa village that falls under the jurisdiction of Chhibramau Kotwali in Kannauj district.
The Times of India reports that the incident took place on July 23 when the boy went to get admission to ninth standard at a school that also had a private intermediate college in the Ramlila Maidan area. The publication quoted excerpts from his father Jahangir's police complaint: "At around 11 am, a teacher called him and accused him of stealing a watch. Thereafter, he was taken to the room and locked and beaten up along with fellow teachers following which he suffered injuries."
The Hindustan Times reports that a teacher named Shivkumar Yadav of RS Inter College allegedly summoned the boy and accused him of stealing a watch. Following this, Yadav and his colleagues Prabhakar and Vivek Yadav locked the boy in a room and beat him up brutally.
The boy returned home and narrated his plight, and was subsequently admitted to the local hospital. Upon showing no improvement shifted to a private hospital in Kanpur on July 24, where he succumbed to his injuries at around 8 P.M on July 25. The complaint was filed with the Chhibramau police and the body was sent for a post mortem exam.
"Strict action would be taken against the accused, as per the rules, if the post mortem report confirms the assault," Kannauj superintendent of police, Kunwar Anupam Singh, told HT.
However, in a twist in the tale, the boy's autopsy report says he died of tuberculosis. Chief medical officer, Dr Vinod Kumar now tells HT, "Both of his lungs had puss deposits; there was no sign contusion or abrasion found on the body."
Related:
Madhya Pradesh: Dalit girl's family beaten up for sending her to school
Hyderabad: Teenager assaulted for refusing to chant "Jai Shri Ram"