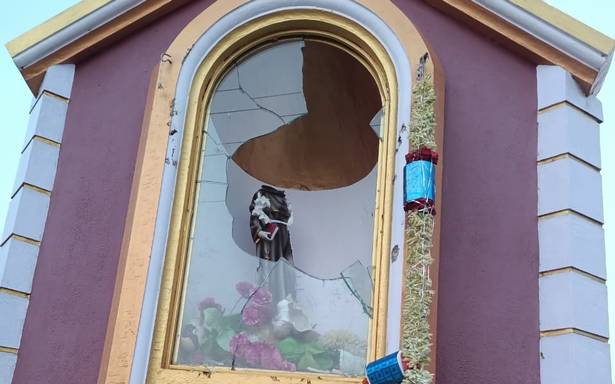 Anti-Christian activities and attacks seem to be at an all-time high in Bharatiya Janata Party (BJP) governed Karnataka as Christmas nears. Even though citizens have been protesting the Karnataka Protection of Right to Freedom of Religion Bill, 2021 that was tabled on December 21, and may become a Law in the state soon, attacks on the minority community continue.
Another attack on Christians was reported from Chikkaballapur, just days after members of right-wing groups set fire to Christian religious books in Kolar. According to a report in NDTV the 160-year-old St Joseph's church was vandalised in Chikkaballapur district in southern Karnataka. The vandals broke the statue of St Anthony, which the police has reportedly taken away "for further investigation" and a first information report, has been registered.
Father Jospeh Anthony Daniel, the priest in charge of the church, was quoted by NDTV saying that this kind of vandalism had never happened there before. The church in Susaipalya, some 65 km from state capital Bengaluru, is believed to have been damaged around 5.30 this morning, stated the news report. A member of the church reportedly saw the damage at 5.40 am and informed the priest, who then filed a complaint with the local police.
Fact finding reports put on record the rising attacks
The People's Union for Civil Liberties (PUCL) recently released a report titled "Criminalizing the Practice of Faith" on Hate Crimes against Christians in Karnataka by Hindutva groups. The report says that the myth of "conversion" is a bogey "used to target the constitutional right to practice, profess and propagate religion as recognized under Article 25," and puts on record how, in Karnataka, it is being used to curtail Christians' constitutional right to practice and profess their religion.
In the wake of the media reported attacks against Christians in North Karnataka, a fact-finding team from the Religious Liberty Commission (RLC) of Evangelical Fellowship of India (EFI). They visited eight towns and cities, and met with 12 pastors and Christian leaders who have recently experienced opposition and harassment. According to the team, "It is clear and obvious that an atmosphere of fear and apprehension prevails in the Christian community and its grassroots religious clergy because of systematic targeting through a vicious and malicious hate campaign. It is equally obvious that those involved in carrying out this hate campaign and fear mongering enjoy protection and possibly support of elements in the political and law and order apparatus in the state." The EFI fears that the community "has a good reason to apprehend an outbreak of violence against them." The EFI's report may be read here.
Related
Karnataka becomes fifth BJP-ruled state to introduce Anti-Conversion Bill
Targeting Christian community not a new phenomenon in Karnataka: PUCL report
Karnataka's Right-Wing groups most active against Christians ahead of State Assembly meet