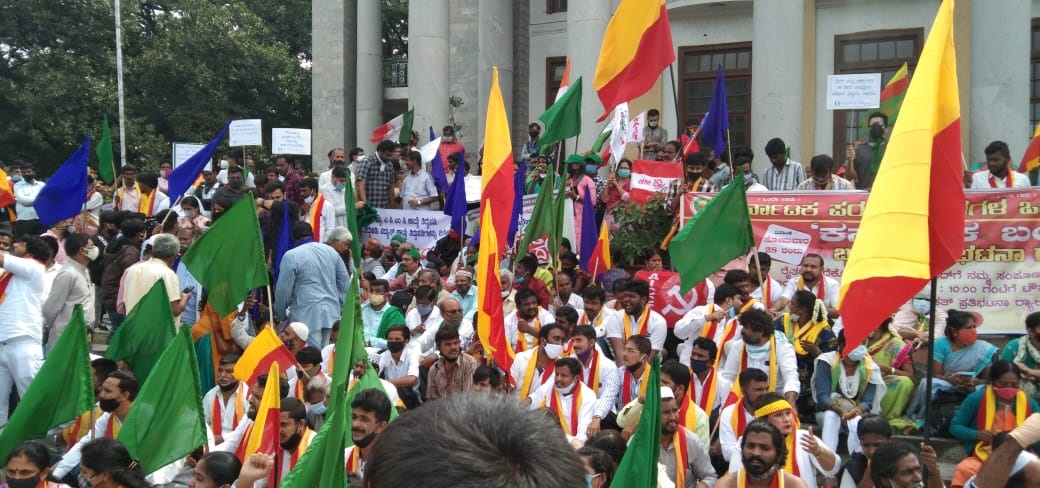 Protesting recent policies passed by Karnataka government, farmers, workers, Dalits, came together on September 28 to observe a 12-hour state-wide bandh.
The call for "Karnataka Bandh" by various marginalised organisations of the state was answered by farmers from urban and rural areas alike as they went out on the streets and demanded support from public citizens.
According to reports, Congress and JD(S) workers were detained while denouncing the amendments to the Agricultural Produce Marketing Committee (APMC) Act and land reforms acts made by the B S Yediyurappa government.
@swaraj_abhiyan will continue to fight against Karnataka Government's anti-farmer and anti-workers bills
#KarnatakaBandh @aviksahaindia @_YogendraYadav @Youth4Swaraj @nsudha13 @gulabpasha @kkuruganti @gulabpasha @_SwarajIndia @akkrajshekhar @vijayvins @nishagulur @kpsingh1966 pic.twitter.com/0fsQMKAESw

— Manohar Elavarthi (@manoharban) September 28, 2020
Protesters agitated against two important amendments to the Karnataka Land Reforms Act and the Agriculture Produce Market Committee Act that were passed by the state government despite strong objections.
Marginal farmers particularly object to the land reforms amendment that plans to open the sale of agricultural land to individual owners instead of restricting buying and selling to farmers.
Similarly, the APMC amendment connects private buyers directly to farmers who would struggle to bargain with the big corporations.
Lots of different groups and unions are extending their solidarity to Farmers and are warning the government against its #AntiFarmerBills & Acts. #KarnatakaBandh pic.twitter.com/T1LDi3h1jD

— Kavitha Kuruganti (@kkuruganti) September 28, 2020
The state government had previously asked protesters not to observe the bandh under the assurance that farmers would not suffer due to the new laws. However, farmers along with workers and Dalits protested nonetheless with mass sit-ins in various parts of Bengaluru.
Bangalore Students helping Karnataka farmers who have gathered in the state. The bill remains a political issue, on a humanitarian scale we remain supportive to the farmers who have left their homes and arrived in Bangalore without basic essentials. #KarnatakaBandh pic.twitter.com/cLI60uT3eH

— blrstucom (@blrstucom_) September 28, 2020
Farmers gathered in large numbers outside Bengaluru's Town Hall sloganeering for the repeal of amendments made to state agriculture laws. Protesters planned to march from there to Freedom Park via the Mysore Bank Circle.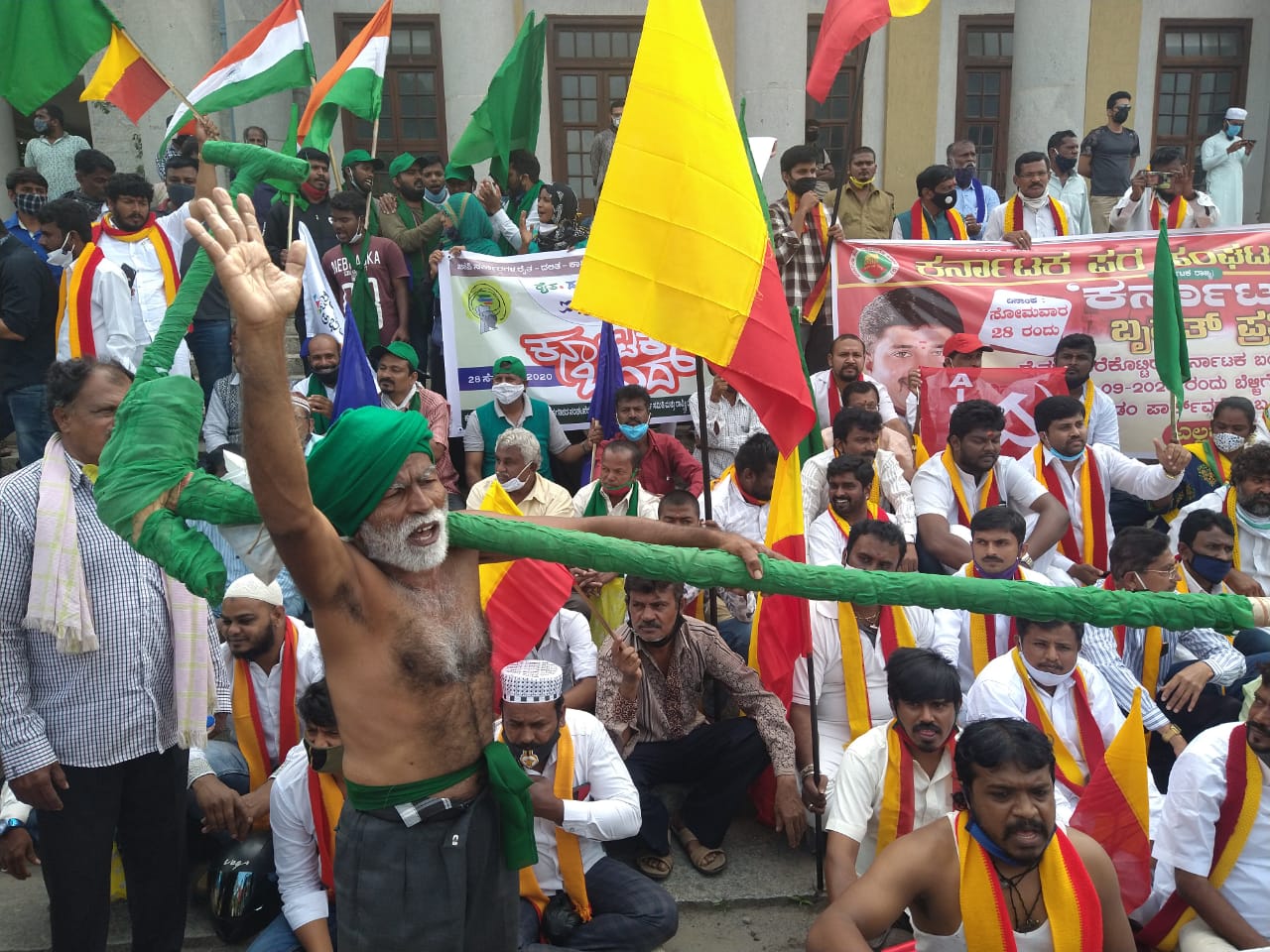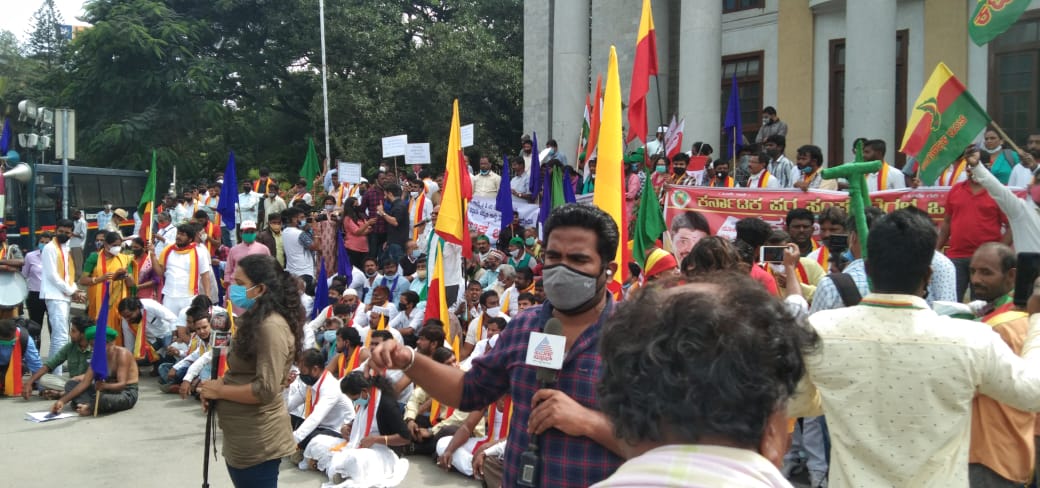 Farmers were also arrested at Mysuru Palace for trying to obstruct state transport buses.
The protests in majestic started at 6.30 morning. Transportation likely to get affected as 25k protestors are expected to hit the streets. pic.twitter.com/sU4kD2fszi

— Kiran Parashar (@KiranParashar21) September 28, 2020
In the spirit of the state-wide rasta roko, protesters staged a sit-in on a road in Hubli and appealed to locals by offering flowers to shopkeepers. Meanwhile, the All India Kisan Sabha (AIKS) and other organisations held a bike rally in Hassan.
ಹುಬ್ಬಳ್ಳಿ: ಕರ್ನಾಟಕ ಬಂದ್ ಹಿನ್ನೆಲೆ

ಹುಬ್ಬಳ್ಳಿಯಲ್ಲಿ ಚೆನ್ನಮ್ಮ ವೃತ್ತದಲ್ಲಿ ರೈತರ ಪ್ರತಿಭಟನೆ

ರೈತ ಮುಖಂಡರಿಂದ ರಸ್ತೆ ತಡೆದು ಬಂದ್

ರಸ್ತೆ ಮೇಲೆ‌ ಕುಳಿತ ಪ್ರತಿಭಟನೆ ನಡೆಸುತ್ತಿರುವ ರೈತರು

ಬಸ್ ಮುಂದೇ ಮಲಗಿ ಬಸ್ ತಡೆಯಲು ಮುಂದಾದ ರೈತ

#Hubli #KarnatakaBandh #AgricultureBill #FarmersBills2020 #FarmersProtest pic.twitter.com/s406W6ZYAh

— oneindiakannada (@OneindiaKannada) September 28, 2020
In rural areas, farmers took out bullock cart rallies.
#TNIE #FarmBills #KarnatakaBandh
Farmers take out bullock cart rally from Godihal cross Village to Ballari to protest against #FarmBills @NewIndianXpress @XpressBengaluru @santwana99 @ramupatil_TNIE @Amitsen_TNIE @Arunkumar_TNIE @bellaryvartha @BallariSp @HospetOnline pic.twitter.com/GJIVyVqj1M

— @Kiran_TNIE (@KiranTNIE1) September 28, 2020
Certain pro-Kannada organisations were reported to have barged into Bengaluru International Airport as well while in the afternoon, news reports stated that even auto drivers had joined the agitation.
Protests across Karnataka against farm bills; cabs, auto drivers join stir#KarnatakaBandh #FarmersProtest #FarmBills
Live updates: https://t.co/AjrATpP2xz pic.twitter.com/R6XmdxYQEG

— IndiaToday (@IndiaToday) September 28, 2020
While Karnataka agitated against the state-injustice, other states like Tamil Nadu and Punjab observed their own protests to continue their agitations against the three farm Bills.
DMK Youth wing secretary Udhayanidhi Stalin along with senior DMK leaders and its allies protest against #FarmBills at Valluvar Kottam in Chennai pic.twitter.com/IWhO9c5vpk

— TOIChennai (@TOIChennai) September 28, 2020
Everyone should put their political parties aside at this point of time. All of us need to get together and take a stand for farmers & fight this menace of the central govt. We have to fight it out constitutionally: Punjab CM Captain Amarinder Singh pic.twitter.com/vsAbaztd9H

— ANI (@ANI) September 28, 2020
Related:
Karnataka Bandh against 'anti-farmer, anti-worker and anti-Dalit-oppressed' policies
Highlights of National Protest Day
Freedom Park: Where the marginalised unite
Reduce essential service cost, unburden the poor: Swaraj India