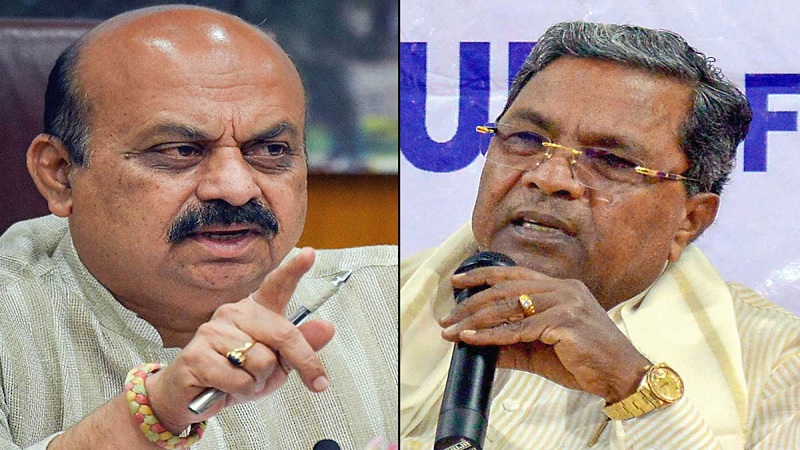 Image Courtesy:thenewsminute.com
Karnataka's senior Congress leader Siddaramaiah has taken to Twitter to publicly school Karnataka Chief Minister Basavaraj Bommai on the latter's comments on moral policing. On Wednesday Bommai, was speaking to media persons seeking his reaction to Bharatiya Janata Party (BJP) MLA Umanath Kotian escorting two people accused in a 'moral policing' incident out of a police station, after their release on interim bail.
The accused Samhithraj and Sandeep Poojary had been arrested on Saturday after members of Hindutva outfits waylaid a car in which three women and a man were travelling to Karkala and allegedly harassed them at Moodbidri, stated news reports. Among the harassed victims were two Muslims, and two Hindus. The victims filed a complaint and subsequently the Moodbidri police arrested the accused and booked them under Sections 354, 153a, 504 and 506 of the IPC. The BJP MLA escorted them out of the police station.
In reaction to the whole event, CM Bommai reportedly said that moral policing is the 'natural action and reaction' when sentiments are hurt. He said, "In society, all of us have to be responsible. There are many sentiments and one must behave in a way that doesn't hurt such sentiments. When sentiments are hurt, naturally, actions and reactions are bound to happen." According to a News18 report, the CM added, "Along with government responsibility to ensure law and order, everyone needs to be responsible, everyone must cooperate. Youngsters must ensure the sentiments of society aren't hurt. This is a societal issue. Can we live without morality? What's in our control is our morality. When there's no morality, there will be actions and reactions."
Bommai's 'morality' comments were criticised widely, and the tallest leader doing that was Karnataka's former Chief Minister Siddaramaiah who took to a series of tweets putting Bommai under the scanner. He said, "You have accepted your incapability to maintain law and order by justifying moral policing by a few anti-social elements. Please resign & save Karnataka!! Innocent women are being targeted in Karnataka and you are protecting anti-social elements." He also asked if Bommai was going to "hand over law and order to the RSS or if he was planning to establish Junge Raj." Siddaramaiah showed his Twitter savvy use of the #MoralPolicing and posted a long thread directed at Bommai.
ಮುಖ್ಯಮಂತ್ರಿ @BSBommai ಅವರೇ,
ನನ್ನಿಂದ ಆಡಳಿತವನ್ನಾಗಲಿ, ಪೊಲೀಸಿಂಗ್ ಆಗಲಿ ಕಲಿಯಬೇಕಿಲ್ಲ ಎಂದು ಹೇಳಿದ್ದೀರಿ, ಧನ್ಯವಾದಗಳು.

ನನ್ನಿಂದಾಗಲಿ, ನಿಮ್ಮ ತಂದೆ ಎಸ್.ಆರ್.ಬೊಮ್ಮಾಯಿ ಅವರಿಂದಾಗಲಿ
ನೀವು ಏನಾದರೂ ಕಲಿತಿದ್ದರೆ,
ಕೇವಲ ಅಧಿಕಾರಕ್ಕಾಗಿ ಕೋಮುವಾದಿ ಪಕ್ಷದ ಜೊತೆ ಹೇಗೆ ಸೇರಿಕೊಳ್ಳುತ್ತಿದ್ದೀರಿ ಅಲ್ಲವೇ?
1/9 pic.twitter.com/5vk4JKSBC1

— Siddaramaiah (@siddaramaiah) October 14, 2021
According to news reports, Bommai accused Siddaramaiah of having got Hindu activists killed during his regime, to which Karnataka's Opposition party leader in the Assembly warned him that a defamation case against the CM can be filed, but instead he is advised to correct himself. Siddaramaiah said, "Mr Basavaraj Bommai, like an ignorant, you have alleged that I got Hindus killed. Being the Chief Minister of Karnataka, you should have thought it through before making such loose comments. I can file a defamation case for this but I will just advise you to correct yourself."
Siddaramaiah also reminded Bommai, of the political legacy of his father S R Bommai, who was also a former CM of the state. He said, "Had you learnt anything from your father Shri S R Bommai (former CM) or me, you would not have joined a communal party just for power and support anti-constitutional activities."
Bommai junior had attacked Siddaramaiah and posted, "While you were the CM, you became the icon of anti-Hindus by getting killed Hindu activists as Tippu Sultan did in his regime. I need not learn administration or policing from you."
The Twitter spat between the two politicians has gone on for a few days now, even as the state continues to witness communal attacks at regular intervals.
Related
Hate Watch: Was Sri Rama Sena Hindustan member allegedly paid Rs 5 lakh to kill
Mangaluru: Protests by Hindutva groups force College to cancel naming park after