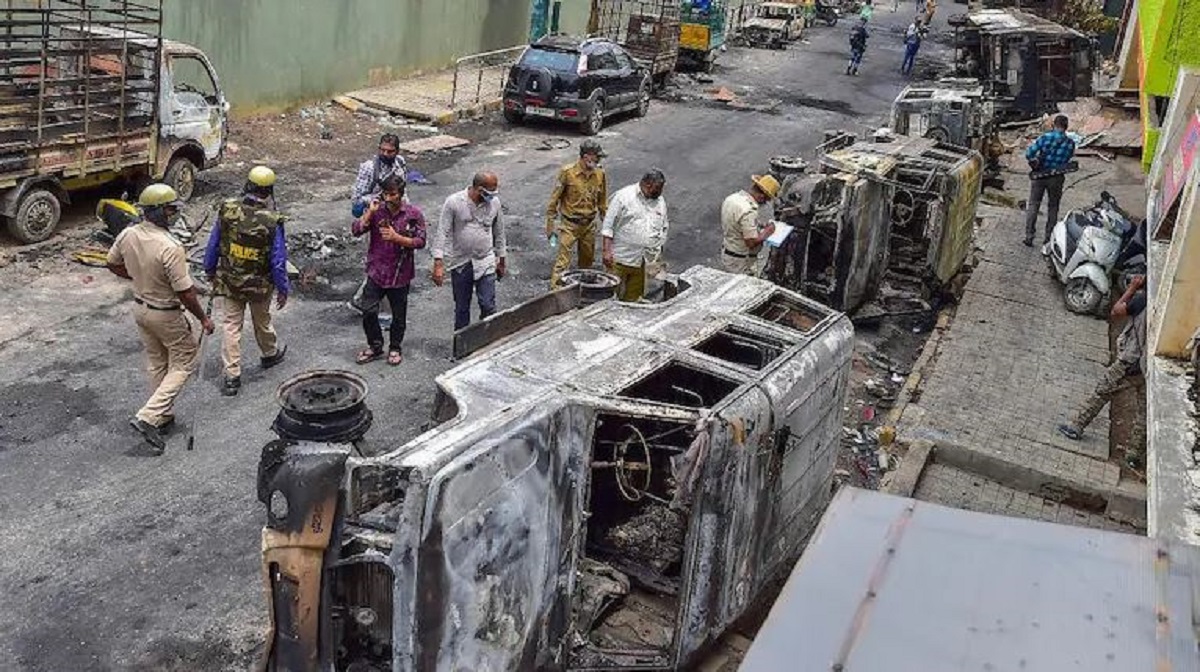 The Chief Minister of Karnataka B.S. Yediyurappa has said, "Stringent action has been initiated against the culprits of DJ Halli and KG Halli violent incidents including invoking of the Unlawful Activities Prevention Act – UAPA Act." The CM posted this on Twitter after he reviewed the case developments on August 17, following the violent riots and arson that took place in parts of East Bengaluru on August 11.
Stringent action has been initiated against the culprits of DJ Halli and KG Halli violent incidents including invoking of the Unlawful Activities Prevention Act – UAPA Act. (2/3)

— B.S. Yediyurappa (@BSYBJP) August 17, 2020
He added that a Special Investigation Team (SIT) has also been formed to conduct a "detailed investigation in the matter and a team of three special prosecutors will be appointed for speedy trial of the cases. SIT will consider invoking Goonda Act if warranted."
Almost a week after violent riots and arson took places in parts of East Bengaluru, including a mob attack on a police station, after a 'derogatory' social media comment triggered alleged communal violence in the jurisdiction of Devarajeevanahalli (DJ Halli) and Kadugodanahalli (KG Halli) police stations, First Information Reports (FIRs) continue to be registered. According to a report in The Indian Express, Deputy Commissioner of Police (East) Sharanappa S D said that "at least 52 FIRs" had been filed till Sunday afternoon and "A total of 264 accused have been arrested in connection to the violence and rioting that took place on August 11 night," adding that more complaints were being taken up simultaneously.
It is also being reported that the Karnataka government may consider imposing a ban on the Social Democratic Party of India (SDPI) and its political affiliate Popular Front of India (PFI) for their alleged role in Bengaluru riots early this week. This issue, state news reports is likely to come up for discussion at the state Cabinet meeting scheduled to be held on August 20.
The communal riots broke out after an allegedly communal and derogatory social media post about Prophet Mohammed's family was uploaded on Facebook, by Naveen. The accused, who has been arrested, is said to be the nephew of Congress MLA Srinivas Murthy. The riots included massive arson, and violence in the area. The mobs also vandalised the MLA's house, and the police station nearby. It was reported that around 60 police personnel were injured and three people were killed on the day. Now, the death toll linked to the violence is at four as an accused aged 24 succumbed on Saturday following a surgery at a government hospital, reported the Indian express.
The IE reported that the deceased, identified as Sayyad Nadeem, tested positive for Coronavirus and did not respond to post-operative treatment. It quotes Additional Commissioner of Police (Administration) Hemant Nimbalkar, "He was brought to Bowring Hospital for treatment (on Friday) after he complained of chest pain, stomach pain, and breathlessness. He was operated upon with a history of blunt injury (not bullet injury)…"
Meanwhile, the government of Karnataka may be considering imposing a ban on the regional outfit Social Democratic Party of India (SDPI) and its political affiliate Popular Front of India (PFI), reported News 18. The news report states that the two outfits may be banned for their alleged role in the riots. "The state government will take a decision on banning SDPI and PFI in the cabinet meeting on August 20," state Panchayat Raj and Rural Development Minister K.S. Eshwarappa spoke to the media at Shivamogga.
After the August 11 riots, some members of the SDPI had been arrested by police for their alleged role in the mob violence in the city's northeast suburb, for allegedly instigating the mobs. Three persons were killed when the police fired to control the volatile situation.
According to ministers Eshwarappa, the state government is "under pressure from many groups and organisations to ban the fringe groups, as they have been allegedly involved in causing unrest and disharmony in society." The proposed ban has also been hinted at by State Revenue Minister R. Ashoka, reported the local media. "Preliminary investigation and interrogation of the arrested SDPI and PFI members revealed their alleged involvement in the riots on August 11. Its activists were also held in the past for allegedly causing disharmony in society," he is quoted in news reports. The states Deputy Chief Minister C.N. Ashwath Narayan also echoed the ban of the two outfits.
According to the Indian Express, the accused have been charged under various sections of the Indian Penal Code, including 143 (unlawful assembly), 147 (rioting), 307 (attempt to murder), 332 & 333 (voluntarily causing hurt/grievous hurt to deter public servant from duty), 353 (assault or criminal force to deter public servant from discharge of duty), 427 (mischief causing damage to amount of Rs 50 or above), and 436 (mischief by fire or explosive substance with intent to destroy house, etc.).
Rapid Action Force (RAF) personnel have also carried out a flag march in the violence-hit area. Meanwhile, the IE also reported that residents of the areas have alleged that the police teams have barged into their houses to "randomly pick up" youngsters. "My brother and others have been arrested on the basis of nothing. Even as we repeatedly requested the cops — who stormed into our apartment at around 1.40 A.M on Thursday — not to take them as they stayed indoors with us when the incident took place, almost everyone who were of 18 years of age or above were forcefully taken into custody without even an arrest warrant," a female resident alleged. She added that there has been "no news of those" who were picked up, till Sunday.
It may be recalled that similar allegations of 'random arrests', have also been made in the aftermath of the communal riots that took place in North east Delhi in February 2020. The two incidents are, however, not connected.
In Bengaluru, the DCP Sharanappa told IE, "Each arrest has been made based on solid evidence collected from CCTV footage and others. Several teams formed by the cops are looking into it and each arrest is being reviewed. Some detainees have been sent back after thorough questioning as well. All officers have been directed to ensure no juvenile (below the age of 18 years) is detained at any cost," adding that "Several accused were released as per provisions of section 169 (release of accused when evidence is deficient) of the Code of Criminal Procedure (CrPC)."
The Bengaluru City Police (BCP) Commissioner Kamal Pant issued an order extending restrictions imposed in areas under the limits of DJ Halli, KG Halli stations till 6 am on August 18. "A considerable number of detainees are sent to Bellary Central Jail on judicial custody for 15 days. Others are detained in Parappana Agrahara with tight security," an investigating officer from the Central Crime Branch, BCP clarified to the IE. The official added that most of the accused have been identified as members of the Social Democratic Party of India (SDPI), the political arm of the Popular Front of India (PFI).
Bommai claimed that the Social Democratic Party of India's role and the internal conflict in the state Congress were the reason behind the clashes. "Investigations into the riots so far revealed that political differences in the Congress, its differences with the SDPI and the latter's larger conspiracy to disrupt law and order had a role in the city's mob violence," Bommai alleged.
According to news reports, SDPI's Karnataka chief Elyas Muhammad Thumbe has refuted the allegations against the group and said it was being dragged into the incident "just to cover up police inaction against blasphemy and failure of the state's intelligence unit".
Related:
Bengaluru riot: 3 dead, journalists beaten up by cops, vehicles gutted