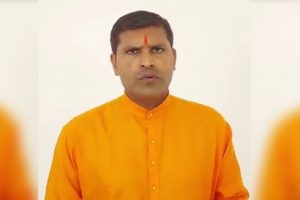 After a 12-day wait, Bengaluru's Magistrate court directed the Sanjaynagar police on April 18, 2022 to investigate the allegations of hate speech against Hindu Janagaruthi Samiti Coordinator Chandru Moger. State activists who approached the court said the police were unable to carry out their duties due to political pressure.
On April 6, activists Khizer-e-Alam, Waseem Raja, Zia Nomani among others attempted to register an official FIR against Moger. As per their complaint the hate-monger accused the community of monopolising the fruit vending business and of spitting on products as a form of "spitting Jihad". Moger further called for an economic boycott against Muslim fruit vendors.
However, Inspector Balraj told SabrangIndia that the registration of an FIR was delayed due to "confusion about certain details" like where the event took place and when. Disappointed by this, the activists had held a press meeting and approached the court on April 13.
"We filed a petition praying for immediate intervention by the Court of law, directing Bengaluru police to book and investigate the offences committed by the accused. We further prayed that such hate speeches can lead to serious law and order situation, affect livelihood of Muslim vendors, create an atmosphere of communal hatred," said Zia Nomani.
Accordingly, the court dismissed the police's document deeming the incident a non-cognisable event and named it a "cognisable offence under Section 156(3)" of the CrPC. The activists thanked the court for "fighting the fascist forces" that threaten "the essence of our nation".
Related:
Activists claim Karnataka police under tremendous political pressure
Karnataka police allegedly delays FIR against claim of "spitting jihad"
Are increasing calls for economic boycott of Muslims a sinister precursor to something worse?