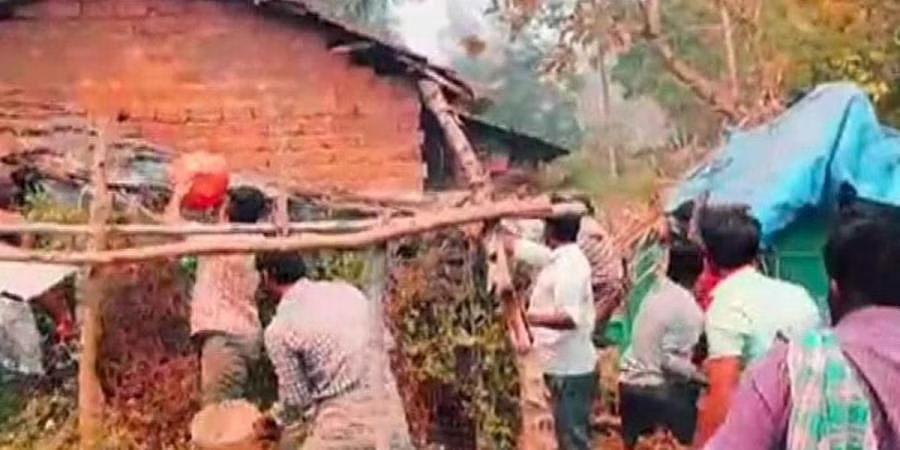 A shocking incident of caste discrimination was reported from Karnataka on Sunday where two homes belonging to Dalit were set ablaze by villagers as they were opposed to Dalit children dancing in the village fair procession. A village fair was being held at Nandihalli village in Haveri district when some children and youth from Dalit community started dancing in the procession. A section of villagers opposed this saying that they had contributed money for the fair and that Dalits should not take part in it. This led to an altercation.
Later that night when 12 members of the family were sleeping in two houses next to each other, a group of villagers threw logs of wood and poured petrol and set the house on fire hoping the fire would spread to the other house as well. Alarmed by the smoke, the family members got out in time and managed to save their lives. Neighbours doused the fire before the fire could spread more and cause damage.
The New Indian Express reported that senior officers from Havier came to Nandihalli to look into the matter and that two persons have surrendered and investigation will proceed further from here. The rest of the accused are still absconding and the police anticipate that more villagers will surrender while they are on a constant lookout.
In Uttar Pradesh as well an incident of attack on a Dalit was reported. From Bahraich, a video has surfaced where four people can be seen mercilessly hitting the woman with sticks. Bahraich Police confirmed that an FIR has been lodged and that four persons have been arrested in the matter. Munnilal, Dharmendra, Munejar and Santosh Mishra are, reportedly, the accused.
बहराइच में गुण्डों द्वारा लाठी-डंडों से महिला को बेरहमी से पीटा गया, जो बेहद शर्मनाक और अतिनिंदनीय है! वीडियो हुआ वायरल #viral @bahraichpolice @Uppolice @UPPViralCheck pic.twitter.com/dcXyxuENmv

— MANOJ SHARMA UP 32 JOURNALIST ?????? (@ManojSh28986262) March 5, 2023
Related:
Mumbai Dharna for Darshan Solanki makes calls for law against caste discrimination
Appeal verdict AIDWA demands of CBI
IIT Bombay Dalit student death: Dr Bhalchandra Mungekar, ex Rajya Sabha member, demands SIT probe into his death