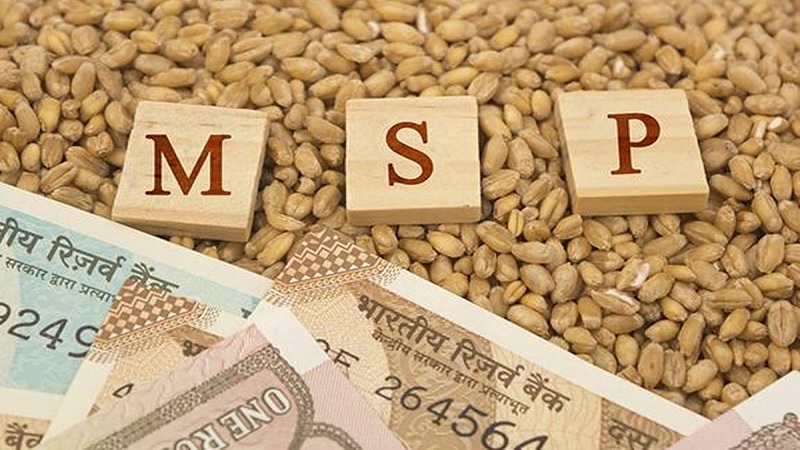 Image Courtesy:thehindubusinessline.com
Around 2,500 farmers assembled in the market area of Gulbarga district in Karnataka to demand Minimum Support Prices (MSP) for their crops on March 5, 2021, Karnataka Rajya Raitha Sangha (KRRS) Honorary President Chamarasa Mali Patil told SabrangIndia.
Following the Samyukt Kisan Morcha's (SKM) call for an 'MSP Dilao Abhiyan,' a delegation headed to Karnataka to put Prime Minister Narendra Modi's verbal assurances of support prices for farm produce to the test. However, SKM leader Yogendra Yadav, Punjab farmer leader Satnam Ajnala, Haryana leader Deepak Lamba and others found that the market rates at Gulbarga mandi on Friday remain short of MSP.
Interactions at the market revealed that chana is sold at Rs. 4,800 per quintal even though its MSP is Rs. 5,100 per quintal. Maize crop is sold at Rs. 1,500 per quintal as against MSP of Rs. 1,850 per quintal. Similarly, jowar and moong crops are sold at Rs. 1,800 to Rs. 2,000 per quintal and Rs. 6,000 to Rs. 6,500 per quintal respectively even though their MSP stands at Rs. 2,620 per quintal and Rs. 7,200 per quintal.
"We ask the government where is the MSP they had promised us? This programme will now spread out to all other parts of India to demand fair prices for farmers," said Mali Patil after a three-hour meeting called by farmer leaders. Many women farmers were present during the meeting to demand fair prices for their produce.
The KRRS official confirmed that on March 6, farmer leaders will visit markets in Ballari district, and then assemble at Bengaluru on March 7 to have a meeting with local farmer leaders. Meanwhile, protests and agitations will continue in other parts of India such as the KMP highway blockade on Saturday.
Related:
India's farmers and workers to commemorate Anti-Privatisation Day on March 15
Labour activist Shiv Kumar granted bail by Haryana court
Nodeep Kaur case: NHRC seeks report from Haryana Police over alleged custodial torture
IT raids, govt's desperate attempt to attack farmer supporters: SKM
Farmers focus on assembly election stating "govt only understands votes"
2020-2021: The historic farmers agitation and its significance
March will witness mahapanchayats across India, says the SKM