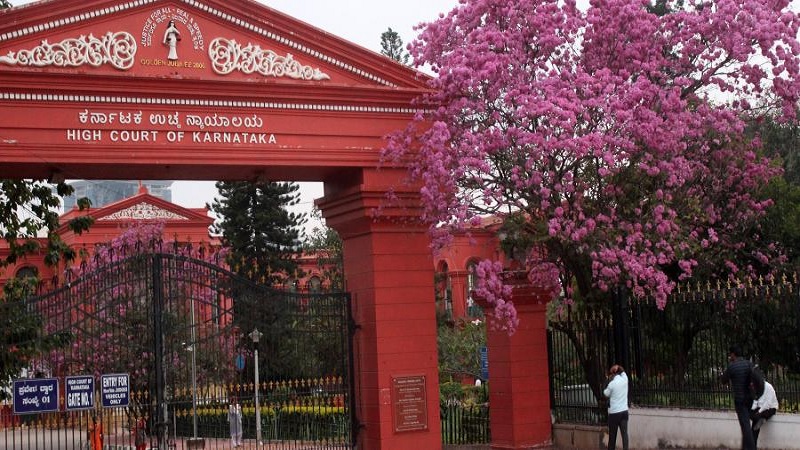 Image Courtesy:newindianexpress.com
The Karnataka High Court has asked the State Government to take a stand whether the families of farmers who died by suicide, will be excluded from government assistance of Rs 5 lakhs in order to pay private money lenders, reported LiveLaw.
A Division Bench of Chief Justice Abhay Oka and Justice S Vishwajith Shetty took strong objection to the classification created by the State Government whereby financial aid is given only to farmers who ended their life after borrowing from banks and financial institutions.
LiveLaw quoted the Bench orally observing, "Prima facie the cause for which farmer commits suicide is important…cause is he is heavily indebted…he is not able to repay the loan so he taken this option of committing suicide. What is the difference between the class of farmers who taken money from banks and credit societies and commit suicide and class of farmers who take loan from private money lenders and committed suicide? Why has the state made the distinction between the two?"
LiveLaw accessed the State affidavit submitted before the High Court Bench, that read: "The Government has no control nor there is any regulation preventing farmers from taking any loan from private money lenders and therefore this aspect is one of the reasons for determining the eligibility of the farmers to extend the benefit.
However, if the same family who have suffered at the hands of money lenders, also have taken loan from the banks or other notified institutions, the family still would be entitled for the benefit, subject to satisfaction of any and or all other conditions."
The Bench urged the Chief Secretary to look at the seriousness of the situation. The court said, "Only in one taluka there are about 125 cases of farmers committing suicide, within a span of five years." He directed him to file an affidavit within three weeks and keep in mind the dire circumstances under which farmers are forced to approach private money lenders to obtain loans.
The High Court in this writ petition, also considered the allegations of the petitioner Akhanda Karnataka Raitha Sangha, about the failure to implement the crop insurance scheme and failure to disburse the crop insurance loss compensation to the insured farmers in Shahapur taluk of Yadgir district. Thereafter, the State was directed to file an affidavit in this regard on December 11, 2020.
On January 13, the High Court perused the affidavit on implementation and said, "We have perused the affidavit of Shri Brijesh Kumar Dikshit, I.F.S., filed by the State Government on 12th January 2021. Prima facie, it appears that the said affidavit shows insensitivity on the part of the Officers of the State in dealing with implementation of the Crop Insurance Scheme."
The court has also directed the State Government to place on record details of grievance/complaints of farmers, disposed of by the district grievance redressal committee at District Yadgir. The matter will be heard on March 29.
The order dated January 13, 2021 may be read here:
Related:
At least Seven Farmer Suicides a Day reveals Govt Data: Maharashtra
144 peasants died during farmers' struggle since November 24, 2020
SHOCKING! Nearly 3 lakh farmers died due to loan debts in the last two decades!
Farmers rights are human rights: Protesters at Tikri Kalan