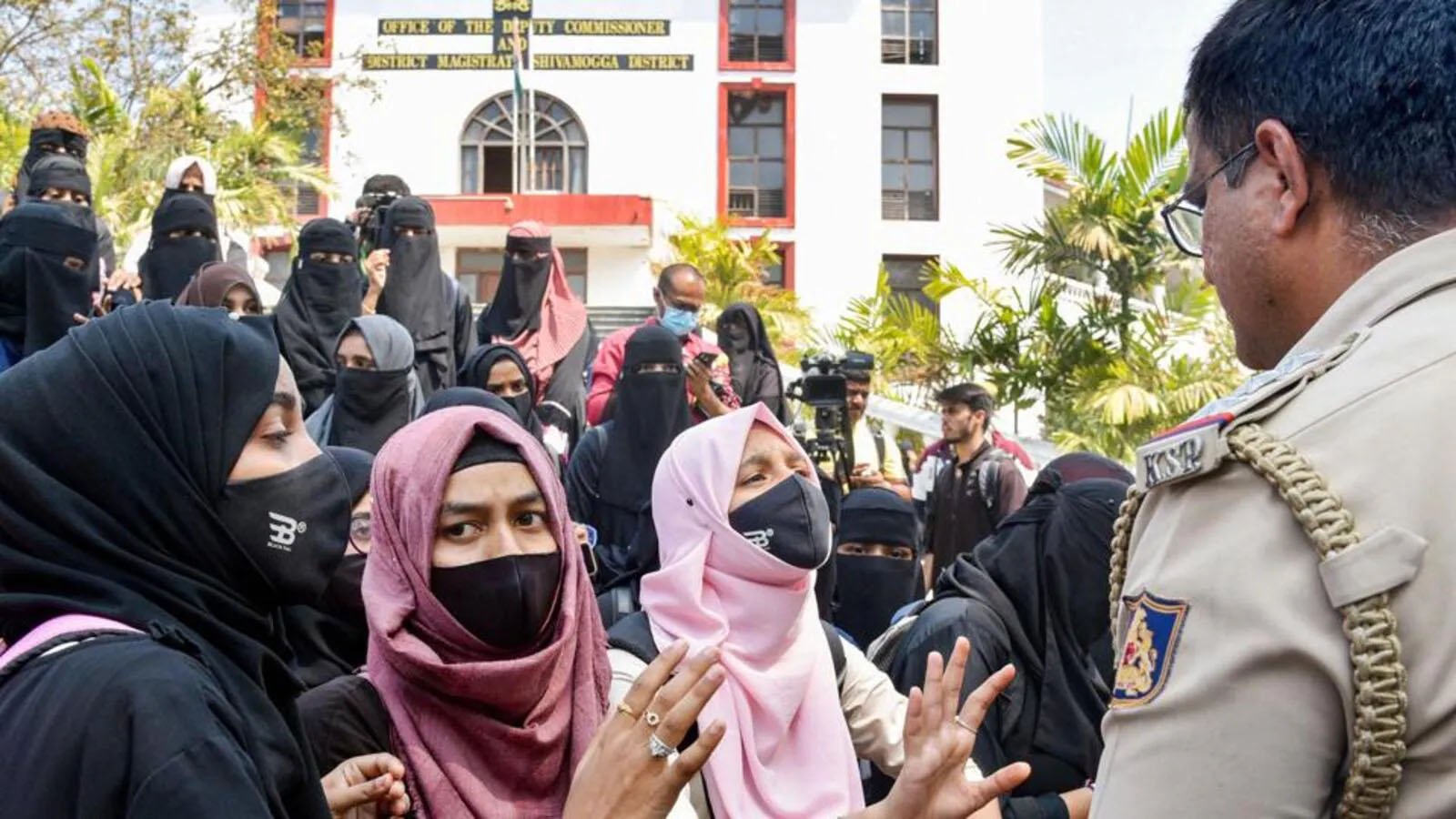 Image: PTI
Karnataka's Minority Welfare department confirmed on February 18, 2022 that government-run schools, including Morarji Desai residential schools and Maulana Azad English Medium schools as well as Re University (PU) colleges must disallow students from wearing hijab, saffron scarves and other religious garments as per the High Court order.
Speaking to SabrangIndia, the department said that students will have to remove their scarves on entering classrooms or wherever a uniform has been directed by the college development committees. The circular was released on February 16, after Karnataka schools reported widespread instances of children being denied entry into schools for wearing the headgear. While the issue originated from a PU college in Udupi district, the department clarifies that the latest guidelines apply only to schools and PU colleges not degree colleges.
"We request the state government and all other stakeholders to reopen the educational institutions and allow the students to return to the classes at the earliest. Pending consideration of all these petitions, we restrain all the students regardless of their religion or faith from wearing saffron shawls (Bhagwa), scarves, hijabs, religious flags or the like within the classroom, until further order," said the circular.
Despite stating that this order applies only to students in schools that have a dress code, reports of persisting educational institutions continue. At Yadgir district's New Kannada PU College, a guardian asked the media as to why his sister was denied entry into the college when the institution does not come under CDC.
New Kannada PU College Yadgir Karnataka.
The Principal & Police officials are violating HC interim order & denying Hijabi Muslim girls to enter the College where there is no CDC.
cc @Captain_Mani72 @DOMGOK pic.twitter.com/oc33eJcsUO

— Mohammed Habeeb Ur Rehman (@Habeebinamdar) February 18, 2022
Moreover, the matter has extended to Muslim teachers as well, who have been asked to take off their burkhas and hijabs before entering educational premises. In some instances, teachers resigned after years of working wearing the garment.
#KarnatakaHijabRow An English teacher of Jain PU college #Tumkuru allegedly has resigned citing *undemocratic act* of management asking her to remove her hijab. In her resignation letter she says- for the past 3 years she has been teaching with hijab.She faced no problem (1/2) pic.twitter.com/wpLiOJuT86

— Imran Khan (@KeypadGuerilla) February 18, 2022
?#HijabRow pic.twitter.com/MHQZYEeRxa

— Meer Faisal (@meerfaisal01) February 18, 2022
Meanwhile, the Deccan Herald reported that the state government has asked both private and government educational institutions to collect data of students belonging to the minority community, from Classes 1 to 10. Private colleges in Bengaluru were asked to submit data on the number of Muslim students enrolled apparently to "counter the daily media reports" that present "misleading numbers" on the numbers of students turned away from school for hijabs.
Related:
Hijab controversy: Social media turns attention to other religions in schools
Hijab ban case: Hijab in line with freedom of expression, submits petitioner
Hijab ban: Multiple Dimensions
Hijab controversy now hits schools!
How can a College Committee make decision on 'public order': Petitioners at Hijab Ban hearing