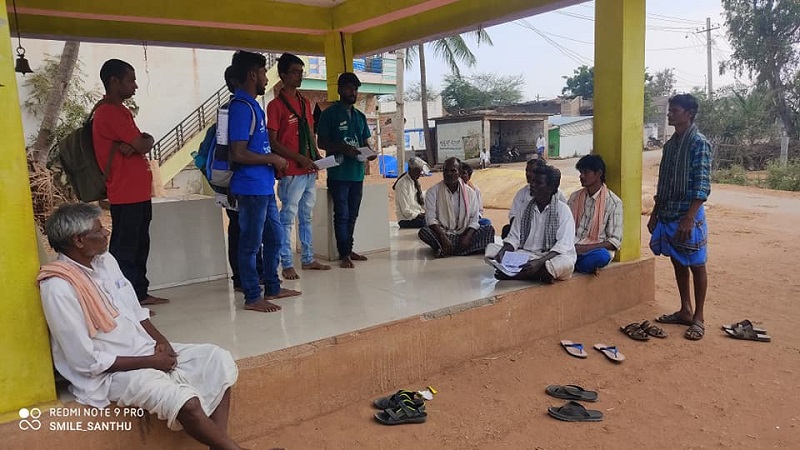 Youth organisations in Karnataka have begun a widespread campaign from January 1, 2021 to raise awareness in rural areas about the three farm laws forcibly passed by the central government.
According to Patriotic Youth Movement (PYM) – one of the three youth groups affiliated with the Joint Struggle of Farmers, Daliths and Workers coalition group – Bengaluru Convener Ravi, three groups of 10-15 people have taken up cycle jathas to reach out to villages in North Karnataka, Central Karnataka and South Karnataka. Each group visited at least threevillages to give districts on Friday.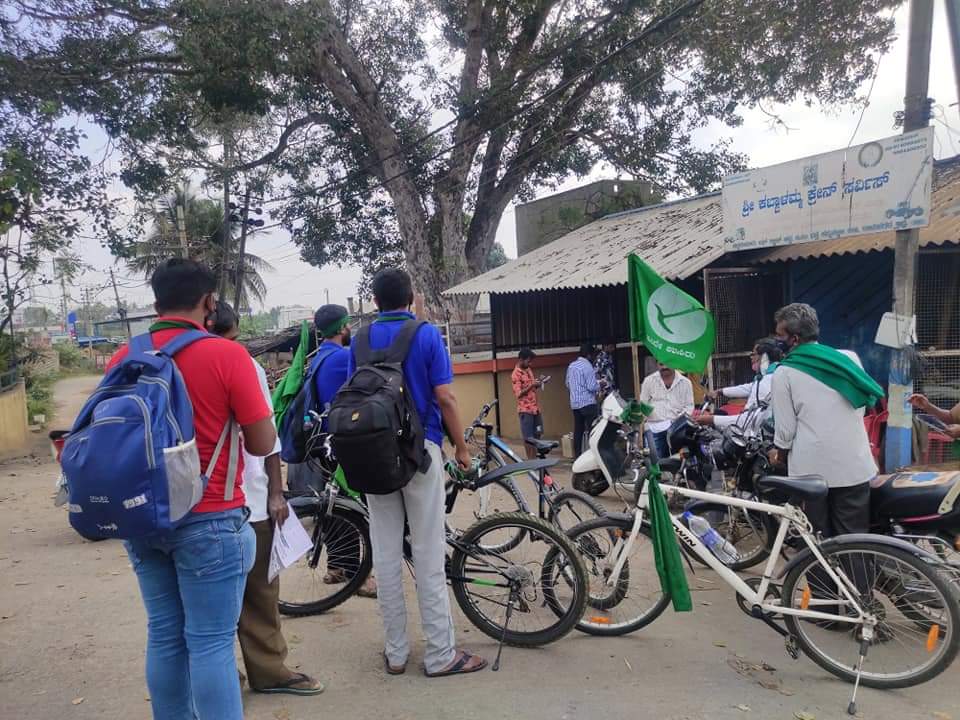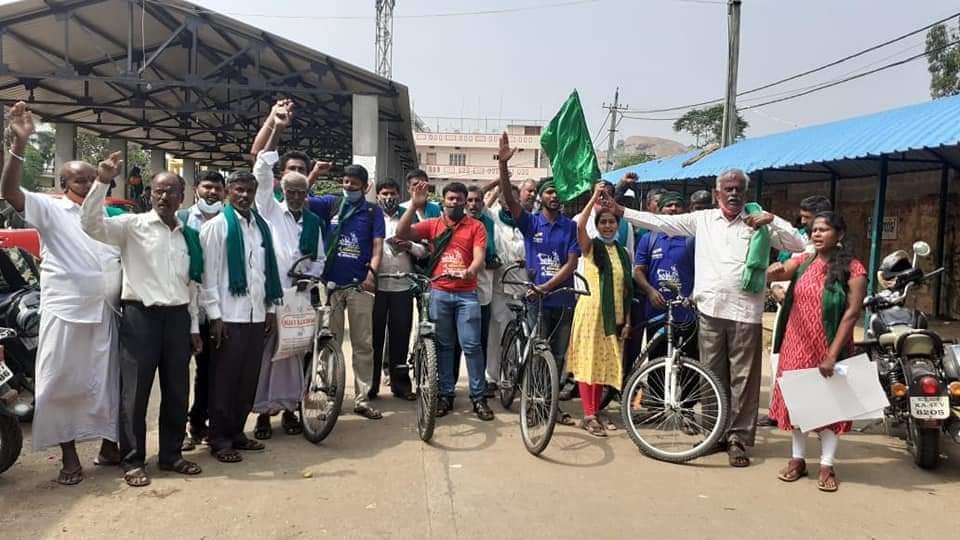 Youth and student members will talk to villagers about the implications of the three laws – the Farmers (Empowerment and Protection) Agreement on Price Assurance & Farm Services Act, the Farmer's Produce Trade and Commerce (Promotion and Facilitation) Act and the Essential Commodities (Amendment) Act – till January 8. Following this, members hope to mobilise a large number of farmers and youth to participate in the January 26 protests.
"The new farm laws will considerably lessen farmers' income. This will in turn affect students and the youth who have to pay college fees. This is why we are focusing on the youth during these campaigns," said Ravi.
While raising awareness, members also encourage locals to take up new years resolutions to: understand the farmers' struggle; learn about the intentions of corporate companies engaging in agriculture; inform at least 10 people about the issue; voice farmers' demands; boycott Reliance Jio Sims and other Reliance products.
The campaign started with a local protest at the APMC yard in Ramanagara city wherein 60 people from the district of the same name participated. Ravi said the groups received a favourable response although some people in Bharatiya Janata Party (BJP)-led areas had heated talks with group members. Nonetheless, many people expressed interest in joining the struggle after listening to the group's explanation.
When asked about the sudden rise in interest as opposed to the past lukewarm response, Ravi said, "Karnataka farmers were busy making the most of the harvesting season up until now. That is why, although we have had three major movements in the state, farmers haven't participated on a large scale."
He hoped that the campaign would garner enough people to block major roads in the city on Republic Day. However, he confirmed that the purpose of the campaign was to raise awareness regarding the three farm laws.
On January 3, the Joint Struggle of Farmers, Daliths and Workers coalition group, will have a meeting with all workers, farmers, Dalits, women and other minority organisations to discuss the future plan of action in the state.
Related:
Youth campaign in Bengaluru on Jan 1
Exclusive: G. T. Ramaswamy dismantles government's claims about South Indian farmers
Centre blinks, agrees to two of the four farmers' agenda points
Peasants in southern states continue farmers' agitation
Peasant supporters call for creation of Save Farmers, Save Nation committees
Are the new farm laws constitutional?
Kranti ka Naqsha, Mapping the Revolution