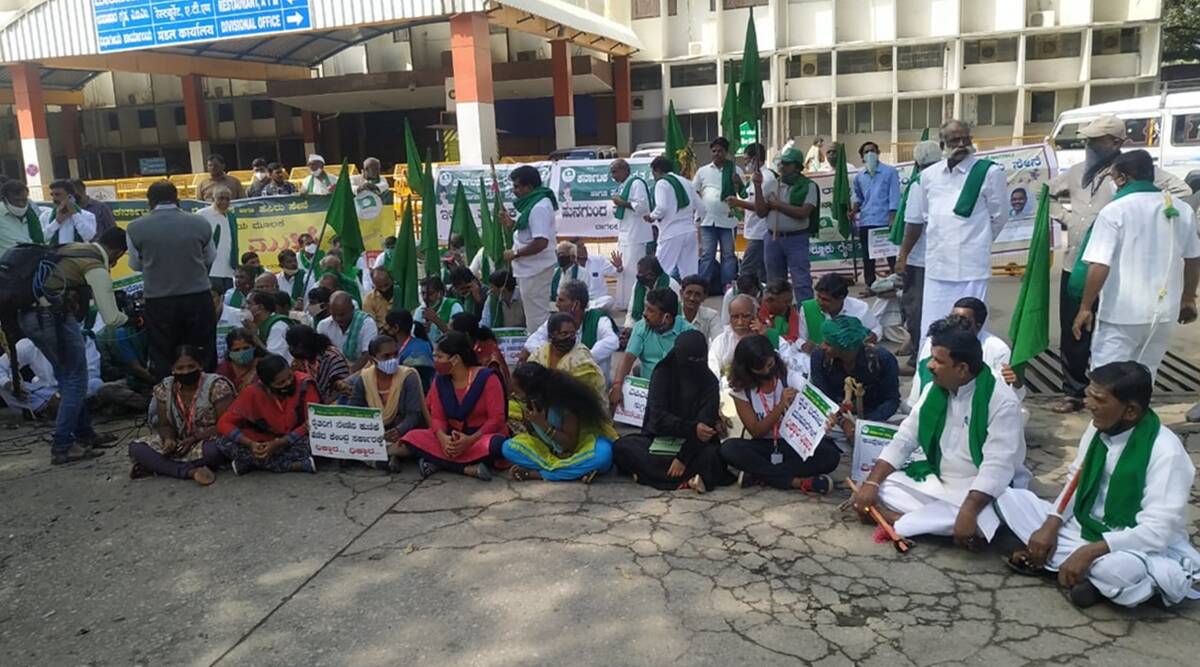 Image courtesy: Darshan Devaiah BP / The Indian Express
Karnataka farmers declared an indefinite strike from December 16, 2020 to December 31, 2020 in Bangalore to voice peasant's grievances against recently passed farm laws, said a coalition of peasants' organisations in the state.
Agri expert and Coordinator for the joint protest Dr. Prakash Kammardi told SabrangIndia that the indefinite strike was organised by the Farmers, Dalits and Workers United Struggle group that united as many as 50 minority organisations in the state.
"The protests will take place every day from 10 AM to 5 PM right in the heart of Bangalore in front of the Gandhi statue. On Wednesday, more than 500 people joined the protest which was led by the CPI(M) [Communist Party of India (Marxist.)] Various organisations will take the initiative on different days," he said.
Kammardi added that the non-hierarchical coalition supported the farmers' struggle in Delhi and opposed the laws passed by the central government.
The All India Kisan Sangharsh Coordination Committee (AIKSCC), the Joint Committee of Trade Unions (JCTU) and various Dalit, women's and minority organisations resolved to form a united from to oppose the Farmers (Empowerment and Protection) Agreement on Price Assurance & Farm Services Act, the Farmer's Produce Trade and Commerce (Promotion and Facilitation) Act and the Essential Commodities (Amendment) Act.
According to an AIKSCC member in Karnataka, farmers have made demands particular to Karnataka along with the repeal of the three laws. Specifically, they want the state government to repeal recent amendments regarding the Land Reforms Act and the APMC Acts which allow non-agricultural entities to buy farmland.
"The recent amendments given by the state and central government will corporatize agriculture," the AIKSCC member told SabrangIndia.
Leaders said that once Panchayat elections are over by December end, the protesters will regroup and plan fresh strikes after due consultations.
Related:
Gurudwara priest sacrifices life for farmers' struggle
Talking down to farmers is the worst way to engage with them
SC advice to government seen as moral victory for farmers
Farmers protest intensifies: Delhi-Noida Link Road closed
Stop defaming peasant movement: Farmers reject latest gov't proposal
Farmers are being misled about agriculture reforms: PM
15 farmers die in two weeks, the central government continues to refuse farmers' demands
Are the new farm laws constitutional?