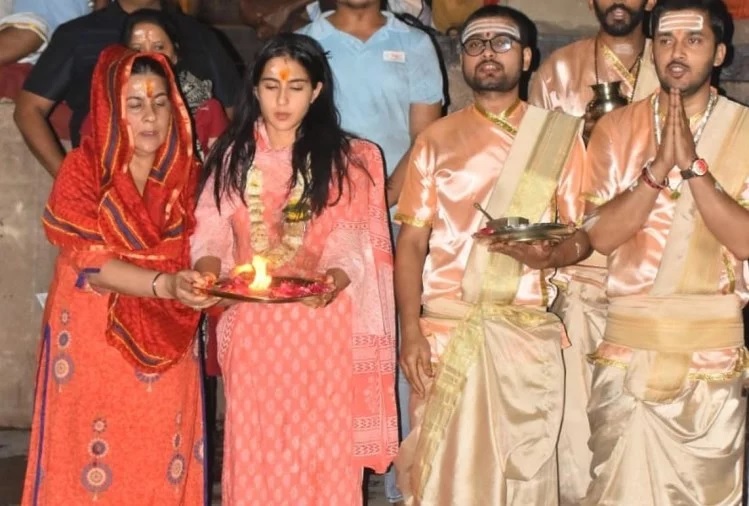 The Kashi Vikas Samiti has taken objection to actress Sara Ali Khan's visit to the Kashi Vishwanath Temple in Varanasi complaining that her attendance at the 'Ganga Aarti' was not acceptable as she is a non-Hindu. The Samiti has demanded an investigation into her visit and action against those responsible, News 18 reported.
Also seeing her visit to the temple through communally colored lenses were some Deoband clerics. Maulana Mufti Asad Qasmi, a Deoband cleric of the Ittehad-ulema-e-Hind, condemned her visit to the temple saying her actions were a reflection of idolatry, a practice not followed in Islam. Saying that a Muslim cannot worship deities or perform rituals that belong to another religion he told UP Tak, "The way Sara has performed the Ganga Aarti being a Muslim is not allowed in Islam. These rituals considered as sin in Islam. Her actions are against Islam and is unacceptable. If she considers herself a Muslim and is a Muslim, she must atone for this sin and ask for forgiveness from Allah stating that she will not indulge in such an action again."
Sara had uploaded the video of her visit on a popular photo and video sharing site, Instagram.
Sara was in Varanasi to shoot for her latest film when she attended the evening Ganga Aarti and visited the Kashi Vishwanath Temple and was accompanied by her mother Amrita Singh, Saif Ali Khan's first wife, who is a Hindu.
It was also reported that she had touched the 'shivalinga', thereby performing 'sparsh darshan' while she was part of a special ritual there.
News 18 reported Chandra Shekhar Kapoor, the Secretary of the Samiti as saying, "The actor's visit to the temple is against traditions and established norms. It also raises questions on the security of the temple when there is a signboard clearly stating that the entry of 'non-Hindus' is prohibited."
"How was a non-Hindu allowed to enter the temple and have sparsh darshan…..entry of non-Hindus is completely banned in the temple?" he asked.
Kapoor has also expressed his displeasure with the saints and accused that they had violated norms for possibly getting a "handsome dakshina" and free publicity.
Local seers and priests are also upset with her being there. Rakesh Mishra a priest who stated that Sara is a Muslim as she is known by her father's religion said, "Though we appreciate her interest in the Hindu religion but the fact remains that she is a Muslim and should not have participated in the rituals. For her, all this could be 'interesting and exciting' but for us, it is a matter of religious piety."
However, another priest, Amarnath Bajpai, defended Sara saying that she was there with her mother, Amrita Singh, who is a devout Hindu.
Post her visit, The Times of India reported that the Kendriya Brahmin Mahasabha affixed an order at the temple entrance to condemn her presence at the temple. The order read, "Those not belonging to Hindu religion are requested not to enter.
Dinesh Tiwari, the General Secretary of the Mahasabha said, "It's highly objectionable and condemnable that Sara Khan went to the temple and performed 'sparsh darshan' despite curbs on entry of non-Hindus. The temple authorities failed to maintain the 'sanatan' tradition. Our senior members would meet to discuss the issue."
Post her visit, she has been attacked by non-Hindus too, especially on social media. They have asked her to remember that she is a Muslim and not visit Hindu religious sites again. She had earlier faced flak for worshipping Lord Ganesha during the festival of Ganesh Chaturthi, with many demanding that a fatwa be issued against her.
It must be noted that Varanasi is a famous destination for foreigners who are not Hindus and visit the Kashi Vishwanath Temple and also attend the Ganga Aarti there. However, there has been no objection to their attendance.
As Siddhu Tiwari, a local tour operator put it, "Any person, including Sara, can visit a temple if they believe in the deity. The 'Ganga aarti' is attended by thousands of foreigners who are non-Hindus too. People are only looking for publicity by making an issue out of this. In fact, we should be happy that Sara has given so much publicity to our temple and 'aarti'."
Everyone is free to practice their faith in the country. If the Kashi Vikas Samiti doesn't see a problem with a foreigner coming to the temple or attending the prayers by the Ganges, why are the rules different for Sara? Also, the statement of the Secretary of the Samiti saying that her visit threatens the security of the temple, clearly suggests his and his organization's biased negative perception of the minorities.
Given the Samiti's statement as also the statements of its affiliated organizations, it is safe to say that such exclusionary practices are taking place just because she has a Muslim surname attached to her name.
Related:
Aaj Tak's communal agenda surfaces as it targets Shaheen Bagh, mosques over Covid-19