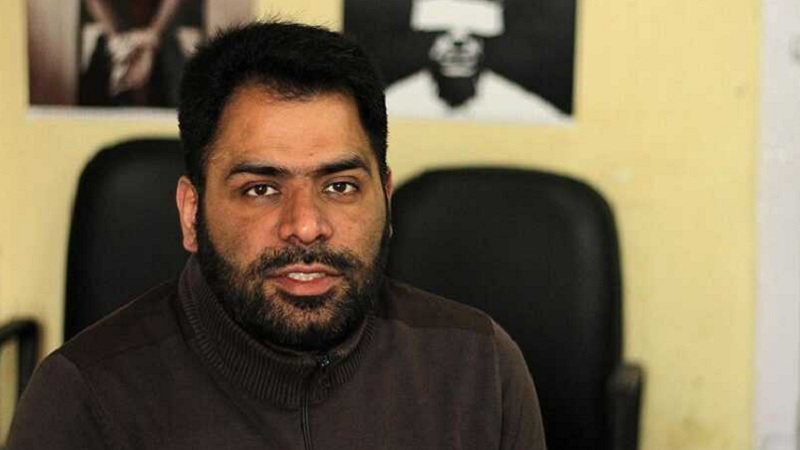 Image Courtesy:brighterkashmir.com
Kashmir-based human rights activist Khurram Parvez was arrested on Monday after the National Investigation Agency (NIA) carried out searches at his residence and the office of J&K Coalition of Civil Society (JKCCS) in Srinagar. According to reports, Parvez's family told the media that they received an arrest memo (case 30/2021) in which he was named.
Parvez was reportedly taken for questioning by the officials who said they were from NIA, and his phone, laptop and a few books were also seized.
Family of Human Rights activist @KhurramParvez associated with #JKCCS said that they received an arrest memo (case 30/2021) in his name in the evening. He was taken for questioning by the officials who said they were from NIA. They have seized his phone and laptop and few books https://t.co/i0Fnpp0peP

— Hakeem Irfan Rashid (@HakeemIrfan) November 22, 2021
The UN Special Rapporteur HRDs Mary Lawlor, Founder Front Line Defenders, posted on social media that she feared that Khurram Parvez was at risk of being charged "with terrorism-related crimes" adding, "He's not a terrorist, he's a Human Rights Defender"
I'm hearing disturbing reports that Khurram Parvez was arrested today in Kashmir & is at risk of being charged by authorities in #India with terrorism-related crimes. He's not a terrorist, he's a Human Rights Defender @mujmash @RaftoFoundation @GargiRawat @NihaMasih pic.twitter.com/9dmZOrSwMY

— Mary Lawlor UN Special Rapporteur HRDs (@MaryLawlorhrds) November 22, 2021
According to a report in The Hindu, Parvez's family said they were intimated about his arrest in the evening in a case registered earlier this year by the NIA. He has reportedly been arrested in the FIR No. 30/2021 filed on November 6, 2021. The NIA teams were accompanied by the paramilitary and the police, when they began searches of Parvez's house at Sonawar and the JKCCS office at Amira Kadal in Srinagar on Monday afternoon, stated news reports. The Telegraph reported that Khurram's family said they had received an arrest memo that showed he had been booked under sections 120B, 121 and 121A of the Indian Penal Code and sections 17, 18, 18B, 38 and 40 of the Unlawful Activities (Prevention) Act (UAPA).
The arrest of Khurram Parvez is being condemned by many, especially as it comes soon after National Security Advisor Ajit Doval saying civil society was the "new frontier of war", during his address at a passing-out parade at the National Police Academy, Hyderabad, around 10 days ago.
Angry & saddened to learn that Khurram Parvez, a longtime human rights defender in Kashmir, has been arrested & charged with terrorism related offenses.

He's been on the frontlines for years documenting atrocities by the Indian government. He must be freed & all charges dropped.

— Arjun Sethi (@arjunsethi81) November 22, 2021
if, as reported, @KhurramParvez has been arrested by #India's 'counter-terrorism' NIA, it's yet another extraordinary abuse in #Kashmir. https://t.co/9hZDrNI4iU

— David Kaye (@davidakaye) November 22, 2021
Khurram Parvez and @jkccs_ are leading human rights defenders in Kashmir. They have done quiet work in grim circumstances. The NIA raid on JKCCS & arrest of Khurram are an attempt by the Modi regime to gag those witnessing & documenting the unrelenting rights violations in J&K.

— Kavita Krishnan (@kavita_krishnan) November 22, 2021
NIA had raided Kurram Parvez in 2020 too
On October 28 2020, the NIA team had conducted raids at multiple places, including properties belonging to human rights defenders, NGOs, and even a media house in Srinagar, in connection with a 'terror funding' probe. The NIA raided the office of popular daily Greater Kashmir, as well as the home of well known human rights activist Khurram Parvez, coordinator J&K Coalition of civil society, and journalist Parvez Bukhari. The NIA had also raided a location in Bangalore, Karnataka.
According to news reports, the NIA suspects that some non-profits are "raising funds in India and abroad for carrying out separatist activity in Jammu and Kashmir." The NIA had also searched the premises of Khurram Parvez's associates, Parveena Ahanger who is the chairperson of Association of Parents of Disappeared Persons (APDP), Parvez Ahmad Matta and Bengaluru-based associate Swati Sheshadri, and the offices of the NGO Athrout, and the Greater Kailash Trust.
Who is Khurram Parvez?
Khurram Parvez is a well known human rights defender from Kashmir, and had lost his leg to a militant IED in early 2000s. He was a recipient of the Reebok Human Rights Award in 2006, and is known to be a vocal critic of the government. He is the programme coordinator of the JKCCS, which was founded in 2000 by human rights lawyer and activist Parvez Imroz. Khurram had been arrested for two and a half months in 2016 by the Mehbooba Mufti-led government, stated news reports which added that Jammu and Kashmir High Court later quashed his detention as "illegal". The JKCCS has published reports on human rights violations in Kashmir, the latest titled "Kashmir's Internet Siege" on mass detentions and the justice system amid Internet restrictions following the abrogation of the state's special status on August 5, 2019, which was reported by many media houses.
The United Nations' 2020 report by the Secretary General titled Cooperation with the United Nations, its representatives and mechanisms in the field of human rights documented alleged reprisals in 45 countries, but that these represent only a fraction of the actual number of incidents committed, mainly by States but also by non-State actors. The report details the many cases of activists suffering prolonged detention and prison sentences, including some particularly severe cases of ill-treatment and torture.
In reference to India, the UN report focuses on targeting of an NGO in Manipur under the guise of violation of the Foreign Contributions (Regulation) Act (FCRA), and the vilification of Khurram Parvez and his NGO in Kashmir.
The report stated, "It was reported to OHCHR that Mr. Parvez, who in the past has been subject to travel bans, arbitrary arrest and detention in relation to his cooperation with the UN, was informed in August 2019 that he was prohibited from traveling internationally because he was placed on an 'Exit Fly List'. It was further reported that Mr. Parvez was called in for 'routine verification' by police in February 2020 and, as of May 2020, three 'First Information Reports' filed by police in 2016 before a court in Srinagar were still unresolved."
Related:
Counter-terror raids on civil society groups signal escalating crackdown on dissent:
NIA Raids Day 2: Fresh searches conducted in Srinagar and Delhi today
Srinagar: NIA raids human rights defenders, NGOs, media house in terror funding probe
UN raises concerns about attacks on Human Rights Defenders