During the ongoing curfew in Jammu and Kashmir – the longest ever curfew in the valley which has lasted for more than 100 days, J-K police have arrested close to 7,000 people in the valley, according to news reports. In what is being called the biggest crackdown in the past two decades, more than 450 people have been booked under the Public Safety Act (PSA) – the highest ever number in the valley.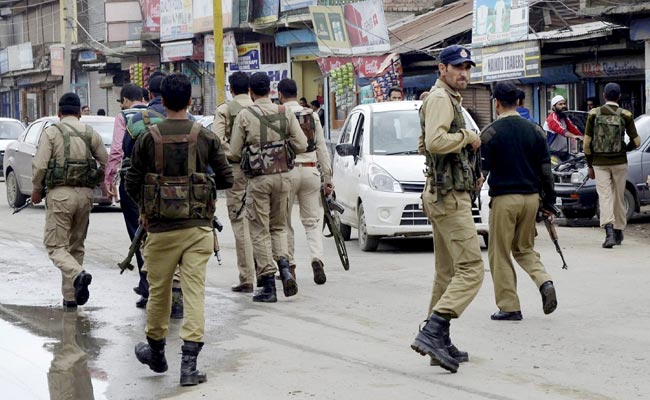 Image: NDTV

Last week (third week of October) saw a record number of arrests, as 446 people were arrested by J-K police.
In addition to the arrest spree, some news reports have claimed that around 1,500 others are under detention in a number of police stations across the state, without any charges.

The valley has been facing lockdown since the killing of Hizbul Mujahideen commander Burhan Wani on July 8.

The PDP-BJP government in the state has incurred wrath of several human rights organisation and activists for reckless slapping of PSA on the civilians. A team of experts from United Nations earlier demanded release of Khurram Parvez who also has been booked under PSA.

According to the figures accessed by The Indian Express, police have submitted PSA dossiers against 560 people and have received approval for 483 cases. The Act empowers government to detain a person without trial for a period up to six months.

While in opposition, the Peoples Democratic Party (PDP) in 2010 had criticised Omar Abdullah government over "unwarranted use" of PSA both in and outside the assembly. The party – now ruling the state along with the BJP – ended up booking more than 450 people under the same act in less than three months.

As reported by Express, J-K government spokesman and Education Minister Nayeem Akhtar justified the arrests saying it has been done "because we found ourselves in an unprecedented situation".

"There is a difference, lot of difference between 2010 and 2016. Like the local leadership apparently is not in control, the leadership has gone to 10 and 12 year old boys. Those who lead are driven by the street. In 2010, they could assert and bring it back," he told Express. "What we did (in 2010) is the role of opposition. I wish National Conference does the same but they have disappeared".
However, a Kashmir Age report claimed that 5,500 of the arrested persons were released after assurance of conduct from their relatives or parents. It claimed that in addition to the nocturnal raids, security forces have been arresting people during mob-control exercises as well, but such youths are mostly released after their innocence has been established.

"A good number of those arrested during the unrest are those who instigate youths in mobs to indulge in violence. These also include those responsible for issuing threats to people for not joining the protests or defying the diktats of the separatists," the report quoted a police source.
Also read: In Dire Need of Rehab Package, Appeal Kashmiri Pandits from the Valley