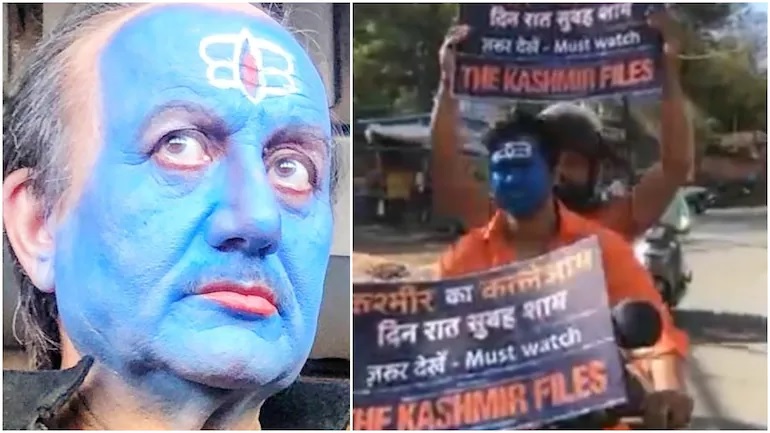 Vile instances of hate speech surfaced over the weekend as right-wing trolls continued to widen the Hindu-Muslim divide under the garb of promoting The Kashmir Files movie. What is especially concerning is that divisive speeches inside cinema halls have now flooded out, and devolved into open calls for genocide.
On March 20, 2022 Hindutva propagandist using the alias 'Kattar Hindu' on social media openly called for Islamic genocide. Citing a particularly gory scene in The Kashmir Files wherein a woman was made to eat grains soaked with her husband's blood called upon "Hindus" to avenge the suffering of Kashmiri Pandits.
Hate on social media
Using caustic language he instigated people to kill all "from young ones to old". Making an ironic statement that he loves the country, he called upon people to wipe out the Indian Muslim community once and for all. He urged people to harass Muslims in any way possible stating that there is no need for a brotherly feeling among the two communities – once again, a singular statement considering the Indian Constitution's endorsement of secularism.
Instead, he told his followed to abuse Muslims, sexually assault Muslim women of all ages, harass and torture them until they are forced to leave India.
"We won't let them run from the country and we won't let them live in the country. You all start harassing them," he said in a video that has since been taken down from social media platforms. To top it all, he asked people not to engage in harassment publicly, openly accepting that the administration will arrest people because "the country is free and works on constitutional laws." He further said, "The government will be forced to arrest you. Don't do it openly. Think about whom you can target in a way that it doesn't seem like you're harassing them but they in fact do get harassed."
With this, Kattar Hindu not only owned up to the illegality of the actions demanded, but also that such actions go against the constitutional sentiments of India. And despite all this, he encouraged people to message him if they could not think of ways of harassment. In the video he also threatened to slaughter 6-month-old Muslim babies into two pieces and give one each to their parents.
He has a penchant for such inflammatory and expletive-ridden language. Kattar Hindu's social media platforms are plastered with 'Jai Shree Ram', a harmless religious chant that has been turned into a virtual war cry by extremists. Since the posting of this video, netizens have asked local police to look into the matter. Some people baulked at the idea of killing babies.
कौन है यह आदमी जो छः महीने के बच्चों को काटने की बात कर रहा है. इसको अभी तक गिरफ्तार क्यों नहीं किया गया @DelhiPolice https://t.co/fw3Z02w67A

— Anmol Pritam (@anmolpritamND) March 20, 2022
Support for hate out in the open
While this video circulated on Sunday, Guwahati City Centre mall witnessed a saffron flag march after the screening of The Kashmir Files. A group chanting 'Jai Shri Ram' walked about the mall on the upper floors while on-lookers simply watched but did not join in. The incident again garnered criticism from social media.
People pointed out that these actions failed to help the Kashmiri Pandits and only used them as "collaterals". Another person said the hatred proved the "propaganda" in the film.
Anyone genuinely interested about the KPs ?Apart from KPs being made collateral in the incitement of hatred I don't see any fruitful steps being taken for the KPs.With such strong Govt at the Centre KPs shld have been back at their homes long ago.Shun Hatred. It only can destroy. https://t.co/nsXsFFuIs1

— Wg Cdr Sherokh Rashid Hazarika (Veteran) (@Sherhaz1) March 21, 2022
If storytelling incites hatred and an intensely polarized social current, it IS an empirical evidence of propaganda.
'Art' does not facilitate hatred. https://t.co/EktNLHOQvT

— Aashirwad (@indian_zenitsu) March 20, 2022
Yet, none of this mattered to Uttar Pradesh Chief Minister Ajay Bisht (Yogi Adityanath), who met the film-makers at his Lucknow residence on the same day. According to Indian Express, Director Vivek Agnihotri, actors Pallavi Joshi and Anupam Kher thanked him for making the movie tax-free.
Governor Anandiben Patel was also present at the meeting. As per a tweet from Kher, the team was also called for evening tea at the Raj Bhavan.
In the evening, Adityanath tweeted about the meeting by saying in Hindi, "The film 'The Kashmir Files' boldly reveals the inhuman catastrophe of religious bigotry and terrorism. Undoubtedly, this film will make the society and the country aware. Congratulations to the entire team for producing such a thought-provoking film."
फिल्म #TheKashmirFiles मजहबी कट्टरता व आतंकवाद की अमानवीय विभीषिका को निर्भीकता से प्रकट करती है।

निःसंदेह यह चलचित्र समाज व देश को जागरूक करने का काम करेगा।

ऐसी विचारोत्तेजक फिल्म निर्माण के लिए पूरी टीम को बधाई देता हूं।@AnupamPKher @vivekagnihotri pic.twitter.com/Bd72cdPFfM

— Yogi Adityanath (@myogiadityanath) March 20, 2022
Thank you Hon. Governor of #UttarPradesh Smt. @anandibenpatel ji for inviting us to #RajBhavan for evening tea. Your appreciation of our film #TheKashmirFiles was humbling & heartwarming! So wonderful of you to watch it in the theatre with audience! Jai Hind!? @vivekagnihotri pic.twitter.com/xjkVuvEQEQ

— Anupam Kher (@AnupamPKher) March 20, 2022
Related:
Kashmiri Pandits refute communal claims made in The Kashmir Files
Govt to Blame, Where is Security for KP Families in Valley, Asks Sanjay Tickoo, KPSS
Has terror returned to haunt Kashmir?
Unemployed Kashmiri Pandit youth granted relief
Beyond Kashmir Files, a call for reason
The Kashmir Files backed by PM, FM, CMs; continues to fuel divide