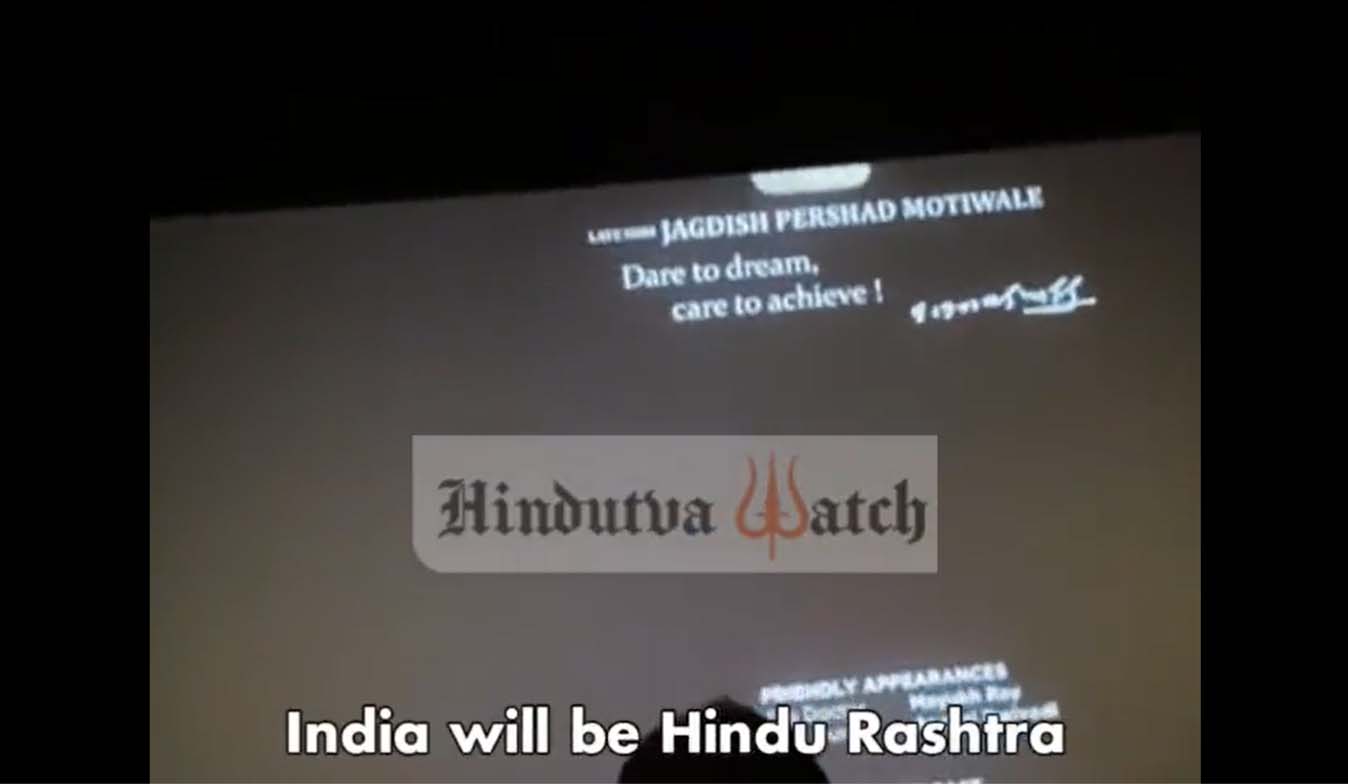 Image: Hindutva watch | Twitter
"They are growing their population while you are watching a movie. If all [Hindu] young men must marry their [Muslim] girls and give birth to [Hindu] children, marry their girls, in three generations their [Muslim] population will be halved," declares a man at the top of his voice, while the crowd claps and cheers… as the clip cuts to someone raising a Hindutva slogan in the distance.
Calls for genocide of Muslims in theatres following the screening of #KashmirFiles. Will the film's makers, actors, admirers including the PM appeal against such calls? You know the answer. https://t.co/DPf5ZKQPc7

— Kavita Krishnan (@kavita_krishnan) March 17, 2022
Kashmiri Pandits are beacon of inclusivity. Symbol of peace, education & high moral standards. Any person inciting Hindu youths to kidnap & marry Muslim girls is antithesis of Kashmiri Pandit. Anupam Kher you are antithesis of Kashmiri Pandit! #KashmirFilesTruth pic.twitter.com/UddTUBlLey

— Salman Nizami (@SalmanNizami_) March 16, 2022
Genocide calls are ringing out in cinema halls, after the screening of The Kashmir Files. It is perhaps for the first time that open calls of hate against Muslims are being given in a public place. Video after video shows how some people rise after each show, in different cities, and claim that the movie has "revealed the truth to them." Many have gone on to say that the movie is a "warning to Hindus to be careful" as if to indicate that Hindus are in danger. "Hindu khatre mein hain" was the slogan the Hindutva groups have been raising for years, even decades…
It is not yet known if any cinema hall manager, or owner has alerted the police against such aggressive behaviour of the crowds on their private property. Many calls for Hindu Rashtra were also given. Hate and communal propaganda against Muslims has now moved on from WhatsApp and is being fanned in cinema halls after this film. Muslims are being called 'Jihadis', and threatened that no Muslim shall remain in Hindu Rashtra. Calls of "Jab mulle kaate jayenge, Ram Ram chilaynge" were raised once again to bay for attacks on Muslims. As well as the right wing slogan of "Goli maaro s***on ko".
[English Captions]

After watching Hindutva propaganda movie #KashmirFiles, Hindu extremists in multiple movie theatres across India raised slogans calling for an anti Muslim Gen0c!de

The movie is being promoted by the Indian PM Narendra Modi, his party BJP & the RSS. pic.twitter.com/S9i56kX5hW

— HindutvaWatch (@HindutvaWatchIn) March 17, 2022
Meanwhile, hate continues to brew on social media:
Jahan Terrorist Burhan Wani pela gaya, woh Kashmir humara hai.

Jahan Separatist Geelani bina kagaz dikhae chala gaya, woh Kashmir humara hai.

Jahan POK mai surgical strike hua, woh Kashmir bhi humara hai.

— Anshul Saxena (@AskAnshul) March 14, 2022
However, the Kashmiri Pandit community who the film claims to speak for has tried to douse the flames of hate and propaganda. "The Kashmir Files makes resident Kashmiri Pandits unsafe," tweeted the Kashmiri Pandit Sangarsh Samiti (KPSS), which has been closely observing the hate generated online and offline soon after the Bollywood movie was released. The Samiti is an organisation that has for decades worked to address the concerns of resident Kashmiri Pandits and Hindus who have stayed back in the Valley.
The Delhi Police have asked the DCPs to make adequate security arrangements in "mixed population areas" of the city. According to a report in The New Indian Express, a letter was issued by the Special Branch of Delhi Police on March 14 citing "apprehensions of possible communal violence and tension due to the sensitive nature of the film".
It stated, "Keeping in view the sensitivity of the matter, adequate precautionary measures may be taken to maintain law and order situation under control. Adequate police arrangements by local police (including sufficient women police), PCR and traffic are suggested especially in mixed population areas to handle the situation tactfully to avoid any untoward incident," and was sent to DCPs of all districts, PCR and traffic units.
According to the news report, "In Karnataka's Bhatkal, people have started protesting with a demand to screen the film in movie theatres against the limited screening of The Kashmir Files in the local cinemas." The Delhi Police have said, "The communal situation in Delhi is still fragile since the 2020 northeast Delhi riots. Recently the Hijab/Burqa controversy and Haridwar Dharam Sansad's hate speech against the Muslim community, it cannot be ruled out that even a minor incident may create communal tension between both the communities and affect the law and order situation."
Muslims on the street have begun to feel the renewed vilification yet again. Though it may not be directly connected, Dr Parvez Mandviwala, a Mumbai based dentist shared that his "wife was denied a seat in a local train today because she was wearing a #Hijab. A gentleman vacated his seat for her, but other passengers insisted some sari-clad ladies take the seat instead, despite the fact that my wife was carrying our infant child. Where will this end?"
I understand that some people in the comment section are finding it hard to believe that this incident actually happened. They are saying its fake because it is indeed hard to digest that such a thing could happen in Mumbai. I and my wife are equally shocked and disgusted.

— Dr Parvez Mandviwala (@DrParvezM) March 16, 2022
He later told SabrangIndia over a message that "films like Kashmir Files and the incessant Islamophobic rhetoric on social media and TV media do play their part. Whatever happened on Tuesday with my wife and baby was an expression of that hate which has been cultivated in the minds of naive people against Muslims."
He added that his raising the concern on social media was not just about his wife or baby, "but about the society we are evolving into and the environment we are heading towards. That is my only concern. We need to engage in a positive dialogue with each other to counter this Islamophobic narrative."
However there are many others who are facing hate are not on social media and often have to fend for themselves.
टोपी लगाकर स्कूल पहुंचे एक बच्चे की टोपी खींच ली और दोस्तों के सामने टीचर ने चांटा मारा। pic.twitter.com/v7BlDaQeZi

— Aftab Ahmad Razvi ?? (@AftabAhmadRazvi) March 17, 2022
Chhattisgarh Chief Minister Bhupesh Baghel dismissed the Kashmir Files as "'half-cooked" and called it an "an attempt to show violence. Government did not try to stop the exodus of Kashmiri Pandits."
इस "कश्मीर फाइल्स" फिल्म में कोई संदेश नहीं है, सब आधा अधूरा है।

केवल हिंसा दिखाने की कोशिश है।

भाजपा वालों के सामने खड़े हो जाओ, तो भाग जाते हैं। भाजपा का कोई व्यक्ति फिल्म देखने नहीं आया। pic.twitter.com/nfb0GcRl4z

— Bhupesh Baghel (@bhupeshbaghel) March 16, 2022
Meanwhile in one of the most comprehensive fact checks on the claims made in the movie, Ashok Kumar Pandey, the author of acclaimed book Kashmirnama on Kashmiri Pandits, and an expert on socio political concerns of Kashmir, addresses many claims made in the film such as "The 'Al Safa' newspaper has been mentioned in Kashmir Files and has been described as a supporter of terrorism." Pandey fact checks it and says, "Shaban Vakil, the editor of that newspaper, was murdered by terrorists on 23 March 1991."
#KashmirFiles कितना सच कितना झूठ

पूरा विडियो – https://t.co/sh51DeHCCv pic.twitter.com/o6HCXVYiWB

— Ashok Kumar Pandey अशोक اشوک (@Ashok_Kashmir) March 17, 2022
मेरा बस एक सवाल है।

अगर मामला सिर्फ़ मुस्लिम बनाम हिंदू था तो फिर नब्बे के दशक में आतंकवादियों के हाथों इतनी बड़ी संख्या में मुसलमान क्यों मारे गए? फ़िल्म उनकी चर्चा तक क्यों नहीं करती?

डिटेल्ज़ चाहिए तो लिंक फिर दे रहा हूँ – https://t.co/sh51DeHCCv

— Ashok Kumar Pandey अशोक اشوک (@Ashok_Kashmir) March 16, 2022
कश्मीर फाइल्स में 'अल सफ़ा' अखबार का जिक्र आया है और उसे आतंकवाद का समर्थक बताया गया है।

आगे का तथ्य यह है कि उस अखबार के संपादक शाबान वकील की आतंकवादियों ने 23 मार्च 1991 को हत्या कर दी थी।

क्यों का जवाब दूंगा आराम से। अभी सोचिएगा आधी हक़ीक़त क्यों बताई जाती है?

— Ashok Kumar Pandey अशोक اشوک (@Ashok_Kashmir) March 17, 2022
His video also reiterated what the Kashmiri Pandits who continue to live in the Valley, and in Jammu have been saying.
Every kashmiri Muslim is not terrorist every Kashmiri pandit is not communal we both respect, love and share our pain which every kashmiri has gone through last 32 years

— KPSS (@KPSSamiti) March 16, 2022
"What happened with us is unfortunate, we didn't deserve it but we can't hold every K Muslim responsible for it."
I am a #KashmiriPandit.My father was under constant threat & attacked once.Every time he ws saved by Muslims.They hid him at their house 4 days &moved him to Jammu safely. What happened with us is unfortunate,we didn't deserve it bt we can't hold every K Muslim responsible for it

— Umesh Talashi (@UTalashi) March 16, 2022
Related:
The Kashmir Files making resident Kashmiri Pandits feel unsafe
The Kashmir Files backed by PM, FM, CMs; continues to fuel divide
Hate floods in the wake of 'The Kashmir Files'
Never-the-less, they persisted: Human Rights Heroes of 2021
Hundreds mourn Srinagar resident Mohammad Ibrahim Khan
J&K: More migrant workers shot dead by terrorists over the weekend, all eyes on Centre
Friday Sermons Urge Protection for Kashmiri Pandits/Sikhs in kashmir Valley
Srinagar: Grief envelopes Valley as Supinder (Satinder) Kour's last rites are performed
Govt to Blame, where is the security for KP families in the Valley, asks Sanjay Tickoo,