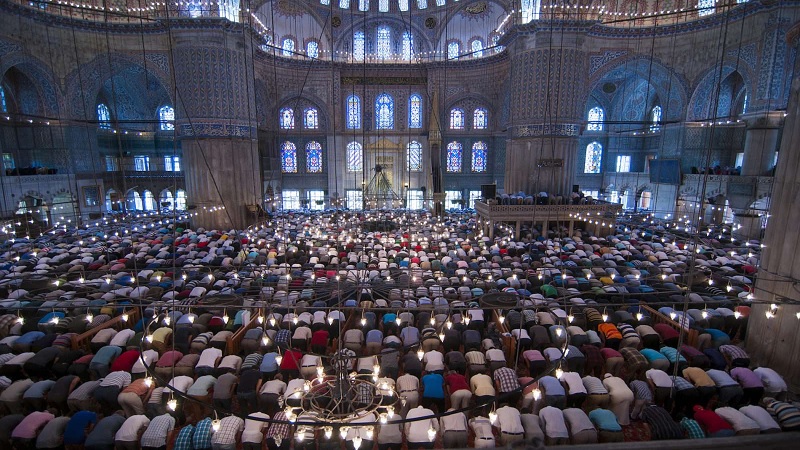 Image Courtesy:kashmiraction.org
"We are with the minorities, we will give all our support to minorities. Minorities can come and live with us in our houses, use our land," says an Imam at the Friday congregational prayers. Such calls for peace and support for Kashmiri pandits and Hindus have been given out at several mosques across Kashmir during Friday prayers, including this one at Jamia Masjid in Anantnag.
"Minorities can come & live with us in our houses, use our land."

The call for supporting minorities was raised from several mosques across Kashmir during Friday congregational prayers, including Jamia Masjid in Anantnag.

Report Suhail Dar pic.twitter.com/PsdYBUrpBS

— The Kashmiriyat (@TheKashmiriyat) June 3, 2022
This Imam goes on to say, "Take our land if you need… Give our minorities their rights. We will not tolerate any attacks and harassment/ torture of minorities…" He explains that any attack on minorities should be condemned and that minorities should be taken care of and supported. He included the Hindu community that is a minority in Kashmir, and the Muslim community that is a minority in other places across India.
The message is seen being received well by the congregation of boys, young men and old, many of whom raise their hands in prayer as the Imam delivers his message of peace and support.
Kashmiri Pandits themselves have said on record that they have got a lot of support from their Muslim bretheren. Many Muslims have also opensly sat in protest together with Kashmiri Pandit and Hindu groups against the recent space of terror attacks.
Protest against minority killings, in Srinagar pic.twitter.com/SoS3o2hkOF

— Basit Zargar (باسط) (@basiitzargar) June 2, 2022
However there are some who continue to question the Muslims of Kashmir, such as Times Now anchor Rahul Shivshankar. Ill-informed, he asked why Kashmiri Muslims are not speaking up to secure that right for Hindus in Kashmir? He, as a journalist, should instead be asking the government tough questions on why so many targeted killings have happened in the last few months and who is to blame for the exodus 2022 of Kashmiri Pandit gov't employees?
Kashmiri Muslims live, work, study and trade unhindered in different parts of India. They are our loved compatriots. They prosper and surely appreciate the opportunity. So why aren't they speaking up to secure that right for Hindus in Kashmir?

— Rahul Shivshankar (@RShivshankar) June 3, 2022
Related:
Who is to blame for this exodus of Kashmiri Pandit gov't employees?
Kashmir: Migrant labourer shot dead by militants in Budgam
Kashmir: School teacher Rajni Bala gunned down by terrorists in front of students during morning assembly
Kashmiri TV artiste Amreen Bhat killed in cold blood
Jammu & Kashmir: A grieving widow's angry words, make admin act
Striving for peace in strife-torn Kashmir
Protests continue over Kashmiri Pandit's murder
Kashmiri Pandits stage protest in Valley, face tear gas, seek justice for Rahul Bhat