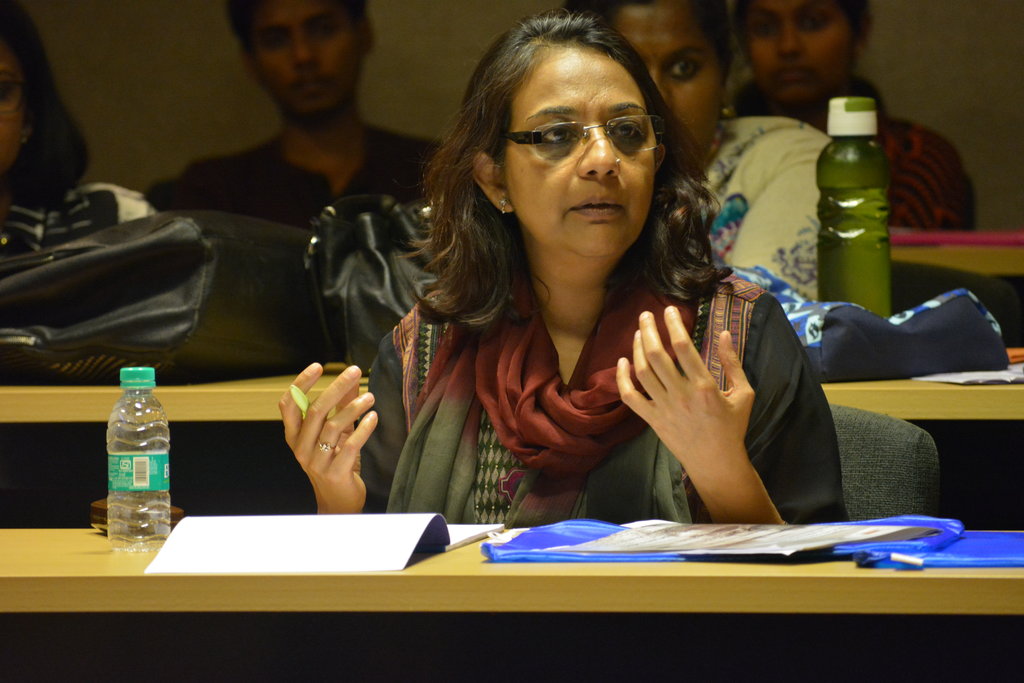 Kashmir Times editor Anuradha Bhasin, got the shock of her life when she reached her government allotted flat at Wazarat Road on Sunday. A ransacking was underway; her belongings, including the antiques, rare books, and furniture collected by the bhasin family over the year were strewn around. And there was a man sprawled on her bed. Bhasin had rushed from her sisters home, where she has been staying during the lockdown, to this flat to witness the ransacking, even as the security men, who apparently accompanied Dr Imran Ganai, the man who was sprawled on her bed and who Anuradha identified as the brother of Shehnaz Ganai, a former MLC. Ganai was there, allegedly to get the flat emptied out and take over.
Anuradha posted this statement on her social media page :
"Today some goons, led by Dr Imran Ganai, brother of Shehnaz Ganai, former MLC, entered the government flat allotted to me at Wazarat Road (since 2000) and committed theft, stole my jewellery, silverware and other valuables in my house in connivance with Estates Deptt and some police personnel. Few cops in civvies were assisting them in the loot and they were present in every room and tried hiding their faces when I was clicking their photos. They finally ran away when SHO Pir Mitha Police station came to the area after we called him up. But even the latter was hesitant to lodge our complaint and kept taking the side of the trespassers, wrongly claiming that they are the authorised allottees of the house. My belongings were being dumped in one room and even breakable items were thrown around. We were shoved and pushed and had to fight back in self-defence. The SHO refused to even enter the house and see how they were looting and throwing my belongings which include my photographs and books. Much later when my lawyer came, he agreed to lodge a formal complaint at the police station and made a visit to the house to see things for himself. The police did not help in evicting him even as Dr Imran Ganai sprawled himself on my bed. In one room they had locked up four girls. We had to break open the door. One of them started crying when we broke open the door and ran away. In recent years, Shehnaz Ganai and her family members have been allotted more than five flats in the locality. On what basis? Were previous cases also of similar illegal trespassing and theft? Can Estates deptt allot quarters to people without serving show cause notice, informing the previous occupants/ allotees without even waiting for them to remove their belongings. The Estates Dept is promoting theft. Some officers of the police department are willingly turning a blind eye to it."
Anuradha Bhasin also shared the photos from the house when the men had forced their way in and had emptied out the drawers in her bedroom, and were 'inspecting' various rooms, even bathrooms, of the apartment.
Speaking to SabrangIndia from Kashmir on Monday morning, even as she was preparing to follow up with the police complaints etc, Bhasin says she believes in the due process, but this was a shock as she had not even been given any notice regarding the flat's allotment status. She was upset at the way the rare books, and artifacts, including the families silverware handed down generation, was strewn around the place.
That apartment had first been allotted to her father, Ved Bhasin, who is still remembered as one of the most prominent journalists from the region. He is hailed as the 'Grand Old Man' of English journalism in Jammu and Kashmir, and had moved into the apartment when Anuradha was a year old. He eventually moved out once he built his own home in 1999, and as Anuradha was an established journalist by the house was allotted to her.
However, somewhere along the lines, with the ever changing political scenarios and the way journalists in the then state, and now Union Territory, began to be treated she too came under the scanner for her work, and her activism. While this raid appears to be unrelated it is not unlikely that this is yet another way to intimidate and harass one of the most prominent journalists of Jammu and Kashmir.
Journalist @AnuradhaBhasin_ alleged that some goons entered her flat & committed theft, stole her jewellery, silverware and other valuables in connivance with Estates Deptt, She alleged that Few cops in civvies were assisting them.#JournalismisNotACrime

— قاضی شبلی (@QaziShibli) October 4, 2020
Anuradha Bhasin, had also approached the Supreme Court when after the abrogation of Article 370 and 35A of the Constitution in 2019, had led the now Union Territory to be shrouded under a complete blackout. A year later, Bhasin told SabrangIndia that the region's economy was in shambles, there is no trust in the government, and Kashmir's journalists continue to be caught between the guns of the militants on one side, the security forces on the other. She and her colleagues have continued to file news reports on the developments in the region.
Now this alleged ransacking of her apartment, that too by a man related to a former MLC, needs to be investigated in that light too. The official line is that the apartment has been allotted to Shehnaz Ganai. However Bhasin was not given an official notice to evict said sources. Bhasin herself has stated that Shehnaz Ganai's family members have also been allotted "more than five flats in the locality", and has asked on what basis were those allotments made. To add insult to injury Bhasin, a well known journalist, was told she must only go to the police station accompanied by a man if she wanted to file the complaint.
Misogyny of the police. An SHO (Nayat Ali) of Peer mitha has just told me that I cannot come to the police station to make a complaint of theft without a man. @JmuKmrPolice

— Anuradha Bhasin (@AnuradhaBhasin_) October 4, 2020
Journalists in Jammu and Kashmir, are sometimes allotted small apartments in the Pres Enclave area and most end up using them as offices, staying close together. However this is now the first time Bhasin's officially allotted flats have been targeted. The flat allotted in the early 1990s in the Press Enclave area too is now considered a disputed property. The Kashmir Times has had to spend its own money to carry out urgent repairs etc as the Estates Department told them the expenses will be reimbursed, which was not done. Way back in 2009, the Omar Abdullah government had even ordered demolition of the structure, reportedly for reconstruction but that too was challenged in court, as Bhasin had already carried out repairs etc.
But this time, the man, who claims his sister has been allotted the flat is just trespassing, alleged Bhasin, who has filed a police complaint. She says the government Estates departments have never served her a notice, or even informed her in writing, nor given her any time to remove their personal belongings. It is yet to be seen what defence is offered by the authorities for the vandalism done by the men, inside the journalist's home.
Related:
Kashmir's politics, social fabric, economy is battered, silenced, imprisoned: Anuradha
End harassment of Kashmiri journalists, lawyers: Kashmir Reading Room