A citizen's report on how the people of Kashmir have started a new civil disobedience movement against the forces of oppression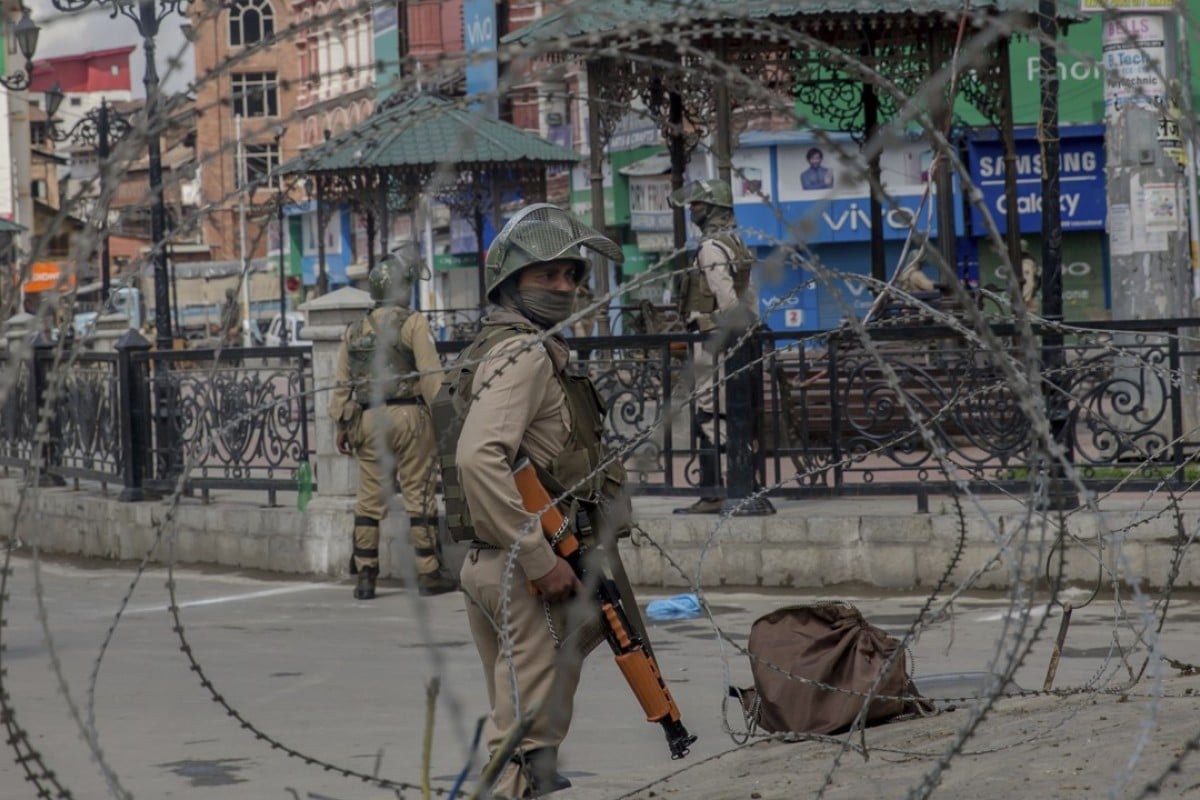 Image Courtesy: scmp.com
Kashmir is under siege. It has been 60 days since the Central Government ordered the abrogation of Article 370 and Article 35 (A) and since then, among a few outcries, silence has engulfed the valley.
Four activists – AnirudhKala – psychiatrist and author of 'The Unsafe Asylum – Stories of Partition and Madness', Brinelle Dsouza – academic, activist and a public health professional, Revati Laul – journalist and author of 'The Anatomy of Hate' and Shabnam Hashmi – social activist and founder of Anhad, travelled to Kashmir between September 25 – 30 and Jammu between October 6 & 7 to take stock of the ground reality and understand the impact of the security clampdown and communication blockade on the citizens of the proposed Union Territory.
Their report, Kashmir Civil Disobedience – Trauma, Resistance, Resilience is one more stark narrative of the happenings in the Valley, two months after the unilateral abrogation of Article. 370. The report was released today. The entire report may be read below.
Along with civil rights activists, these four people fronting the report have taken it upon themselves to unfurl the extensive trauma, fear, disunion, the rise of radicalization and extremism that the people of the Valley are shrouded under. But, it also brings to light the extreme strength of the people, their capability of love and resilience in the face of hardened suppression, as a lesson for the world to imbibe.
Speaking to a host of individuals from various fields – bureaucrats, traders, Pandits, journalists and even children, the researchers found one thing in common – an emotional outpour.
For the now long two months that the people of Kashmir have been under siege, instead of fighting back for being humiliated, angered, disturbed and 'disrobed', the people have actively and collectively chosen to respond back with a largely non-violent protest.
The people told the interviewers that they kept their shops shut not because of a call by militants or separatists or political leaders, but as an act of resistance against the Indian State; thus pointing out that no betrayed Kashmiri wishes to have an interaction with the Indian State.
Is this the calm before the storm?
The Civil Disobedience
The Kashmiris now know that their usual modes of protest will hold no ground against its oppressors. This time, after the clampdown, they have resorted to a different strategy. Even though they've been forced to re-open their shops and establishments, their choice to defy the military has been a bold one.
As a journalist explained – "There are two kinds of resistance at work – opening shops for two hours in themorning and two hours in the evening. And the silent resistance of notprotesting."
In the words of a man at a neighborhood in Srinagar, "What of 51 days even if everything goes like this for 151 days this mission of Kashmiris will keep on (continue)."
On their drive back from Baramulla to Srinagar city, the activists met a group of traders and businessmen. The most echoed sentiment?
""Don't call us a UT or a union territory, we are an OT – occupied territory."
Living through Fear and Trauma
Living through uncertainty is the biggest and worst form of fear. Not know what will happen to you, not knowing whom to trust, not knowing what to say and when, not knowing what is even true anymore – this is the fear that grips every citizen of J&K. Rumors, threats, suspicions, blockades – these have enveloped the State like a dark monster.
Stories of trauma and fear have been commonplace after the clampdown that the people of Kashmir have been subjected to. A young law student recounted his experience – "I am very depressed. Every Friday, we expect something to erupt after namaz sowe can't even step out. In these two months, for a 22- year old to sit at home, can't go out, and there's no internet. So, I've been reading a lot. Arundhati Roy, alsocrime fiction like John Grisham. But how much can you distract yourself from the ground reality? Watching TV is horrible, it makes you want to rip your clothes off.Academically I am at a loss. In the days of normalcy, we have to make up for losttime and rush through our syllabus. We don't have an academic calendar, we have a political calendar."
A trader was one amongst many who told us how Kashmiris aren't sleeping wellever since D day – August 5th. "I am pained. I sleep only once in two nights. That too because it's a physical requirement. Your father dies and you continue to eat the next day."
Men and women alike have remembered this trauma not to be something new. It has trickled in from generations and is now almost part of their genes. From the militancy in 1990 to the unabashed use of pellet guns in 2010, the clampdown today is not an isolated incident for any Kashmiri.

No Middle Ground Anymore
"Now there is only room for either completely pro India or pro Pakistan people.The middle ground is gone." This is what a middle-aged journalist said to the group of reporters were trying to make sense of what shape and form the experience of traumamight take.
Though the accounts of people are result of an extreme emotional trauma, nobody can ignore the political toxicity that has played its part in the matter.
Another journalist added that there is a difference between militancy, extremism and radicalization. Militancy came in historically on the back of a failed or rigged election in Kashmir and was sponsored by Pakistan. But in recent years, political extremism, the journalists explained is home grown. And bound to spiral due to anoverall sense of alienation and disenchantment with India. Radicalization where religious fundamentalism is in the mix, according to one journalist, is largely a false bogey. In his opinion, "that is a narrative created by Delhi."
Young boys in Baramulla, expressing their disappointment with the government remarked in unison, "Where are our fundamental rights?" they remarked in unison. "Even in HongKong, people are out protesting and their rights aren't taken away. The right toassemble, the right to education, the right to information, where is all of that?"
Plagued by separatists, militants and radical forces already, the abrogation of Article 370 has may be turned more people against the Indian State. Yet, voices of reason are emerging through – it isn't just the abrogation people have to fight against, how to resolve the Kashmir conflict itself – is the bigger question.
And Still – Love and Reslience
Beneath all of the tension, lay the mundane but all-important tasks of getting married and the adventure of love and courtship. The reporters were invited to a moderate sized gathering of people who said they needed tosee each other, read poetry together, play the rabab and to do all this purposefully to get past the every and seemingly insurmountable odds.
"I will give you an example to explain the importance of this meeting. Whenduring winters we sit quietly in our homes, when the winter god starts believingthat he now rules us and we are in his firm grip, then suddenly from the inner dark corners of the dry trees we hear the crackling sounds, then they become louder. We hear them and the hope for spring season awakens within us. We come toknow from these voices, sounds that the god of oppression, of fascism, is losing its hold. These voices are very important for giving us hope, that life is returning."
These meetings have not only emerged to be a difference or a ray of hope in the gloomy situation, but they are more catalysts of catharsis. Never forgetting their mission of civil disobedience, the people of Kashmir have never, will never, forget what keeps us human – the feeling of oneness and of love.
A Long Way to Go
Speaking to the most affected, the people of Kashmir, of how the situation could have been handled better and what can now be done to restore normalcy, the reporters compiled a list of recommendations that could bring life back on track. Some of the recommendations are listed below:

Immediate restoration of Articles 370 and 35A and statehood.
Release all political leaders, social activists, youth, and children, withdraw all cases
Government of India must work with all stakeholders to bring about peace and normalcy in the state and ensure that decisions regarding the political future of J& K are made through a process of dialogue and consultation and after ascertaining the will of the people
Provide mental health services in every district with immediate effect as mandated as mandated under the Mental Health Care Act, 2017
Lift restrictions on movement of journalists so that there can be genuine on ground reporting. Refrain from monitoring, surveillance and intimidation of journalists
Give an urgent patient hearing to the representations and restore the constitutional safeguards
Undertake an independent assessment of those killed and injured and deaths due to negligence and not being able to access medical services

While life in Kashmir may look like it is going on alright, the truth is that Kashmir is still simmering from the inside. It is upon us as a society to help put this fire to rest, not by giving up the fight, but by keeping it alive – silently and stoically.
Read the report here:

Related articles:
http://Article 370 Was Centre's Special Power, Not Kashmir's
Indians 'need to place themselves' in position of Kashmiris to understand their travails
Shooting the Messenger?Will the Kashmir news media survive the blackout to report from ground zero?
Communications Blockade Creates New Mental Health Challenges In Kashmir
Allow international human rights observers, media to access Kashmir: US lawmakers
News Behind the Barbed Wire – Voices From Behind Kashmir's Information Blockade