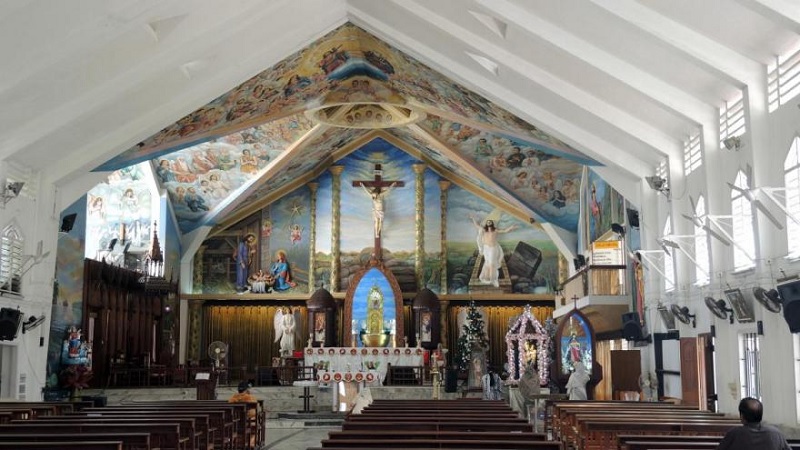 Image Courtesy:catholicsandcultures.org
Even though the controversy and discussions over Pala Bishop Mar Joseph Kallarangatt's 'Narcotic Jihad' remarks continue to haunt Kerala, another Church seems to have added fuel to the communal fire. According to media reports, a catechism textbook was published and circulated by the Syro-Malabar Church's Thamarassery diocese, even though it allegedly contains "several defamatory and derogatory statements against Islam."
This lead to protests by several Muslim organisations, who asked the government to impound the book, reported Indian Express. The catechism book, is reportedly for students of classes X to XII, and allegedly also says that the so-called "love jihad" is reality, and according to IE, it "goes on to detail how Christian women are allegedly trapped."
The catechism book calls it an "organised activity," and warns the youth "against accepting invitations for events from Muslims, two-wheeler rides, and even visits to ice cream parlours." Soon, after the protests, the diocese of Thamarassery was forced to tender an apology and "explained" that "the book was meant only to retain the youth within the Christian faith and protect women." While this 'apology' itself needs to be questioned and debated, news reports stated that the diocese of Thamarassery had in its release claimed that 160 women of the diocese had been "trapped" in "love jihad".
Activist, Jesuit priest and scholar Fr Cedric Prakash SJ prakash had explained the bogey of 'Love Jihad' as fueled by the Kerala Bishop who accused Muslims of making Catholic girls in the state victims of love and narcotic jihad, and the former Gujarat CM who wanted to take action against those who 'trap innocent girls', disregard the agency and wisdom of adult women.
Citizens for Justice and Peace (CJP) has been one of the crusades, educating the people against the illusion of 'Love Jihad' that has led violence and intimidation by police and non-state actors. "he 'Love Jihad' laws legitimise unconstitutional, anti-minority and misogynistic beliefs, and help further the hateful, communal agenda of extremists, and CJP has challenged anti-conversion laws as they impinge upon the privacy, freedoms and autonomy of consenting adults.
On February 17, the Supreme Court Bench headed by Chief Justice SA Bobde and also comprising Justices AS Bopanna and V. Ramasubramanian, admitted CJP's amendment to its original petition to include the Madhya Pradesh Freedom of Religion Ordinance, 2020 and Himachal Pradesh Freedom of Religion Act, 2019. CJP's original petition had challenged the laws of Uttar Pradesh and Uttarakhand to be ultra vires of the Constitution on which the top court had issued a notice to the respective States on January 6, 2021.
The laws have been challenged on grounds that it is discriminatory, anti-women, and contravenes the right to privacy and personal liberty of citizens by criminalising interfaith unions. Thus, CJP has prayed for the Uttarakhand Freedom of Religion Act (2018), Uttar Pradesh Prohibition of Unlawful Conversion of Religion Ordinance, 2020, Madhya Pradesh to Freedom of Religion Ordinance, 2020 and Himachal Pradesh Freedom of Religion Act, 2019 to be declared anti-Constitutional and struck down.
Related:
The bogey of 'Love Jihad'
Sections of the Kerala church getting dangerously communal?
Who will decide how many children an Indian woman should bear?
Anti-conversion law will not apply to inter-faith marriages unless there is force, fraud