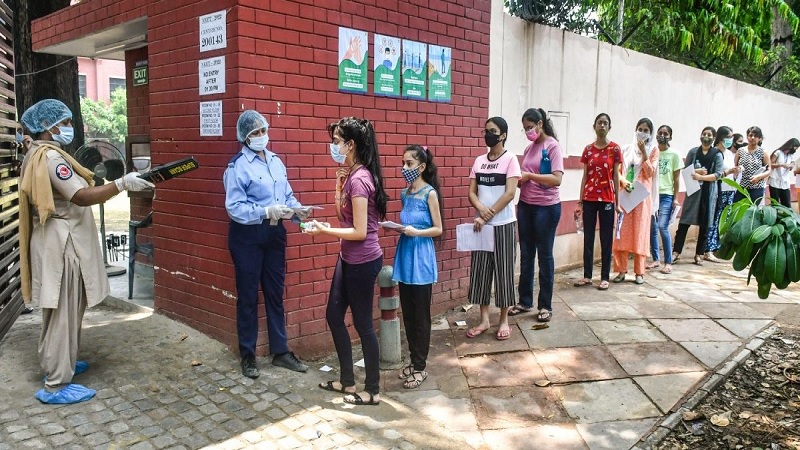 Image Courtesy: thewire.in
The Kerala High Court has asked the National Testing Authority (NTA) to submit a detailed response to a Public Interest Litigation (PIL) seeking compensation for female students who were forced to remove their undergarments at a National Eligibility cum Entrance Test (NEET).
As SabrangIndia had reported previously, female students who appeared for the exam at the Marthoma Institute of Information Technology (MIIT) in Kannur in Kerala on Sunday, July 17, were allegedly forced to take off their undergarments by the security staff.
The father of one of the girls then lodged a police complaint. According to him, his 17-year-old daughter and other girls were forced to remove their bras because of the metal hook. When the girls protested, they were allegedly told to choose between wearing a bra or appearing for the exam. "Is your future or innerwear big for you? Just remove it and don't waste our time," is what the authorities had reportedly told the girls, as per the father's complaint to the police.
Now, a petitioner named Asif Azad has moved Kerala HC, seeking directions by the Court to the central government to publish common protocol for conducting exams all over the country. He also prayed for free counselling to the traumatised girls, and asked that they also be granted adequate compensation for what they were forced to endure. The plea also stated that the undergarments removed by the female examinees were then stacked one on top of another with scant regard for Covid protocols.
Excerpts from Azad's petition recorded in the order passed by a division bench of Chief Justice S Manikumar and Justice Shaji P Chaly who heard the matter, say, "The NEET exam, at an examination center in India (Kerala) were administered in a fashion that required the removal of the girls inner wear, leaving them semi-naked while taking exams." It further says, "There were two rooms where undergarments of young women and girls were stacked on top of each other in violation of COVID-19 protocols." The petition harked back to a similar incident, saying, "In a similar complaint in 2017, four teachers of a school in Kerala were suspended for asking a girl to remove her inner wear before entering a NEET center in Kannur."
At the hearing on Wednesday, advocate S Nirmal, the standing counsel for the NTA refuted the petitioner's claims saying he had made "inappropriate averments". He also submitted that a crime had been registered and Government Pleader KP Harish confirmed the same, reported Bar and Bench.
The court then directed, "We have taken note of the submissions advanced. However, we are of the view that a detailed statement be filed on the averments made/objections raised regarding credibility and satisfaction of the requirements of public interest litigation, the manner in which examination was conducted, enquiry conducted on the alleged incident etc., with all supporting documents."
The matter will now be heard on August 5. The entire order may be read here:
Related: