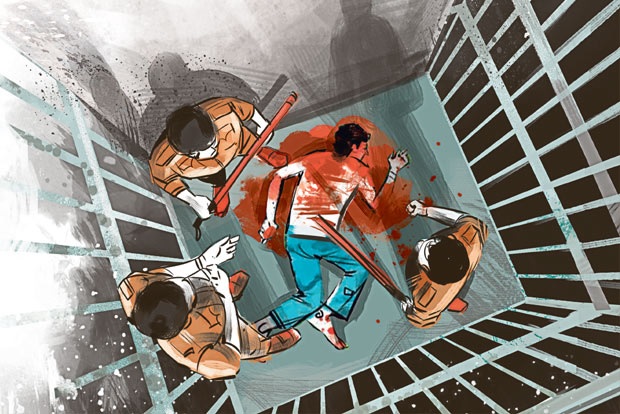 Illustration Courtesy: SAAI

There is an eerie silence both in the media, and the state government over allegations of custodial torture made by two bothers from Kerala. One of the brothers, 18-year-old Abdurrahman has even gone to lodge a complaint at the offices of Chief Minister of Kerala and Director General of Police (DGP), stated a report in Maktoobmedia. The teenager has complained against a sub-inspector of police from Palakkad Town North Police Station, alleging that the "sprayed his genitals with pepper spray and used anti-Muslim slurs inside the police station."
Abdurrahman is quoted in the report naming the policeman saying, "Sudheesh Kumar, SI from Palakkad Town North Police Station and his colleagues sprayed pepper on my private parts and shouted I should not give birth to Muslims anymore." Abdurahman and his brother Muhammed Bilal were taken into custody in late August on "suspicion of being involved in an attack against an RSS cadre." "The sub-inspector T. Sudheesh Kumar stood with boots on my thighs and instructed other cops to hit on the leg," Abdurahman said in his complaint to Kerala CM and state police chief.
According to Maktoobmedia, the two were arrested after allegedly attacking an RSS cadre member over a dispute on a Facebook post related to Ayodhya Bhoomi Pujan. The brothers Abdurahman and Bilal who hail from Mathanchode, Palakkad are also the local leaders of Campus Front of India, a student organisation associated with the Popular Front of India, said the news report.
A detailed report in TwoCircles.net recalled the events, beginning on August 24 when Palakkad North Division police turned up at the house of two brothers, Abdurrahman (18) and Bilal (20), "to question them in connection with a physical assault attempt on an RSS worker". Soon, they were taken into custody and tortured, stated TwoCircles. According to their lawyer Advocate Mohammad Rashid who was quoted in the report, the brothers were "unaware of this assault incident and continuously asserted their innocence to the police."
However, they were allegedly tortured by the police while in custody. TwoCircles reported that even days after his arrest, Abdurrahman was still in the hospital suffering from serious injuries on his genitals, thighs, chest, and legs, while Bilal is still in judicial custody in an equally wretched condition. Bilal is, additionally facing criminal prosecution under IPC Sec. 308 (culpable homicide), 341, 324 and others. Adv. Rashid is quoted, "When sub-inspector Sudheesh Kumar's team of nine officers barged into the house, not a single male family member was present. Their younger sister attempted to call her father, but the police threatened that they would pick her up too. They took the boys away without any intimation to the family members. When his family eventually came to know, they called up the police station, but the police denied keeping the youths in their custody."
Adv. Rashid told TwoCircles.net what Abdurrahman recounted of his trauma when he was released after 24 hours. "A group of ten police officers started by beating both the youths on their feet. They were tied up and 150-200 lashes were inflicted on them. They stood on his thighs and beat them on the head," he said, adding that "two police officers sat on their chests while the others used a cigarette lighter to burn their genitals. They even sprayed their private parts with pepper spray," stated the lawyer. He alleged that the intent of attacking their genitals was explained in the words allegedly uttered by SI Sudheesh Kumar "Now, you will not be able to give birth to any more Muslims."
TwoCircles reported Adv. Rashid's confirmation that, "the boys' mother Hajira has filed written complaints to the Kerala DGP, the CM, the Chairman of NHRC, Palakkad Superintendent of Police, and the District Collector. She expects justice to be delivered to her sons. SI Sudheesh Kumar and his team need to be punished for their crimes".
Related:
Jungle raj, and mob bloodlust thriving in Haryana?
'Say Modi Zindabad', order criminals as they thrash old Muslim man
Unarmed meat transporter critically injured by Haryana mob
Bail to 21 accused of violence in anti-CAA protests in Mangaluru: SC