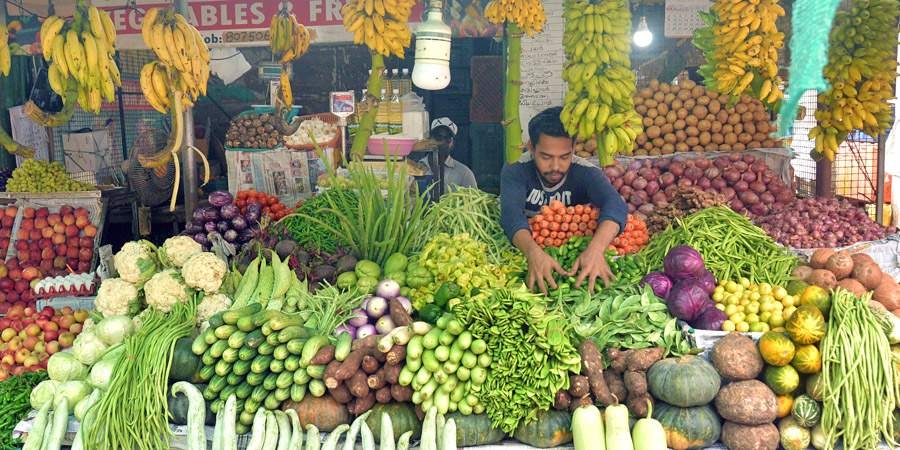 The Kerala's government's latest decision to set base prices for 16 agricultural produce is sure to benefit farmers, but the benefits may not extend to plantation farmers, said General secretary of self-help group Kerala Farmers Federation Joshy Joseph Manniparampil on October 23, 2020.
On October 21, the Ministry of Agriculture announced its plan to determine the Minimum Support Price of 16 varieties of fruits, vegetables and tubers that are widely produced across the state. This is a first-of-its-kind policy approved in India.
Commending the decision, Manniparampil said, "The new base prices are beneficial for Kerala farmers because the cost of production, especially input cost, is high in the state because of the high wages. However, the scheme won't benefit plantation farmers like those of rubber and tea."
Project Director Abdulla Hashim of the Vegetable and Fruit Promotion Council Keralam (VFPCK) said that the scheme will help benefit small and marginal farmers with upto two hectares or five acres of land per crop per season. "This is basically a risk management scheme to protect farmers in the event of price fall," he said.
Yet, as Manniparampil pointed out, a lot of marginal farmers in Kerala are engaged in rubber farming. He estimated that about 75-80 rubber is produced by marginal farmers. Moreover, he said they suffered a lot due to the pandemic because of a dearth in buyers.
Interestingly, there continues to be a demand for latex gloves yet the raw material is not being sold.
"This is a problem because rubber farmers can't switch to other crops like regular farmers can," he said.
However, he went on to say that the state government did seem sympathetic to the plight of plantation farmers. He remembered that two years ago, they tried to set the base price of rubber at Rs. 150 per kg but could not sustain it for longer than a year.
"A possible reason why plantation farmers haven't been covered because there's a shortage of funds. The state doesn't seem to be getting funds from the central government. If a base price is set for rubber it should be around Rs. 175 per kg," he said.
Nevertheless, the new policy has been celebrated by farmers organisations for its pro-marginal-farmer approach. Even the All India Kisan Sabha (AIKS) praised the state government's move in a press release. They stated that the new base prices as well as procurement of paddy at Rs.2,750 per quintal which is about Rs.900 per quintal more than the centrally fixed MSP assures remunerative prices through cooperatives.
The per-kilogram prices of the products will be as follows: Rs. 12 for tapioca, Rs. 30 for Nendran banana and Rs. 24 for Wayanadan Nendran, Rs. 15 for pineapple, Rs. 9 for ash gourd, Rs. 8 for cucumber, Rs. 30 for bitter gourd and snake gourd, Rs. 34 for string beans, Rs. 8 for tomato, Rs. 20 for ladies' finger, Rs. 11 for cabbage, Rs. 21 for carrot and beetroots, Rs. 20 for potato, Rs. 28 for beans and Rs. 139 for garlic.
Hashim explained that this meant any farmer who receives prices lower than the base price for these 16 crops, will have the deficit amount directly transferred to their bank account.
Although he foresaw market glut situations to pose a challenge in marketing the agricultural products, he assured that the three central laws won't affect this policy or Kerala's farmers because the state does not have an APMC law.
"Majority farmers of Kerala are small and marginal with small land holdings. There is no contract farming by big corporates in Kerala," he said.
He also pointed out that Kerala farmers fared better than most professions during the lockdown period thanks to such support schemes by the government.
These prices will come into effect from November 1 and are calculated to address the problem of price fluctuation in the market. The amounts were determined at production cost plus 20 percent based on a study conducted by the State Agricultural Prices Board. Moreover, the government also included a per-hectare productivity limit to prevent any misuse of the scheme.
According to Agriculture Minister V. S. Sunil Kumar, this "historic decision" of the state Cabinet satisfies the greatest demand of farmers – to get a reasonable price for their products – deprived of which, impoverished farmers often turn to extreme measures. He also mentioned that the government decided to store vegetables through 559 centres.
"When the central government is moving forward with anti-farmer policies, the state government is moving forward by creating a model to protect the farmers, it is because there is no protest by throwing farmer suicides or products on the streets. This government has always tried to implement alternative models from the people's party," he said in a Facebook post.
https://www.facebook.com/advvssunilkumar/posts/1198232350563987
Related:
Why no MSP for crops other than paddy and wheat: AIKS to Punjab government
Four states gear up to resist 'anti-farmer' bills
New guidelines by MHA allow agri and fisheries after April 20, encourage online teaching