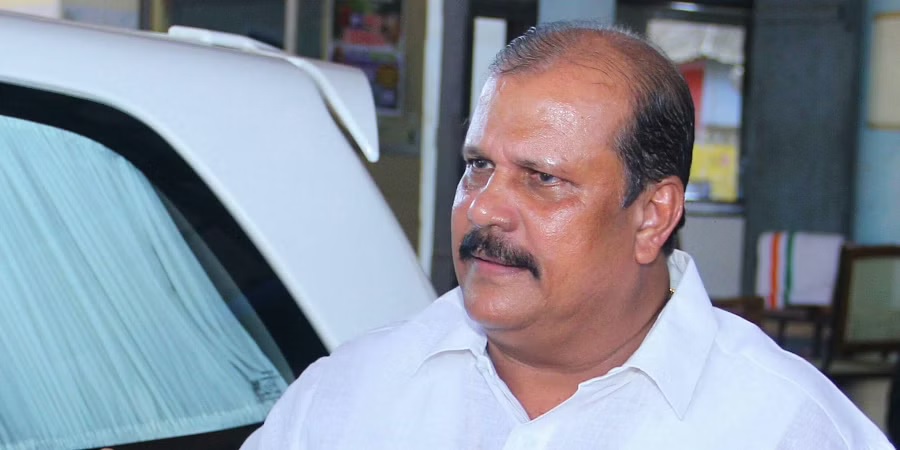 Senior politician P C George was arrested on Wednesday, hours after a judicial first-class magistrate court cancelled his bail in the hate speech case. The bail was cancelled after the prosecution informed the court that George had violated the bail conditions. According to news reports, the court was informed that George had allegedly made another hate speech at a temple festival in Kochi, earlier this month, thus violating the bail conditions. George was arrested at the Palarivattom police station, where he had gone in connection with the second hate speech case, he was brought to Thiruvananthapuram later reported IE.
According to news reports Bharatiya Janata Party's state president K Surendran "rushed to the police station, to extend support to George" and added that the party "would stand with George." He told the media that the "CPI(M) government is hunting George to pocket 20 percent of votes [of Muslims] in the coming by-election at Thrikkakara Assembly seat. His arrest shows the double standard of the government. The police have not yet identified the person who had raised provocative slogans at the Popular Front of India rally in Alappuzha."
Brief background of the case
Weeks ago, Kerala politician PC George, an ex-MLA and Kerala Janapaksham party leader, had claimed that Muslim-run restaurants were lacing tea with 'drops' that caused impotency. Not only was his claim busted, he was called out for hate speech. Then, like an accused in a Malayalam potboiler movie, George reportedly "went into hiding."
On Monday, he was granted anticipatory bail, an interim protection from arrest by the Kerala High Court. Soon, PC George returned "home from hiding". George had been restrained from making public statements, however according to Manorama News he "attended public events in his hometown and nearby regions."
Even though the Kerala High Court had granted him anticipatory bail in the hate speech case registered in Vennala, Kochi, it did not affect the case against him in the capital, reported Mathrubhumi. According to the report in Mathrubhumi, Judicial First Class Magistrate Court-II on Wednesday May 25, cancelled the bail granted to the former Poonjar MLA. It also directed the Fort ACP to "arrest George immediately" stated the news report. The former MLA PC George, had been arrested for his controversial speech at Ananthapuri Hindu Mahasabha 'Mahasammelan', but had obtained bail from the magistrate of Vanjiyoor court Asha Koshi on May 1, and had been informed that bail conditions were "not repeating any similar hate speeches or attempting to influence the witnesses in the case."
According to the news report, he was "taken into custody early in the morning on the same day from his residence in Erattupetta in the Kottayam district and taken by road, in his his personal vehicle, to the Thiruvananthapuram AR Camp where his arrest was formally recorded for the offence of promoting enmity between different different religious groups under section 153A of the IPC." However, he was granted bail by a magisterial court within a few hours of his arrest. The offence was non-bailable, and this bail for communal hate speech had then raised many eyebrows.
George had made communal remarks aimed at a particular religious community during a function at Thycaut Mahadeva Temple in Vennala under the Thrikkakara Constituency. As reported by Manorama, a by-election is due in the constituency on May 31. "George had argued in the High Court that a case was registered without listening to his whole speech," stated news reports. The matter was to be heard again on Thursday.
George, was once a leader in the Kerala Congress. However, he soon fell out of favour, and according to local journalists has often sparked off a controversy for his words against Muslims in Kerala. His hate speech at the programme organised as part of the Ananthapuri Hindu Maha Sammelan was just one of many, said locals.
The irony is that the seasoned politician, now in his 70s, was once said to have had "Muslim support in his pocketborough of Poonjar in Kottayam district." However, he is now reportedly heard saying things like, "Muslims use some kind of drops that cause impotence" and has also allegedly talked of "love jihad" and an "agenda to establish a Muslim country" by "sterilising men and women (of other faith)" sounding more like he belongs to the Hindutva right-wing camp. Hindutva outfits as well as right-wing Christian Association had reportedly taken out a march in Thiruvananthapuram to protest his first arrest.
He had then said after he got bail that day, in Thiruvananthapuram, "I stick to what I stated at the Hindu Maha Sammelan. My words have wounded the extremists. The CPM and Congress want the support of jihadis." George had in 2017, floated his party, Kerala Janapaksham, and became an ally of the NDA, thus becoming its "Christian face in the state."
According to a report in Indian Express, George then came to be known for his anti-Muslim remarks such as comments about "Muslims who bomb Christians", a remark for which he later apologised. In the 2021 Assembly elections, George contested as an Independent, and lost on his home turf.
Related:
Migrant labourers: Guests or victims?
Jal Satyagraha as part of farmers' MSP week protests
Proposed K-Rail project to wreck Kerala's fragile ecology
Will Delhi's Mayors ban onion and garlic too during Navratri?
Still no move on marital rape by the Centre