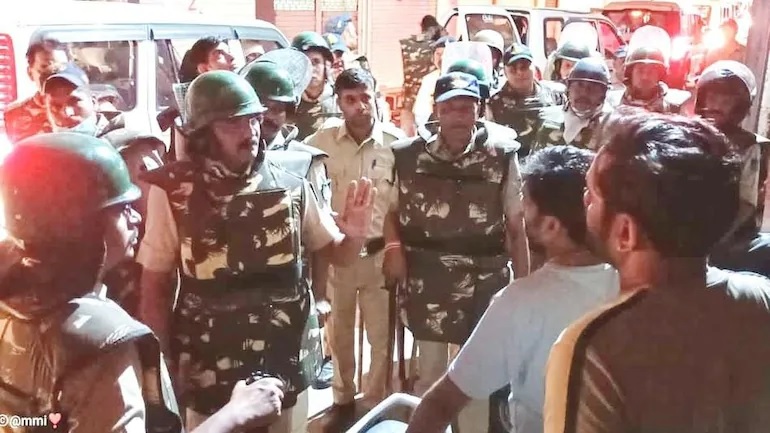 As many as 121 people have been arrested by Khargone police in connection with the Ram Navami violence and its aftermath, the District Public Relations Office told SabrangIndia. But members of the minority community are alleging that the police are only targeting Muslims.
Violence in the Madhya Pradesh city persists after the stone-pelting and communal aggressions during Ram Navami processions on April 10. District police announced a curfew in the minority-dominated and nearby area on Sunday evening. However, on Monday there were fresh reports of buses in a garage being set ablaze.
"The buses were not in use and were just lying in the garage. Nonetheless, we're looking into what all damage has been caused," said PR Assistant Director Pushpendra Vaskale.
This along with the news of successive arrests should have allayed tensions. Yet, Business Standard on April 13 reported that Muslims clerics were alleging that the police and state administration were only targeting Muslims with arrests. Qazi-e-Shahar, Bhopal and Syed Mushtaq Ali submitted a memorandum to Director General of Police (DGP) Sudhir Saxena accusing the administration of demolishing Muslim houses and putting community members in jail "in a clear violation of the law of the land".
By this, the complaint referred to the many houses in the Muslim basti that were bulldozed allegedly for being on government land. Ironically, one of these houses was constructed under the Pradhan Mantri Awas Yojana. However, Municipality CMO Priyanka Patel accused house owner Hasina B and her belated husband of using the accommodation for commercial purposes.
?शासकीय भूमि पर बने आवास को तोड़ा गया

खरगोन शहर में जिला प्रशासन, पुलिस प्रशासन और नगर पालिका द्वारा तोड़े गऐ भवन, आवास और व्यवसायिक भवन बिना अनुमति व अनुमति के विपरित निर्माण कार्य किए गए उन्हें तोड़ा गया है।@CMMadhyaPradesh @JansamparkMP @comindore @mohdept @mprevenuedeptt pic.twitter.com/TRZNWVbnZH

— PRO JS Khargone (@PROJSKhargone) April 13, 2022
तहसील न्यायालय द्वारा अतिक्रमण हटाने के लिए तीन दिनों को समय दिया गया था। इसकी लिखित में इस न्यायालय को सूचना प्रस्तुत करने के लिए नोटिस जारी हुआ था। लिखित सूचना नहीं प्रस्तुत करने के बाद आवास तोड़ा गया। हसीना बी. पति फारूख को किसी अन्य स्थान के लिए आवास स्वीकृत किया गया था।

— PRO JS Khargone (@PROJSKhargone) April 13, 2022
Officials maintain that the other houses were built on encroached houses. Condemning this, the memorandum recalled the violence on Sunday in Khargone and Sendhwa, where processions were allegedly armed with weapons. Business Standard said that the complainants accused BJP legislators of making provocative statements and urged the DGP to act and prevent such incidents in the future. Prominent Muslim body Jamiat Ulema-e-Hind sought Union Home Minister Amit Shah's intervention over the issue as well.
Amidst growing anger, there has also been much confusion about the presence of Hate-offender Kapil Mishra at the scene of violence. However, multiple news reports have confirmed that Mishra was not at the procession, albeit he made hate speeches in a region 40 kms away from the city. Similarly, a hate-inducing video from Bihar of youths putting up saffron flags outside masjids has also been debunked as not from Khargone.
Related:
Did Kapil Mishra's Ram Navami speech incite communal violence, demolition drive in Khargone?
Communal confrontations mar Ram Navami celebrations in five states
Sheath the swords, while there is still time!