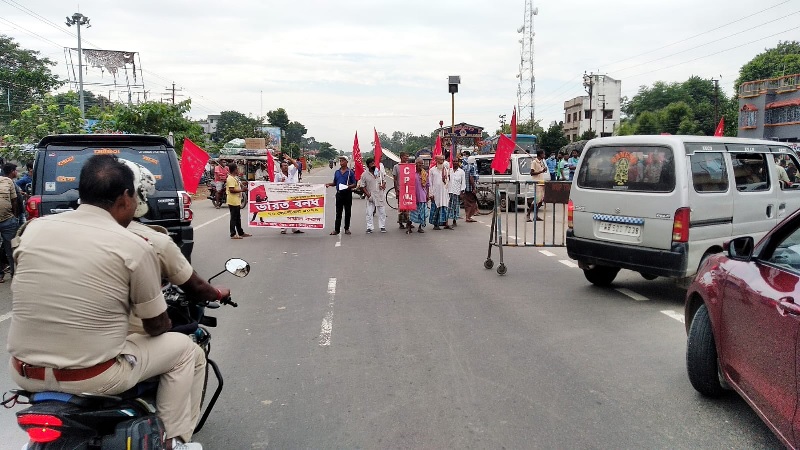 This Bharat Bandh, mainstream and big news media outlets fell into their old habits. While some news headlines focused on "traffic jams" and reported that major "inconveniences were caused to the public", and some others said bandh was a "total failure", in which case there was no "inconvenience". The irony though lay in how sometimes, it was the same publication reporting these two contradictory occurrences. Now, contradictions cannot coexist, and basic logic suggests that only two opposite outcomes are possible, but not together – either the nationwide strike called by protesting farmers on September 27, that marks day 305 of the ongoing protest, was a complete success, or it was a failure.
There were headlines such as these, lamenting traffic jams on busy crossroads. Incidentally, such jams are common on these roads when massive rain falls creates water logging, and sinking potholes too:
Once again, it was the social media that gave the real picture from across the country, photo after photo showing that the Samyukta Kisan Morcha's (SKM) call for a complete strike was a success. The Bharat Bandh also marked the 10th month of peaceful protests being carried out by farmers on the Delhi border, and of solidarity protests being held at various times, across the country.
Total Bandh in #Agartala #Tripura by farmers, shops closed in the area.#BharatBandh #FarmersProtest #आज_भारत_बंद_है #FarmersProtest_StandsStrong pic.twitter.com/pamnFjLVOb

— SabrangIndia (@sabrangindia) September 27, 2021
AIKS leaders Hannan Mollah and Ashok Dhawale join #FarmersProtest at Jantar Mantar #Delhi @KisanSabha #आज_भारत_बंद_है #BharatBandh #FarmersProtest_StandsStrong pic.twitter.com/E45KYfSrNf

— SabrangIndia (@sabrangindia) September 27, 2021
This was the first Bharat Bandh since the ebbing of the devastating Covid-19 second wave; the last Bandh had been held on March 26, 2021. However, many media houses continued to project that it was a damp squib.

This Bharat Bandh, was a peaceful one, there were no "untoward incidents reported from anywhere," stated the SKM, who had instructed that all emergency services will be given right of way on the roads, and that the event will be conducted peacefully. Reports of a successful Bandh, came in throughout the day on Monday with farmers, and civil society themselves sharing photos and videos on social media from Andhra Pradesh, Assam, Bihar, Chattisgarh, Delhi, Gujarat, Haryana, Himachal Pradesh, Jammu & Kashmir, Jharkhand, Kerala, Karnataka, Madhya Pradesh, Maharashtra, Odisha, Pondicherry, Punjab, Rajasthan, Tamil Nadu, Telangana, Tripura, Uttar Pradesh, Uttarakhand, and West Bengal.
Members of @KisanSabha gather in Trivandrum, Kerala in support of #BharatBandh #FarmersProtest_StandsStrong #आज_भारत_बंद_है pic.twitter.com/T48GhNe8uo

— SabrangIndia (@sabrangindia) September 27, 2021
According to the SKM Punjab alone, peaceful gatherings in support of the Bandh were held in "more than 500 locations". The Bandh also had the support of major Opposition political parties leaders of which extended support on social media as well. Trade unions were one of the largest groups to stand in solidarity with the farmers, as seen in the images, and other associations and organisations, representing women, students, Dalits, minorities, workers, came out onto the streets too.
Farmers have been protesting for so long, but govt is dictatorial, not responding. Dalits, minorities, stand in support of farmers" Dr Muniza Khan, Gandhian Inst & Samajwadi Jan Parishad, speaking at #Varanasi #आज_भारत_बंद_है #BharatBandh #FarmersProtest_StandsStrong pic.twitter.com/tViYVQy6lL

— SabrangIndia (@sabrangindia) September 27, 2021
Related:
Podcast: A Year of Kisan Andolan
Art and Revolution: Top 10 posters from the Bharat Bandh
SKM calls upon citizens to join us on Bharat Bandh
Accept farmers demands, end the struggle: SKM
Maharashtra peasants plan for complete Bandh on September 27
Assam Police Firing: People across India demand justice for evicted families