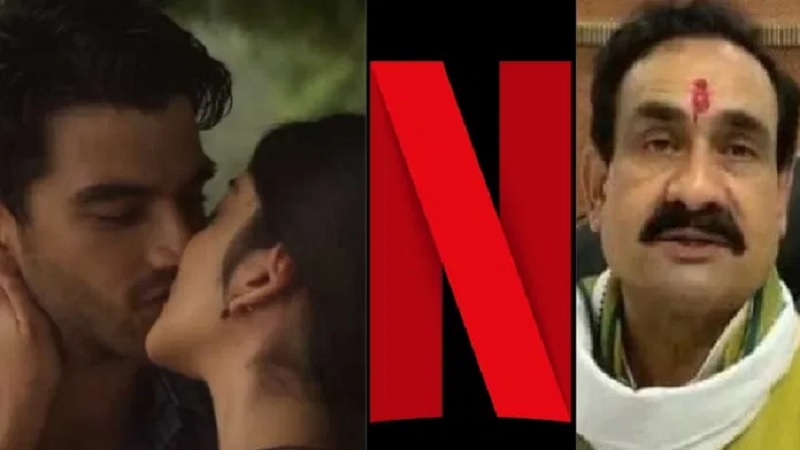 Image Courtesy:opindia.com
Khajuraho is one of the most popular tourist spots in Madhya Pradesh. Known for its temples adorned with intricate carvings. While the official government website of MP tourism will make sure that you know that only 10 percent of those sculptures are erotic, or sexual. However, even the ones that are not depicting the sexual acts of all combinations, prefferances, evels of flexibility, depict the human form, especially the female form as voluptuous and at ease with their sexualities. Said to have been built between 950-1050 AD by the Chandela Dynasty, these temples have been recognised globally as a UNESCO World Heritage Site.
Madhya Pradesh, however, is not making news for official action against Netflix, an internet based telecast platform, for airing a show that had scenes of two fictional characters kissing in a temple compound. Nothing erotic, a kiss, in a fictional story. A point to be noted however is that the fictional Hindu woman, and the fictional Muslim man are the two charecters shown kissing in the scene from a Suitable Boy.
The show is the cinematic version of A Suitable Boy, a work of fiction by author Vikram Seth, which is set in a newly Independent, post-Partition India. The book, with 1,349 pages and was noted to be one of the longest in a single volume. It was published in 1993.
In October 2020 the BBC television drama miniseries, adapted by Andrew Davies and directed by the acclaimed Mira Nair was aired on Netflix. It took a few days for the Right Wing to discover the kissing scenes and create a furore.
Leading from the front was Madhya Pradesh Home Minister Narottam Mishra who declared that he was offended at the scenes and accused Netflix of allegedly hurting religious sentiments. He had asked the police to closely examine those charges and report to him post haste. They did, and found the charges to be grave enough to register a First Information Report (FIR) against Netflix. After examination, according to The Print, Mishra said, "An FIR has been registered under Section 295 A of the IPC against Monika Shergill and Ambika Khurana." Shergill is the Vice President of Netflix India while Khurana is the Director of Public Policy at the streaming site.
एक #ओटीटी_मीडिया_प्लेटफॉर्म पर "A Suitable Boy" नामक फ़िल्म जारी की गई है। इसमें बेहद आपत्तिजनक दृश्य दिखाए गए हैं जो एक धर्म विशेष की भावनाओं को आहत करते हैं। मैंने पुलिस अधिकारियों को इस विवादास्पद कंटेंट का परीक्षण कराने को निर्देशित किया है। pic.twitter.com/oYSiizJxCQ

— Dr Narottam Mishra (@drnarottammisra) November 22, 2020
Bharatiya Janata Party leader Gaurav Tiwari had filed a complaint against the makers of 'A Suitable Boy' for shooting kissing scenes between a Hindu girl and a Muslim boy against the backdrop of a Hindu temple. In his complaint, Tiwari highlighted several kissing scenes in the series, including one with a shiva linga in the backdrop, stated the news report. He stated that the location's name was changed but it was shot in the Maheshwar Temple on the banks of the Narmada river.
Finally My FIR against Netflix has been filed under section 295 (A) on Monica Shergill (VP Content) & Ambika Khurana (DPR, Netflix) over shooting kissing scenes under temple premises in 'A Suitable Boy' series.

I thank MP Police & HM Shri @drnarottammisra Ji for the support. ? pic.twitter.com/iQocFrALR0

— Gaurav Tiwari (@adolitics) November 23, 2020
As expected, Tiwari linked the the kissing scenes, between a Hindu girl and a Muslim boy, to the alleged right-wing fuelled communal bogey of 'love jihad'. According to the news report Tiwari said these scenes will "encourage other people and vitiate an already disturbed atmosphere in the country" adding that "Our government is bringing a strict law against love jihad," Tiwari said in his complaint, referring to the state government's decision to table a bill against 'love jihad' in the next Assembly session stated the news report.
The Bill, to be called Dharma Swatantrya (Freedom of Religion) Bill, 2020, proposes five years of rigorous imprisonment for "luring a person through fraud and forcing marriage by religious conversion". It also aims to make the offence non-bailable, the Indian Express had reported.
According to the news report the series, and the scenes in question were shot in the Maheshwar temple complex in Khargone district in December 2019 when the Congress was in power. The Print reported that Superintendent of Police of the Rewa district, Rakesh Singh, said that he has approached the district prosecution officer (DPO) to seek advice on how to progress in the matter, "The matter is being examined. It will depend on the DPO's opinion whether a case is made out and under what sections." However, Dr Vijaylakshmi Sadho, former culture minister in the Kamal Nath government, told the media she was not aware of the content when she inaugurated the shooting.
Since the future, many social media users have been reminding the right wing community of other 'kissing scenes' permanently etched in the temple sculptures
मिसर जी @drnarottammisra
तस्वीर में दिखाई दे रहा दृश्य
खजराहो के मंदिर की
दीवारों पर अंकित हैं

इससे एक धर्म विशेष की भावनायें आहत नही हो रहीं हैं@vdsharmabjp @ChouhanShivraj @AAPRaniAgrawal @ManeekshaSingh @SupriyaShrinate @kpsingh1966 @thakralmanjeet @iAlokAgarwal @AAPkaIVS pic.twitter.com/Nt3iaUm4im

— सुशान्त Sushant @IamCommoner (@IamCommoner) November 22, 2020
BJP govt of MP objected to scenes in the Netflix series A Suitable Boy, in which a Hindu girl kisses a Muslim boy against the backdrop of a Hindu temple.

These ?are the sculptures in Khajuraho temple premise in Madhya Pradesh pic.twitter.com/x7STAOCjMe

— Ravi Nair (@t_d_h_nair) November 23, 2020
#BoycottNetflix NOW ?
How can they show kissing inside a temple ?
THIS IS NOT OUR CULTURE!?

A suitable boy❤ ????#हिन्दूओं_का_हक_हिन्दू_राष्ट्र pic.twitter.com/OjTO1xVDCQ

— Ram Mehra (प्र. सो. मी. प्रभारी राजस्थान) (@RamMehralive) November 23, 2020
While Saffron goons are calling for boycott of Netflix for showing a series that has a kiss inside a Temple, there are such beautiful carvings on the walls of our temples. Shall we be boycotting temples, then? What about the Hindu text named Kamasutra? #ASuitableBoy #JustAsking pic.twitter.com/8mrlcTxtqW

— Mona Ambegaonkar (@MonaAmbegaonkar) November 24, 2020
The right wing IT cells however remained busy trending #BoycottNetflix on Twitter asking people to uninstall Netflix. Instead they would have found greater support if they had taken greater offence at the strange accents, that the Indian characters are speaking English in.
Related:
Right to choose a partner is intrinsic to Right to life & personal liberty: Allahabad HC
Will they call it 'love jihad' when a Muslim girl is killed?
UP BJP Spokesperson calls consensual marriage 'love jihad'
Ram naam satya hai: Adityanath's open threat to those who attempt 'love jihad'