Ever since the final National Register of Citizens (NRC) was published in Assam, the Indian right wing has had the wind blown out of its sails. While the July 2018 final draft left out over 40 lakh people, who were promptly dubbed "termites" and "infiltrators" by Union Home Minister Amit Shah, the sharp drop in the number of people excluded from the final NRC published on August 31, 2019, has them scratching their heads.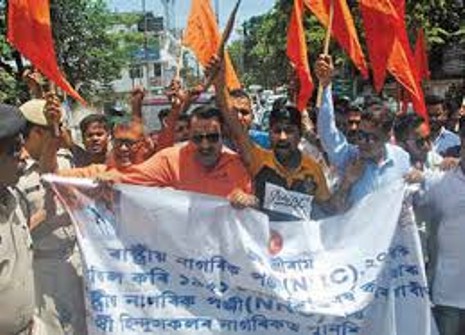 Image: Times of India
The most vociferous of the lot appears to be Assam minister Himanta Biswa Sarma who alleges that the NRC is flawed. Taking to twitter Sarma said, "Names of many Indian citizens who migrated from Bangladesh as refugees prior to 1971 have not been included in the NRC because authorities refused to accept refugee certificates. Many names got included because of manipulation of legacy data as alleged by many." He added, "I reiterate that as requested by Central and State governments at least 20% reverification (bordering districts) and 10% re-verification(remaining districts) should be allowed by Honble Apex court for a correct and fair NRC."
But Sarma didn't stop there. He appeared determined to turn what was originally an ethnic divide where the Assamese feared a demography change due to the alleged influx of Bengali origin people, into a full blown communal divide. Sample this interview given to India Today where Sarma says Hindus of Bangladeshi origin will be welcome, but Muslims will not.
Yet another spirited exchange between Sarma and AIMIM chief Assauddin Owaisi on Twitter may be viewed here:
Sarma now plans to move Supreme Court for reverification of NRC in areas along the Bangladesh border.
Another group all set to knock on the apex court's door is the All Assam Students Union (AASU) that is unhappy with the exclusion figures and alleges that the NRC is replete with "faults and discrepancies". AASU president DK Nath claimed, "The Assam and central governments failed to prepare an error-free NRC and lost a historic opportunity."
Next door in West Bengal, mercurial chief minister Mamata Bannerjee who has often been accused of minority appeasement and threatened with a version of NRC in her state, decided to take the opportunity to give it back to her detractors. She tweeted, "The NRC fiasco has exposed all those who tried to take political mileage out of it. They have a lot to answer to the nation. This is what happens when an act is guided by an ulterior motive rather than the good of the society and the larger interest of the nation." She also raised questions about exclusion of members of the Gorkha community, CRPF jawans and family members of former Indian president Fakruddin Ali Ahmed.
With the communal agenda out in the open, though temporarily derailed, one can only expect more drama in the region. Meanwhile, BJP President Amit Shah is expected to visit Assam on September 8 and 9, purportedly to attend a meeting of the North Eastern Council.