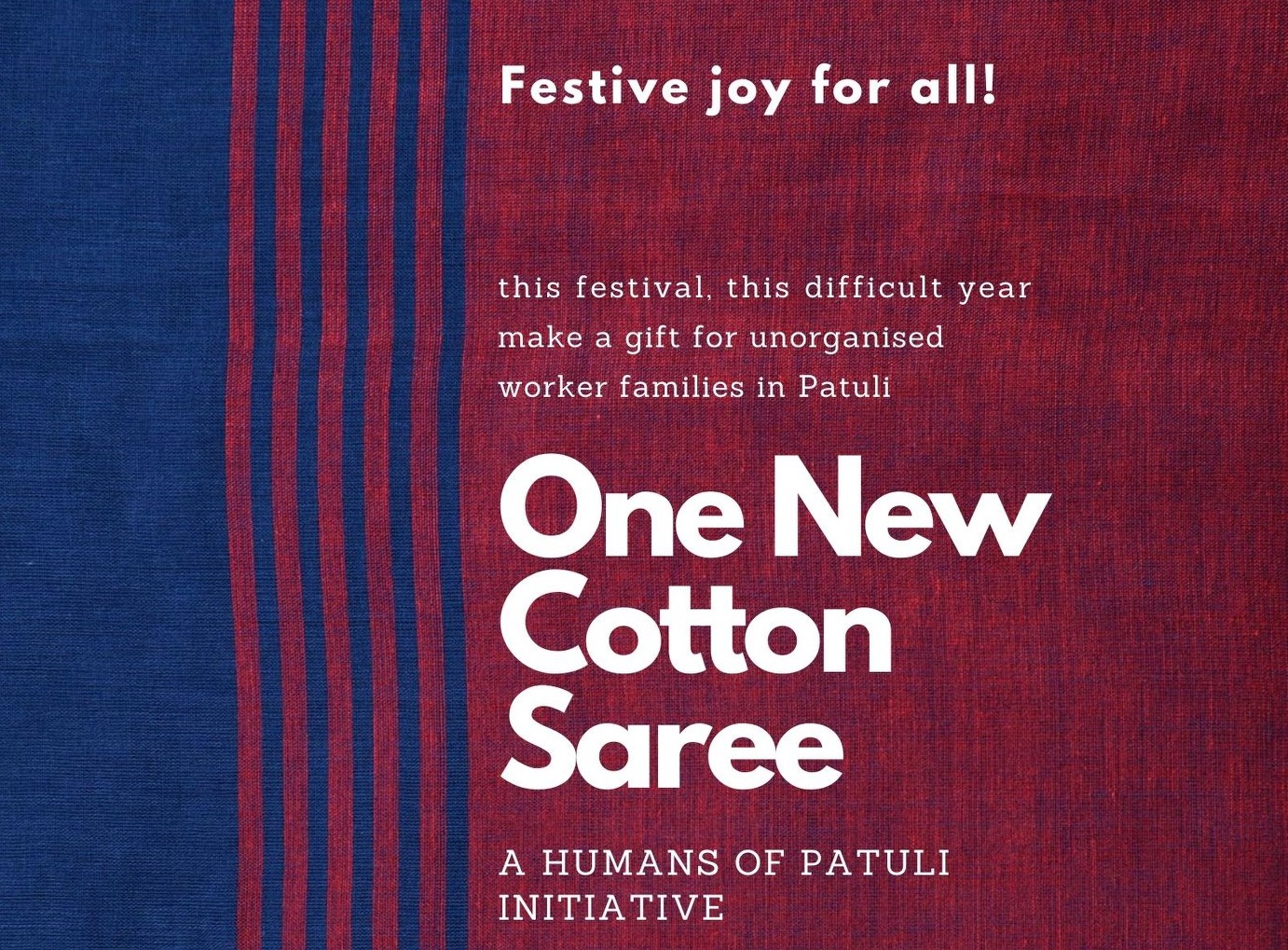 Humans of Patuli, an organisation that works to build communal harmony, has started a unique campaign to provide new saris to women hailing from low-income families, so that they too can enjoy Durga Pooja just like their more privileged sisters, reported The Telegraph. The beneficiaries of the One New Cotton Saree campaign are women who work as domestic helps and in other jobs in the unorganised sector, living in low-income neighbourhoods in and around the Patuli area of Kolkata.
It is customary to wear new clothes during Durga Puja, but many of these women lost their jobs as domestic workers due to the pandemic. Similarly, their male family members are out-of-work day labourers, rickshaw-pullers and masons, all victims of the coronavirus-induced lockdown. With economic activity gradually resuming in the country, many of them are returning to work. However, some remain unemployed.
The campaign began in early September. Originally, members worked to provide groceries and medicine during the lockdown. However, as Durga Puja drew nearer, members decided to buy new clothes for children from low-income families and then decided to extend the campaign to mothers. But the organisation did not want to give them old and used clothes and wanted to treat them with the same dignity as their economically stronger neighbours. Moreover, they wanted to ensure that there wasn't too much disparity between the quality of sarees being gifted, and thus insisted on only new cotton sarees.
"It's the women in the family who sacrifice the most during tough times," Sabyasachi Mukherjee, group member and a designated volunteer for the campaign, told The Telegraph, adding, "We decided to give new clothes to these women alongside the children. But we did not have enough money. So we decided to launch this campaign."
The campaign has received an encouraging response. Member and campaign coordinator Syed Md Sabbir said that by Friday they gathered nearly 400 saris satisfying the qualities of novelty and made-of-cotton. He said they only looked for cotton-saris to avoid any difficulties during distribution. They hope to collect over 500 saris by October 11, the last date for contributions.
People from as far away as Bandel, Burdwan and Siliguri have contributed to the initiative. Members pick up gifts from donors within the city personally. However, if the donor is from the city's fringes, members' peers living in that neighbourhood have also pitched in their efforts. Other donors have sent the saris by courier.
If you too would like to contribute to the campaign, here's how you can contact them:
Related:
No data to check unemployment rate in last 12 months?
No data, so no compensation: Centre's shocking revelation on migrant labourer deaths!
Maulvi inaugurates temple that Muslims helped restore after demolition