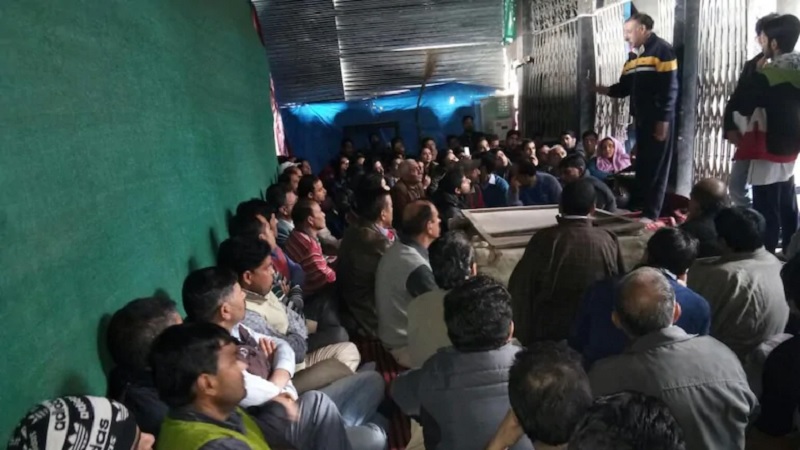 Image Courtesy:indiatoday.in
In a major victory for the Kashmiri Pandit Sangharsh Samiti (KPSS), the Jammu and Kashmir Services Selection Board has extended the deadline for applying for various posts in different departments under the Prime Minister's special package for Kashmiri Migrants and non-migrant Kashmiri Pandits.
The previous deadline was December 21, 2020, but now it has been revised to January 5, 2020. This was in wake of several requests for extension citing difficulty in filing online applications.
The official notification may be viewed here: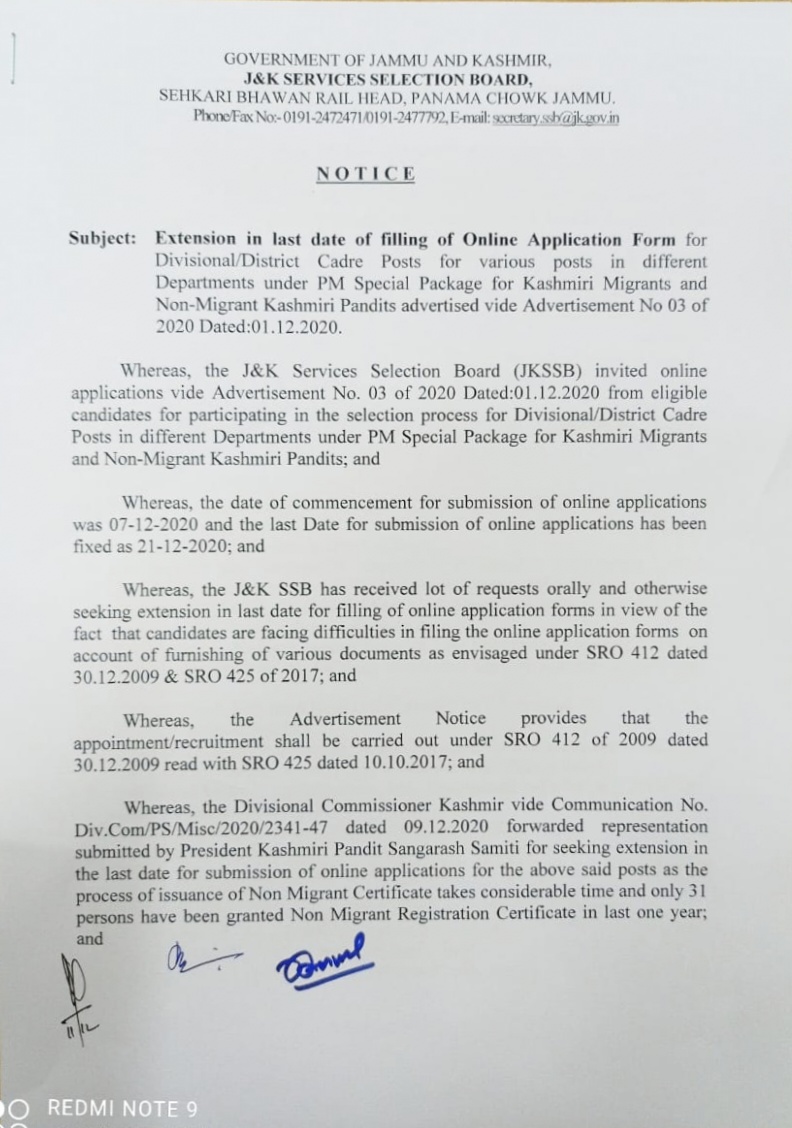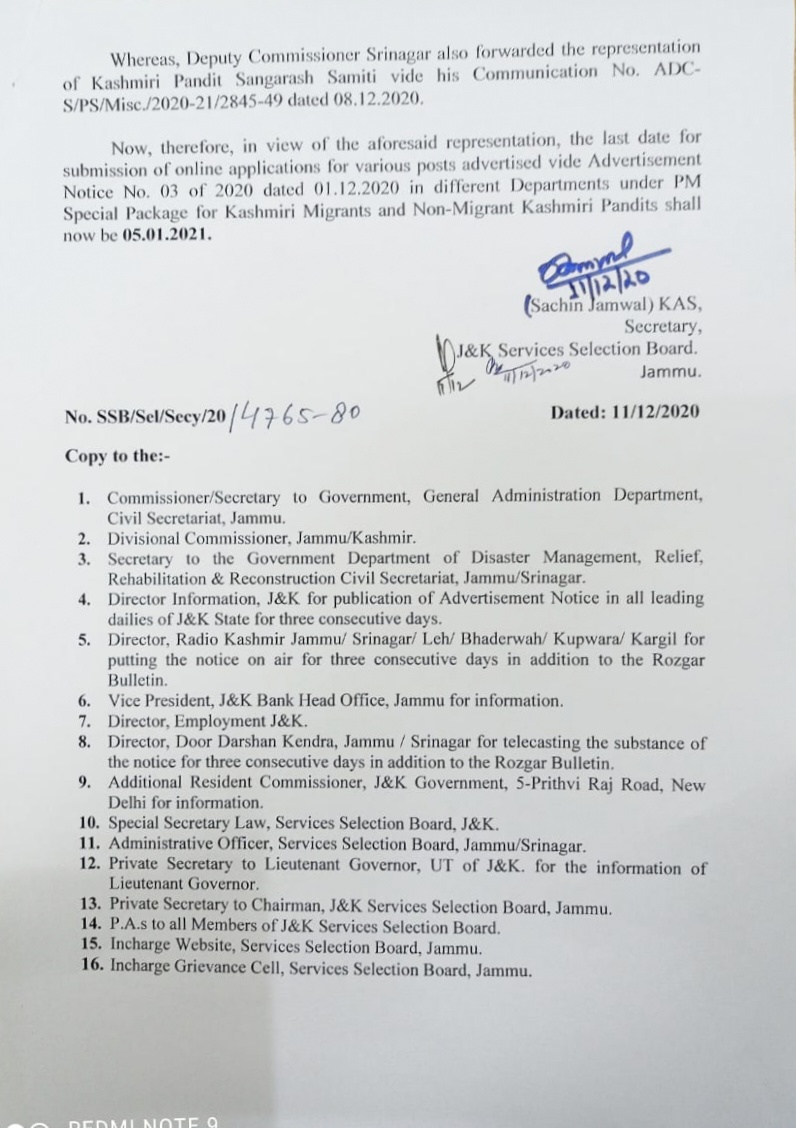 It is noteworthy that KPSS has been at the forefront of the struggle of Kashmiri youth to get government jobs. Nearly 600 non-migrant Kashmiri Pandit youth are unemployed. While they had earlier qualified for employment schemes of the government, a delay in implementation of the schemes led close to 100 of them becoming ineligible due to crossing age restrictions.
KPSS had submitted over 100 memoranda to the authorities pleading for urgent relief. In fact, the first two points in the KPSS charter of demands dealt with this particular subject:
Extension of PM's Job Package and apportionment of 500 posts / one job per family (preferably) criteria for 808 Non-Migrant Kashmiri Pandit / Kashmiri Hindu Families.

DMRR&R deliberately delayed the process by more than four years as such give one-time age relaxation to all the over-age candidates' w.e.f. 31.05.2016 (date of the judgment passed by Hon'ble High Court in OWP 1986/2013 titled Kashmiri Pandit Sanghrash Samiti and others vs. Union of India and others)
Welcoming the move, KPSS issued a statement saying, "By extending the last date of filing online forms for the posts advertised under PM's Relief and Rehabilitation for Kashmiri Migrants and Kashmiri Pandits / Kashmiri Hindus living in Kashmir Valley gives hope to the left out Community living in Kashmir Valley that the long pending issues will be sorted out in a time bound manner as promised by the UT Administration."
KPSS added, "Kashmiri Pandit Sangharsh Samiti wishes to express thanks to Shri. Pandurang K. Pole, IAS, Divisional Commissioner, Kashmir, Shri. Shahid Iqbal Chowdary, IAS, Deputy Commissioner, Srinagar Shri. Syed Hanief Balkhi, KAS, Additional Deputy Commissioner, Srinagar and Shri. T. K. Bhat, KAS, Commissioner (Relief) for extending unconditional support to the deprived Non-Migrant Kashmiri Pandit / Kashmiri Hindu Community at the hour of need."
They further said, "We also wish to express thanks to Chairman and Secretary, JK Service Selection Board to extend date for filing online forms for posts advertised under Notification 03 of 2020 dated 01.12.2020 from 21.12.2020 to 05.01.2020 by considering the grounds of the representation filed by the KPSS. We are also indebted to all those organizations / persons who extend their support whenever needed."
At present there are 808 non-migrant Kashmiri Pandit families living in over 240 locations, mostly in makeshift facilities or refugee camps amidst poverty and squalor in the Valley. At least 150 of these are low-income families who fall below poverty line (BPL). Most struggle for basic expenses like food and medicine. Security that was earlier provided to members of the community has now been withdrawn and Kashmiri Pandit families, especially vocal community leaders are now left to their own devices to protect themselves.
KPSS had gone on hunger strike twice demanding not only financial aid, but also swift implementation of government employment schemes.
The first strike began on September 20, 2020, but was called off 10 days later after written assurance from Shahid Iqbal Chowdhary, IAS who is the Deputy Commissioner, Srinagar, that their demands would be looked into by the administration. But the UT authorities allegedly failed to walk the talk and now KPSS president Sanjay Tickoo, and two other members Sandeep Koul and Bhupender Singh Jamwal went on a second hunger strike that began November 22, 2020. However, was forced to suspend its hunger strike on its 11th day, as the health condition of KPSS president Sanjay Tickoo, who has been spearheading the movement, was getting critical.
CJP has been supporting KPSS, which is it partner organisation, in their quest for Kashmiri Pandits in the Valley.
Related:
Kashmiri Pandits fast unto death suspended, Sanjay Tickoo critical
Non-migrant Kashmiri Pandits facing political and administrative isolation: KPSS
Either provide relief measures or fire on us with Rafale aircrafts: Kashmiri Pandits to PM
Kashmiri Pandits on fast-unto-death in Valley again!