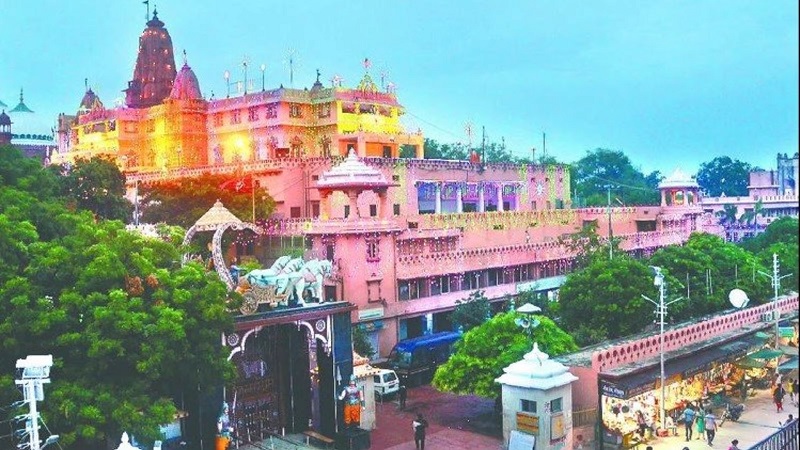 Image Courtesy:amarujala.com
On Tuesday, November 23, Advocate Mahendra Pratap Singh, who heads the Krishna Janmabhoomi Mukti Andolan Samiti (KJMAS) gave the District Magistrate of Mathura an application that demands namaaz be stopped at the Shahi Idgah that is located adjacent to a Krishna Temple.
According to a report in Amar Ujala, the application says that the Shahi Idgah mosque is built right on top of the exact spot where Hindu deity Krishna was born. As per Hindu religious texts, Krishna was born in a prison cell where his parents Vasudev and Devaki were being held captive by his maternal uncle Kansa who was the King of Mathura in those days.
Advocate Singh's application further claims that though previously namaaz wasn't offered at the Idgah masjid, recently it has been observed that namaaz is being offered here five times a day. He claims this is being done to disrupt communal harmony. Referring to how a section of the temple was razed by Mughal Emperor Aurangzeb and converted into a mosque, Singh's application further says that parts of the temple that were used to build the mosque still have carvings of "shankh" (conch shells) and "chakras" (a holy symbol among Hindus), and that the Muslim managers of the mosque were allegedly trying to erase these images.
Other signatories to Advocate Singh's application include Mahamandaleshwar Chitt Prakashanand, Sachidanand Das, Devanand Maharaj, Sureshanand Paramhans, Swami Brahma Chetanya Manmohan Das, and other seers.
Recent developments in the case
Just about a month ago, a new petition was made before a Mathura court in connection with removal of the mosque. This new petition was moved by one Gopal Giri who claims to be a devotee of Lord Krishna. This application was made before the court of Civil Judge (Senior Division) Jyoti.
Then, just last week, the Hindu Mahasabha announced that they will install idols of Lord Krishna in the mosque on December 6. Akhil Bharat Hindu Sabha leader Rajyashri Chaudhary told media persons that the installation will be carried out after a "maha jalabhishek" to "purify" the place. The water for this ceremony will be sourced from different rivers.
The choice of date is chilling because it is also the anniversary of the Babri Mosque demolition that took place in 1992 as part of the Ram Janmabhoomi movement.
Brief background of the case
After the Supreme Court judgement in the Ayodhya Ram Janmabhoomi case, the Krishna Janmabhoomi movement has been gathering steam as well. As we have reported previously, an organisation called Shri Krishna Janmabhoomi Nirman Nyas was registered on July 23, 2020. It reportedly has 80 'saints' from 14 states as its members. In August 2020, the Sri Krishna Janmabhoomi Trust had already started laying claim to the four-and-a-half-acre land next to the mosque to use as a Ranga Manch (variety hall) for religious and cultural functions organised by the trust and temple authorities.
Then in September, 2020, 22 members of the Hindu Army, a right-wing group, were arrested for giving a call for 'Krishna Janmabhoomi' movement in Mathura.
A civil suit was first filed in the Mathura Court in September 2020 for removal of encroachment and superstructure illegally raised by Committee of Management of alleged Trust Masjid Idgah with the consent of Sunni Central Board of Waqf on land Khewat No.255 (Two Hundred Fifty-Five) at Katra Keshav Dev city Mathura belonging to deity Shree Krishna Virajman.
SabrangIndia had reported further that this petition before the Mathura Court had submitted that the Plaintiffs have a right under Article 26 of the Constitution of India to regain, hold and manage the property belonging to, owned and possessed by deity Lord Shree Krishna Virajmaan, measuring 13.37 acres situated within the area of Temple Complex in Katra Keshav Dev, City and District Mathura.
But on September 30, 2020, a Civil Judge of Mathura Court had dismissed the plea to remove Shahi Idgah Mosque from its present site. Subsequently on October 16 Mathura District Judge Sadhna Rani Thakur admitted a plea against this trial court order dated September 30 that dismissed the suit for removal of Masjid Idgah. Justice Sadhna Rani Thakur had issued notices to Uttar Pradesh Sunni Waqf Board, Trust Masjid Idgah, Srikrishna Janamsthan Trust and Sri Krishna Janam Bhoomi Seva Sangh.
In November 2020, a writ petition was filed by Advocate Mahek Maheshwari in the Allahabad High Court to remove Shahi Idgah Mosque allegedly built on 'Krishna Janmabhoomi'. The plea seeks that the temple land should be handed over to the Hindus and a proper trust for Krishna Janmabhoomi Janmasthan be formed, for building a temple on the said land. Further, till the disposal of the petition, the plea also seeks permission for Hindus to worship at the Masjid on certain days in a week and on Janmashtami days.
The plea alleges that Lord Krishna was born in a karagar or dungeon of King Kans and the place of his birth lies beneath the present structure raised by the Shahi Idgah Trust. She further contends in her plea that, "Masjid is not an essential part of lslam and hence, the disputed land should be handed over to the Hindus for exercise of their right to freely profess, practice and propagate religion under Article 25 of the Constitution."
In June this year, the Sri Krishna Janmabhoomi Mukti Andolan Samiti moved an application before a Mathura court offering the management committee of the Shahi Idgah mosque a larger piece of land if they agree to demolish the Muslim shrine at the site of the deity's birthplace. The application was moved through advocate Mahendra Pratap Singh before the court of the Civil Judge, Senior Division, Mathura.
Bar and Bench quoted an excerpt of this application: "There are many stones in which Hindu scriptures are visible and the Mosque was built after destroying the temple on the orders of Aurangzeb."
The application relied on the November 2019 Supreme Court judgment in the Ramjanmabhoomi case, in which the apex court ruled in favour of the Hindu parties and allowed for alternative land to be provided for construction of the mosque. According to India Legal Live, the Samiti proposed to give the larger piece of land, located at a spot that is outside the Chaurasi Kos Parikrama circuit of the temple town, essentially driving the mosque out of the city.
Related:
Will install Krishna idol in Mathura mosque on December 6: Hindu Mahasabha
Krishna Janmabhoomi: Plea in Allahabad HC to remove Idgah Mosque
And so it begins: Civil suit filed to remove Idgah next to Krishna temple in Mathura
Krishna Janmabhoomi: Mathura court dismisses plea against Shahi Idgah
Hindu Army members arrested for launching 'Krishna Janmabhoomi' movement
Are Kashi-Mathura mosques in the crosshairs of hardliners again?