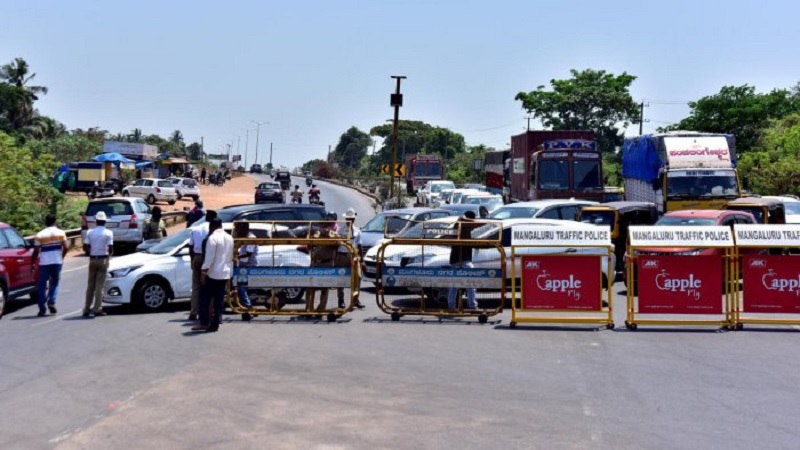 Image Courtesy:deccanherald.com
The stalemate between Karnataka and Kerala over border closure dispute has finally come to an end. On the hearing held on April 3, the Supreme Court had directed the Union Health Secretary to mediate between Chief Secretaries of both states to bring them on the same page and reach an amicable settlement. Both states have now agreed to the scenario where Karnataka will open its borders for non-COVID19 emergency cases from Kerala. The apex court had asked both the states to not precipitate the matter any further given the health crisis in the country.
LiveLaw reported that Solicitor General (SG) Tushar Mehta told the Supreme Court bench comprising of CJI SA Bobade and Justice L Nageswara Rao that the Union Home Secretary convened a meeting between the Chief Secretaries of Kerala and Karnataka. In this meeting Karnataka agreed to allow passage of patients from Kerala who are not COVID19 positive to avail medical services in Mangaluru. The Court then disposed of all the petitions in the matter after being informed by the SG that the dispute does not exist anymore.
In the meeting, it was decided that entry will be allowed subject to medical screening at the border checkpost. Permission will be given only to government ambulances, mainly carrying patients met with an accident, carrying a medical certificate from a doctor stating that the patient is not COVID19 positive. There is a further requirement that the doctor should also ascertain that there is non availability of treatment for the patient in Kasargod and Kunnur districts.
The previous attempt at mediation between both states orchestrated by the Kerala High Court with the Ministry of Home Affairs as a mediator had failed to get any results.
It all started when on March 21 Karnataka shut its borders with Kerala as 6 cases of COVID19 turned up in Kasargod which is a district in Kerala very close to the Karnataka border. Karnataka government is firm on its stand of protecting the interests of the people of its state while Kerala insists that this amounts to infringement of fundamental rights of people of its state. Whne the matter reached the Kerala High Court, a division bench of the Kerala High Court comprising Justice AK Jayasankaran Nambiar and Justice Shaji P Chali, on April 1, directed the union government to remove the border blockade imposed by Karnataka to allow patients from Kerala to enter Karnataka for emergency health care.
The matter reached the Supreme Court when the Karnataka government went into appeal against the Kerala High Court judgment as well as when a writ petition was filed by Kerala MP, Rajmohan Unnithan seeking directions to the Karnataka government to open the border.
Related:
Non-profits extend helping hand to poor people during Covid-19 lockdown
Job losses mount, recession looms as India battles Covid-19
More males affected than females; people of 21-30 years of age suffer more from Covid-19: MEDD report