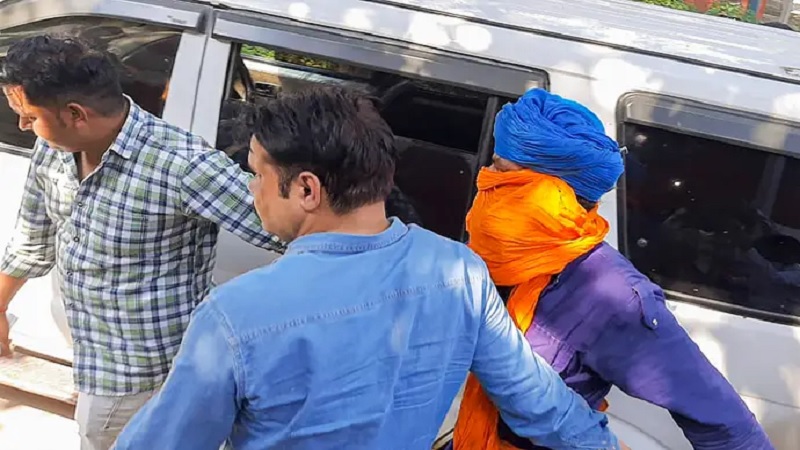 Image Courtesy:opoyi.com
Kundli murder accused Sarabjit Singh was sent on remand for seven days after appearing before the court on October 16, 2021. The accused surrendered himself before authorities on Friday for the brutal crime of mutilating and murdering daily-wage worker Lakhbir Singh.
According to news reports, Sarabjit has to go through daily medical examination during his remand, while having access to his lawyer Munark Bhardwaj every day. Sarabjit has been accused of cutting off the hand of Lakhbir, torturing him until his last breath and then hanging his body to a police barricade behind the farmer protest site area.
The Nihangs, a section within the Sikh community,, claimed that members had reacted in response to the victim's attempt to insult their holy text Guru Granth Sahib on Friday. Sarabjit surrendered before the police when a delegation approached their camp.
According to locals, the group in question was prone to violent instances in the past as well. Farmers group Samyukta Kisan Morcha (SKM) had also appealed to police to remove the group from the vicinity of their protest area but received no response.
Lakhbir was a Dalit labourer who was married with three daughters between 8-12 years of age. His death has been recorded in many viral videos recorded by the group wherein the man talks about being in pain. The news of his death for the crime of offending religious sentiments has offended many people who have started the hashtag "Justice for Lakhbir Singh."
And they killed him because he touched their holy book.#JusticeForLakhbirSingh pic.twitter.com/bKUDUYf64F

— Sonam Mahajan (@AsYouNotWish) October 15, 2021
I'm not god-fearing.
I'm god-men-fearing.

— smishdesigns (@smishdesigns) October 16, 2021
Owing to the location of the incident, many right-wing media had criticised the farmers' movement, claiming that the murder occurred within the protest site. While the SKM has clarified that neither the Nihangs nor the victim have anything to do with the farmers struggle, some Dalit leaders have condemned the farmer leaders for "shying away from responsibility."
National Commission for Scheduled Castes Chairman Vijay Sampla on October 15 shared the gruesome images of the body on Twitter with the caption, "The dead body of a Scheduled Caste youth was found hanging near the main stage of the SKM on the Singhu border. In this heinous case of Dalit oppression that reached the outskirts of Delhi after walking from the village chaupal, the SKM leaders, instead of shying away from their responsibility, should clarify their side."
It may be noted that leaders on Friday said that "The SKM is against sacrilege of any religious text or symbol, but that does not give anyone the right to take the law in their own hands. We demand that the culprits be punished according to law after investigating the allegation of murder and conspiracy behind sacrilege."
However, netizens like Ambedkarite artist Siddhesh Gautam said, "The incident should haunt every 'peaceful protestor' who didn't do anything to stop it."
The horrific image of Lakhbir's dead body should haunt each of us. It should haunt each and every 'peaceful protestor' who didn't do anything to stop it. It should haunt each and every soul who betrayed the gurus by being a tool and witness of oppression.#justiceforlakhbirsingh

— siddhesh gautam (@siddheshgautam) October 15, 2021
Related:
Kundli murder: Plea in SC seeking removal of farmers from protest site
Haryana: Mutilated body found at Kundli border
Kundli murder in no way related to the farmers' struggle: Farmer leaders