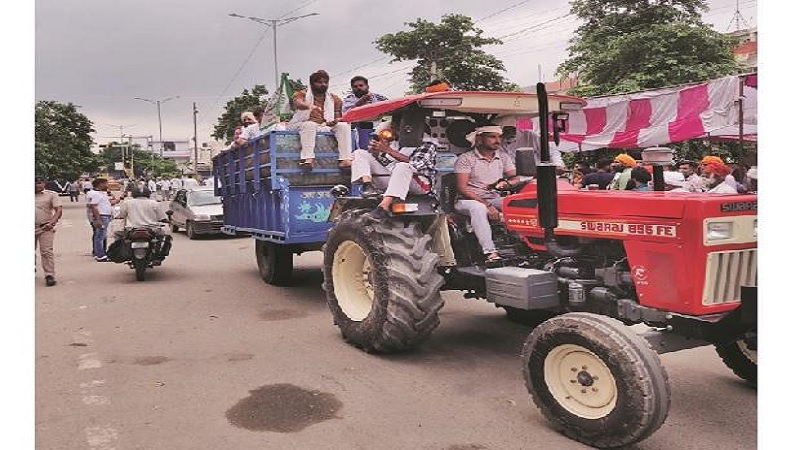 Image Courtesy:business-standard.com
After the incident at Kundli border in Sonipat, an application has been filed before the Supreme Court for urgent hearing of the plea for removal of the protesters from the site. Farmers and others have been camping there for close to an year, as they hold meetings and demonstrations against the three farm laws.
The plea has also reportedly urged the court to pass directions for issuance of guidelines by the centre to the state governments to prevent all kinds of protests in their states and not permit them until the Covid-19 pandemic is over.
LiveLaw quoted the plea read, "Said incidents are neither common, nor acceptable. A protest which in itself is illegal cannot be continued when it is witnessing anti humanitarian acts. The said protests have seen many unforeseen and unacceptable things including the Tractor Rally on Republic Day, rape of a woman and its cover up at the site and murder of Lakhbir Singh on Dusshera."
The application further states that the right to freedom of speech and expression cannot supersede the right to life and if protests are allowed to continue, the "nation at large will be at loss".
The plea has also bizarrely referred to the banning of festival celebrations, going to temples, schools and colleges, and states that allowing protests serve no good purpose. As per LiveLaw, it also states, "Protestors are not only putting their life at risk but of millions of people of India and such a prolonged agitation cannot be allowed especially during the ongoing pandemic since prolonged protests on public places is not only a clear violation of Supreme Court rulings but is violating Right of Life of others who are directly or indirectly affected by the said protests."
Lakhbir Singh from Cheema Kala village, Punjab, was living near the Nihang group – a religious community of armed Sikh warriors – camp site that had set base near the Samyukta Kisan Morcha (SKM) Kundli protest site. According to reports, he allegedly disrespected the holy text Guru Granth Sahib and the religious group responded by cutting off his hand and hanging his body behind the SKM protest stage.
However, SKM has clarified that they had nothing to do with the incident and they condemned it. SKM leader Hannan Mollah told SabrangIndia, "The death near the Kundli border has no relation to the Samyukta Kisan Morcha (SKM). While we respect all religions and their texts, we condemn this act of taking the law into one's own hands and committing murder."
In addition to this, Mollah said that the Nihang group has previously engaged in violent incidents as well. He said, "We had appealed to the police to move them away from the protest site but nothing happened. When we learnt about the strung-up body in the morning, we went there and later had a meeting as well to clarify that neither the deceased nor the murderers have anything to do with the SKM."
Related:
Haryana: Mutilated body found at Kundli border
Kundli murder in no way related to the farmers' struggle: Farmer leaders