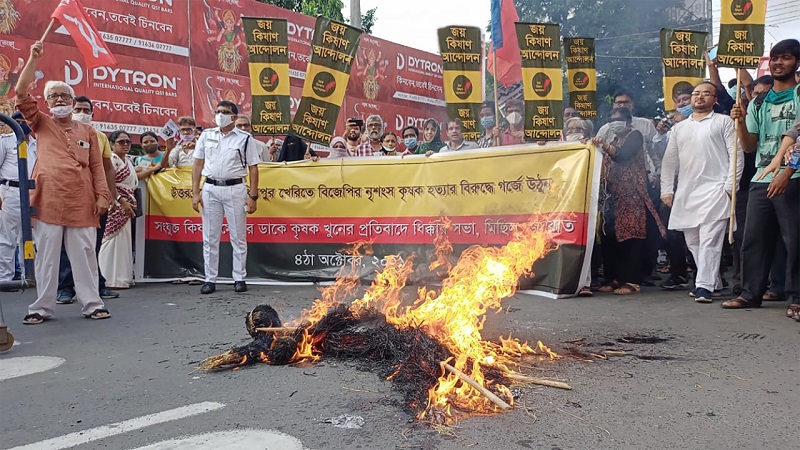 Protest marches and candle rallies were carried out on October 4, 2021 afternoon and October 3 night to condemn the Lakhimpur Kheri killings on Sunday afternoon.
Shortly after four farmers were declared dead due to the alleged road rage of Minister of State Ajay Mishra's son Ashish, farmers' coalition Samyukta Kisan Morcha (SKM) called for nationwide protests to condemn the behaviour of the Uttar Pradesh administration.
Leaders asked people to demonstrate from 10 AM to 1 PM on Monday outside District Commissioner or District Magistrate offices to demand: Mishra's immediate dismissal and the arrest of Ashish and his accomplices; a probe by a sitting judge of the Supreme Court; resignation of Haryana CM Manohar Lal Khattar.
In response, Punjab, Haryana, Uttar Pradesh, Uttarakhand, Odisha, Bihar, Jharkhand, Rajasthan, Karnataka, Telangana, Tamil Nadu, Madhya Pradesh, Maharashtra, West Bengal and other states observed such protests.
However, even before Monday protests, candle light protests were observed in cities like Ambala, Kurukshetra, Chandigarh and other places. In Uttar Pradesh's Puranpur and other locations, highways were jammed by protesting farmers.
At the place of incident, Tikunia, Lakhimpur Kheri, thousands of farmers poured into the village on Monday but had to leave once Section 144 was imposed. Meanwhile, Singhu border protesters carried out a silent protest march.
No final rites until fair post mortem
As per earlier understandings between grieving farmers and the UP administration, families agreed to hold off on final rites of martyred farmers, until after the post mortem report. Farmers kept the four bodies in Tikunia's college ground.
However, on October 5, 20-year-old Gurvinder Singh's family demanded a second autopsy. They alleged that the first report did not show the bullet injury that caused his death. They accompanied this claim with videos locating bullet wounds on his head. On Tuesday evening, the SKM confirmed that his body will be reinspected by a team of doctors from AIIMS, BHU, PGI and a senior forensic doctor in Bahraich, under video recording and in the presence of SKM representatives. At least one cremation was conducted by the farmers community earlier in the day.
On Monday, the state government had assured Rs. 45 lakh and a government job to each aggrieved family. Injured protesters are to receive Rs, 10 lakh each. However, 18-year-old martyr Lovepreet Singh's sister has demanded justice for her brother's death rather than fiscal relief from the administration.
In partial acceptance of farmers' demands, an FIR has been filed against Ashish Mishra Teni and 15 others for murder, although the accused are yet to be arrested. The government also agreed to get a retired High Court judge to probe the matter but is yet to address the demand for the Union Minister's dismissal.
"It is reported that police removed barricades to allow the vehicles of the Minister's son, who himself was driving the vehicle, to mow down protestors indiscriminately, and farmers retaliated thereafter. They protected Ashish Mishra Teni in escaping from the scene, and it is reported that he fired as he escaped. The specific targeting of SKM leader Tajinder Singh Virk was narrated in eye witness accounts," said the SKM in a press release.
Related:
Lakhimpur Kheri deaths: A Timeline
I was not in the car: Ashish Mishra's feeble defence in Lakhimpur Kheri farmer deaths
'Godi media' on a rampage: Mowing down of farmers labeled 'clashes', victims 'khalistanis'
Lakhimpur Kheri: Main accused yet to be arrested, Opposition leaders being detained
Uttar Pradesh: Eight dead in violence at Lakhimpur Kheri, including four farmers after Minister's son allegedly drives over them